Keyword research is one of the most important thing if you want to get traffic and the correct target audience on your site. I know some people that don't bother with it because it is too tedious, or they have no idea or the correct tools to actually do it properly.
For me, I love doing keyword research, which is partly due to Jaaxy which makes it so easy to do so.
---
Introducing Jaaxy!
Some of you may have used other keyword tools in the past, but end up not using it due to reasons such as:
Too much data that does not seem to be relevant and completely useless to make sense of it
Too little details that are relevant
Don't pull everything from search engines
Jaaxy is one of the keyword tools that solves most of the issues that other keyword tools have. I have been using Jaaxy for awhile now, and I have to say it is by far the easiest and best keyword tool I have used till date.
One important thing is how easy it is for new people to start using it, and how they can start using the data to their advantage quickly. Jaaxy provides those information that is comprehensible for normal users, so there is no need to analyze the data as it is already presented clearly for you.
I have covered here on the three important things that I look out for when finding a keyword:
Keywords must make sense
There must be some traffic from the keyword
The keyword has low competition
While the first one is based on common sense, the other two factors I listed here can captured easily by Jaaxy. There are tons of high traffic low competition keywords out there, but you need to find them.
With that in mind, how about let us take a look at examples below to see how easy for it to use?
---
It is really simple!
Most people fear that any niche they try to enter has too much competition. That is due to a lack of knowledge and proper keyword research. I would say that there are plenty of niche out there with literally close to no competition with great keywords that have minimal competition.
Let me throw out an example of a niche that I completely have no experience on and do a quick search.
Search on Gold Panning Equipment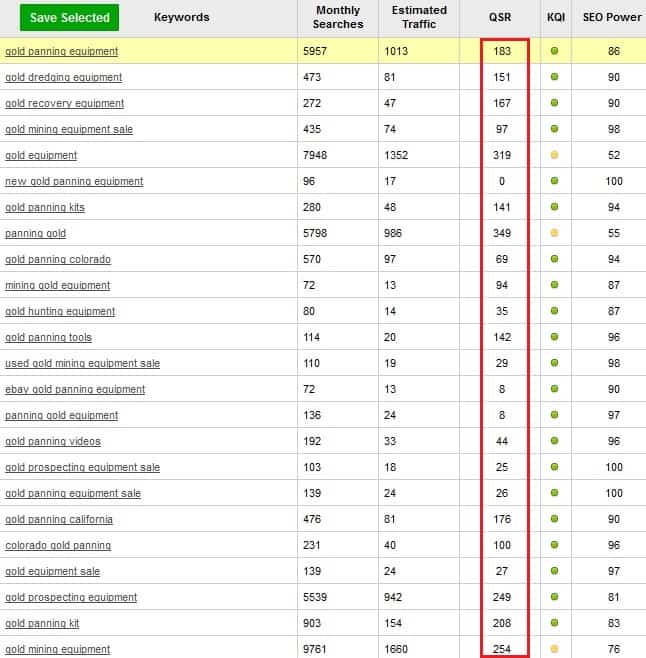 Here's a niche I have completely no clue at all, and I have just searched out 24 keywords in less than 10 seconds that I could use if I wanted to enter the niche. What I want to look out for is for terms that have 300 competing pages (QSR) or less, so I am looking at about 22 viable keywords in this list still.
That is a whole lot of information provided in a short span of time, and I have a lot of information if i wanted to enter this niche. By using these keywords, I would be able to capture all the traffic here that has almost no competition at all.
Let us try one more search, shall we?
Search on Halloween costumes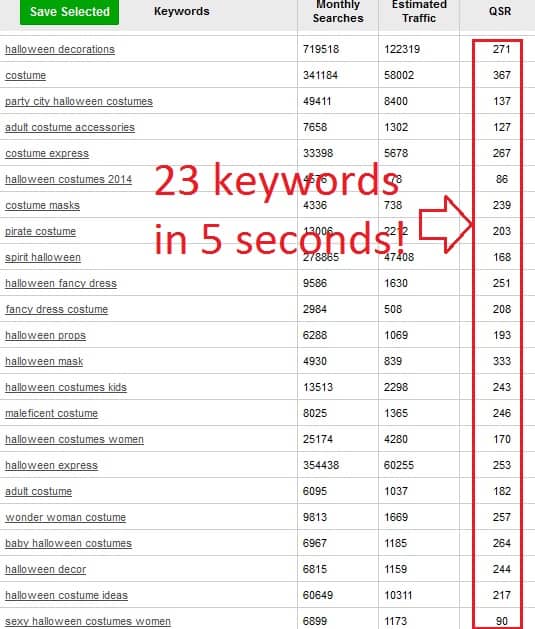 In 5 seconds, I managed to get at least 20 keywords that I could use if I wanted to target this niche. See how easy this is? You are saving a lot of time with the research process which is done easily and broken down to comprehensible data for you so that you have more time targeting your niche.
I really love how this helps you get information at your fingertips quickly, and really saves me a lot of time rather then doing hours and hours of keyword research.
Domain names
Searching for keywords is great, but how about finding the domain name with the exact keyword and see if it is available?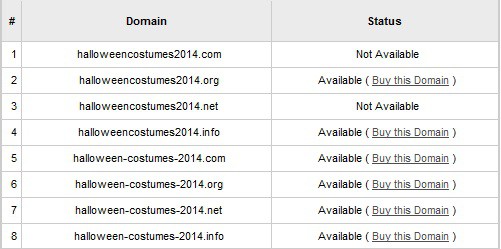 Taking an example from my Halloween costume, I picked out the search term 'Halloween Costumes 2014' and am immediately presented on which domains are available for sale.
Jaaxy can help you find all the popular extensions of a domain name to see if it is available. Usually, most keywords with the .com, .net and .org are taken up as those rank easier on Google then the rest.
If you click the 'Buy this Domain' button, you will be redirected to GoDaddy where you can complete your purchase. If you are someone that does domain flipping, you could definitely use Jaaxy to scout out
potential keywords and buy the potential domain names available.
---
Does Jaaxy have other features?
Jaaxy main purpose is a keyword research tool, but have additional features to help you in the process as well.
Let me show you a few other features Jaaxy has to offer!
Site Ranking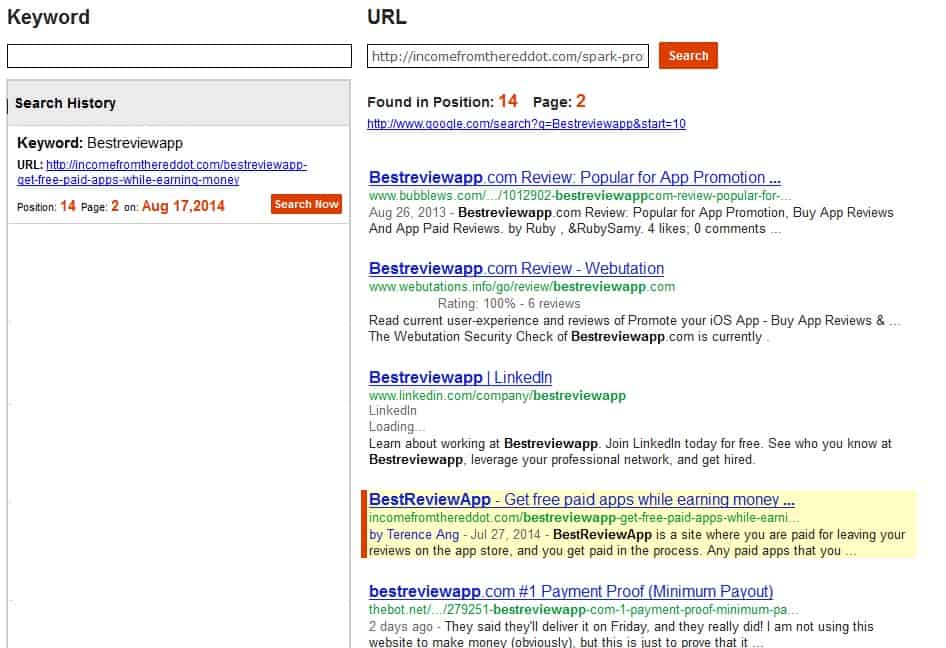 Jaaxy offers a site comparison where you can see how your particular page ranks in Google and tells you which page and position it is in.
Above is a picture on one of my pages, Bestreviewapp, and it is ranked in page 2, position 14. With this tool, I can easily see how well my particular keyword ranks on Google. It is one of the tool I use commonly to help me track my position of my keywords in Google, and gives me a good gauge of how well it is doing.
Competition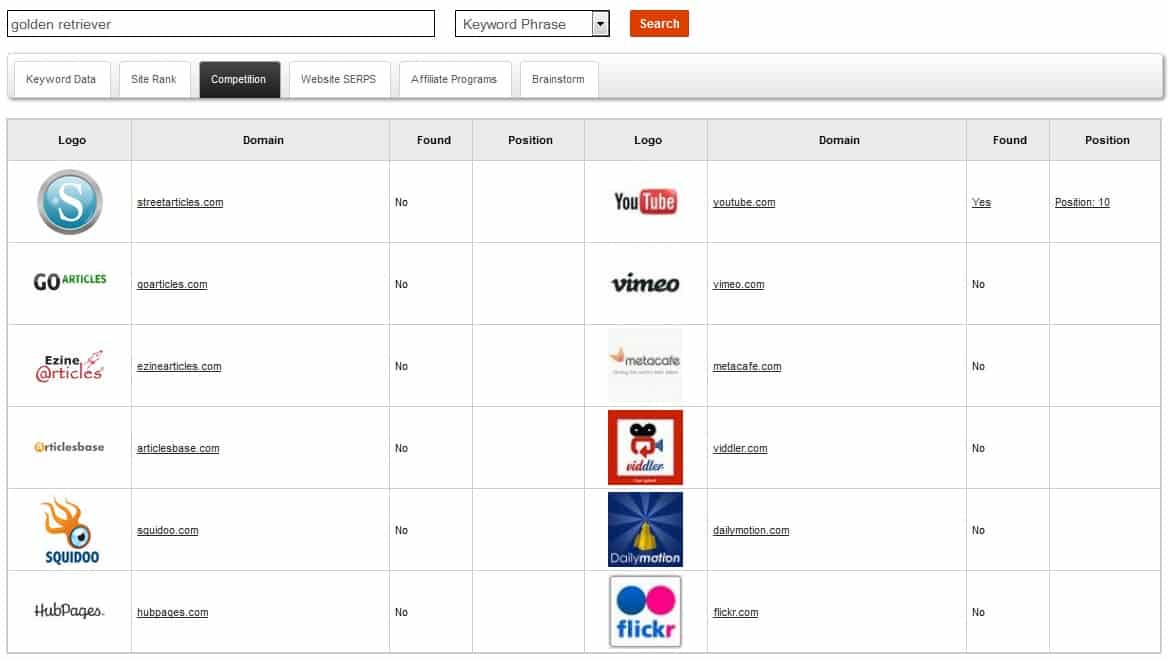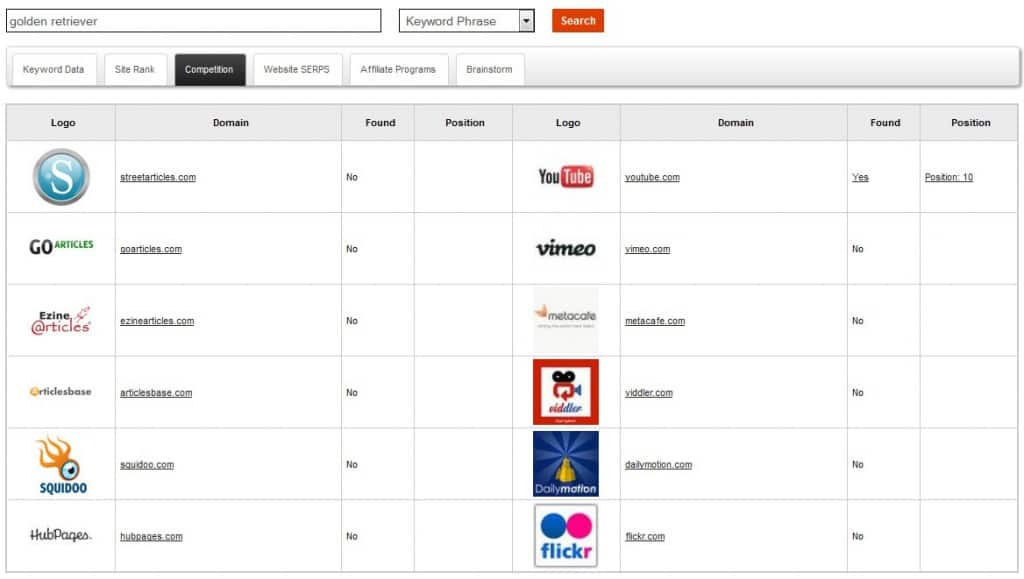 If you are looking to see if your keyword have any competition on various sites such as YouTube, Flickr or Squidoo, it would be shown in this page. This allows you to create content for these websites using the same keyword to help you rank in Google as well too.
By creating content, you can redirect traffic to your website, which is a win-win situation overall! Having such information displayed in a matter of seconds is vital if you really want to dominate a keyword.
Plus more features when you sign up free today!
What I listed above is really just the tip of the iceberg. Jaaxy really have a lot more features, including a brainstorming function to see popular trends on sites like Google and Twitter, affiliate programs, and even creating your own keyword lists you could
---
Choosing your Jaaxy Plan
There are many keyword research tool that may cost a bomb for providing a lot of useful information. Jaaxy was created for people with any kind of budget, from a new user to a veteran at this.
There are 3 price plans:
Jaaxy Starter: Free to sign up!
Jaaxy Pro: $19/month ($199/year)
Jaaxy Enterprise: $49/month ($499/year) – Soon to be raised back to $69/month.
If you are new to this, I recommend signing up for the starter membership to try it out free! All you need to do is key in your e-mail, name, and password and you are given a free account with 30 free searches that you could try out Jaaxy with.
If you want to see how this works, I would recommend you to sign up for the starter membership for free to see how well it benefits you. After trying it out, you can choose to upgrade to the Pro or the Enterprise edition for more features for a reasonable amount!
---
Now for you to try this out..
If you are ready to try Jaaxy now, just search a term below and immediately see the results. You can even check out what people are searching on Jaaxy now too!
---
…And Bonuses!
If you really love Jaaxy, you're going to love the bonuses you are given when you choose to sign up for Pro or Enterprise today. Here are just some of the bonuses you are given:
The low hanging fruit (61 minutes video): Learn to rank easily with easy to rank keywords
Buying up Google Ready Domains (80 minutes video): Interested in domain flipping? This video will teach you how to get started.
Keyword Riches: A 20 page document teaching you how to make a business out of keywords!
If you have any questions about Jaaxy, let me know in the comments below!