Name: Surveys Paid
Websites: www.surveyspaid.com

Price: $68
Owners: Unknown
Rating: 20/100 
Edit (7 Apr 2020): Website is down. Leaving this website for reference.
Great Paid Survey Opportunity?
This website has been on my radar for quite awhile, seeing it repeatedly advertised in a few places. SurveysPaid claims that there is a shortage of workers who take surveys and are looking for fresh people and more participants.
Let me guess, they're looking for people in your country! And they are going to give you jobs immediately the moment you sign up!

Targeting people from my country? What a coincidence!
Considering that I take quite a bit of surveys myself in the past, I do have a rough gauge on how much each survey pay and which are the credible companies. This company claim to work with the credible companies in order to provide you the highest paid surveys in the market.
Should we trust them? Let's take a look at the following review!
What do they offer?
Surveys paid mentions how over 10,000 companies are looking for people with opinions. They are looking for anyone, any age and both genders. They also mention how many companies promise but can't deliver paid surveys enough to make a good income.
They also provide you opportunities to take part in:
Paid Survey Jobs
Product Testing
Online Focus Groups
I also realized they mention the benefits for signing up, including being your own boss, not requiring experience and setting your own working hours. These are all highly desirable traits, so why not follow through and see if this program may be THE one?
Except that it isn't the one you are looking for, sorry. I'm just going to point out the red flags on this website below, which I believe is enough to scare you and make you run the other direction away from this website
Let's see why this website doesn't pass my legitimacy test at all.
---
Analysis of Surveys Paid
This is where I am going to really crank down to the smallest detail why this website seems very suspicious. If you look through properly, it really does seem obvious that it is really just another one of those scams.
1. Unrealistic Claims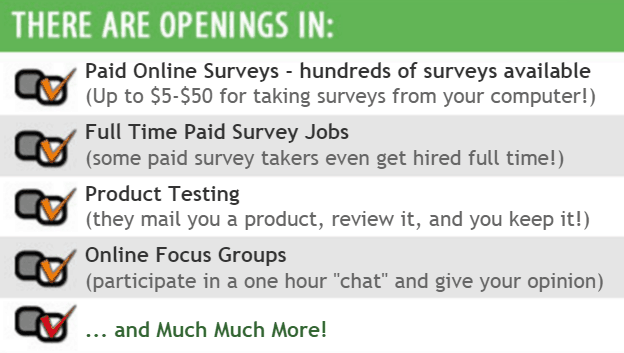 Surveys paid provides you more than paid surveys, with opportunities in a 'full time paid survey job' and online focus groups. Being paid between $5 to $50 per survey is highly unrealistic as the legit survey companies I work with pay from $0.75 to $3 per survey at most.
Another thing is earning a full time income on surveys is literally impossible, to the point that working at McDonalds on minimum wage would actually way more with the same amount of time spent. Also, most survey companies usually look for different groups of demographics so it is impossible to hire someone to take survey.
They also listed that they provide product testing jobs, online focus groups, and even mystery shopping opportunities on the second page.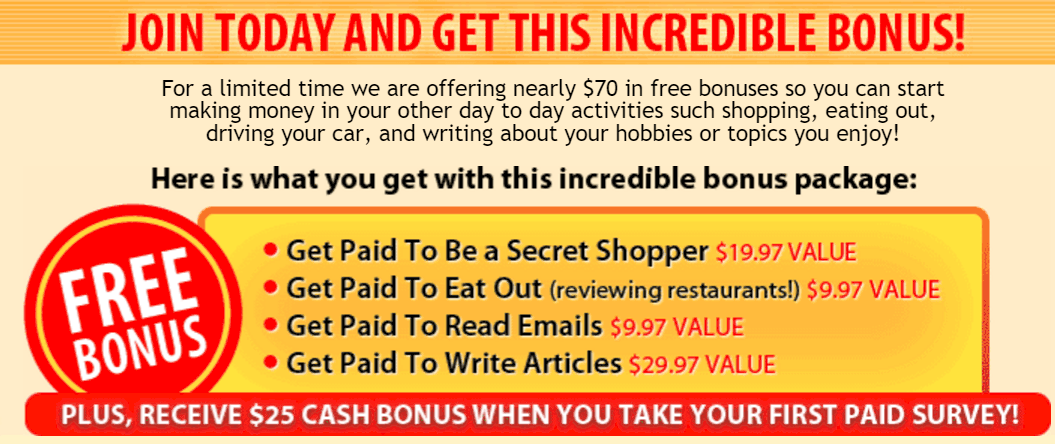 Even those these opportunities do exist, I really doubt that they are able to provide so many of these opportunities to you. Getting paid to be a secret shopper and eating out actually is the same thing essentially too. The question I want to pose to them would be whether the information they provide are high quality and not just a 1 to 2 page PDF document telling you what to do.
One more last thing that most scams really love to do is to include this thing which I would like to dub as the 'Hype-Up Bar'

Ask yourself how many times have you seen such a bar shown on a money making opportunity? These bars usually try to show you how much you can potentially earn and present these big numbers to sway you into the program. Of course, I'm not claiming programs that present these bars are 100% scams, just that majority of them are.
2. Paying for the program

I'm not sure about you, but if you ask me to buy something without letting me try out or explain how anything works at all, chances are I'm just going to ignore it. Same thing as this program asking for a $68 payment.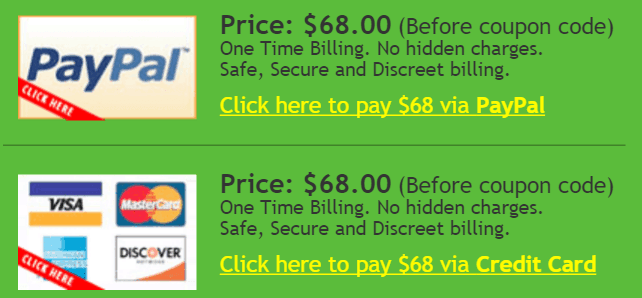 The golden rule is not to pay for a program that allow you to work online or work from home. Unless of course, they give you a free trial and let you use the program to see if it really works or not. Most legit opportunities can be done free usually if you search the internet enough, including surveys and focus groups.
3. Is it really TODAY only?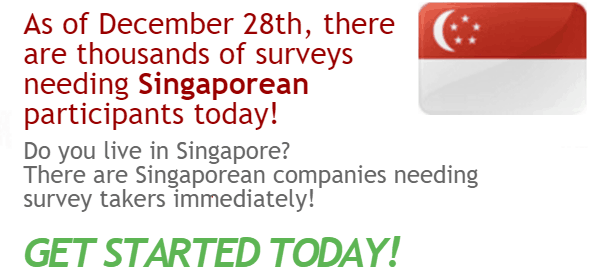 Most pages will claim that their offer is 'TODAY ONLY', or like this one where they claim they need thousands of people to sign up today as there are a lot of spots available. This creates the sense of urgency for most people as they think they may be missing out on something good if they don't act today.
The question to ask yourself is whether the offer is really exclusive. What you should do is wait 1-2 days and come back to the website to see the offer is still valid. Trust me, I have seen enough of such scams to say that you aren't missing out on anything.
Alternatively, one simple tip is try changing your computer's date and time and see if the website still displays the same date and time. If it changes as well, you know something is definitely not right with the program at all.
4. False sense of security
These kinds of programs love to use these money back guarantees, including those small buttons to show that they can be trusted. What these programs are trying to do are making you believe that they are the real thing without showing any concrete proof that their program works. Most of the times, these scams won't honour their guarantee which means you aren't getting a single cent back after spending.
The Web Guard buttons can't be clicked on as well, which is very suspicious. These buttons are suppose to be able to be clicked as they can tell you a few important details such as their business details and how safe their web page is. These buttons are just pasted on the website just to claim credibility, but that's just about it.
5. Pop ups to change your mind
So you may have seen that this program is too expensive at $68 and wanted to close your browser tab. Then you're immediately greeted with this: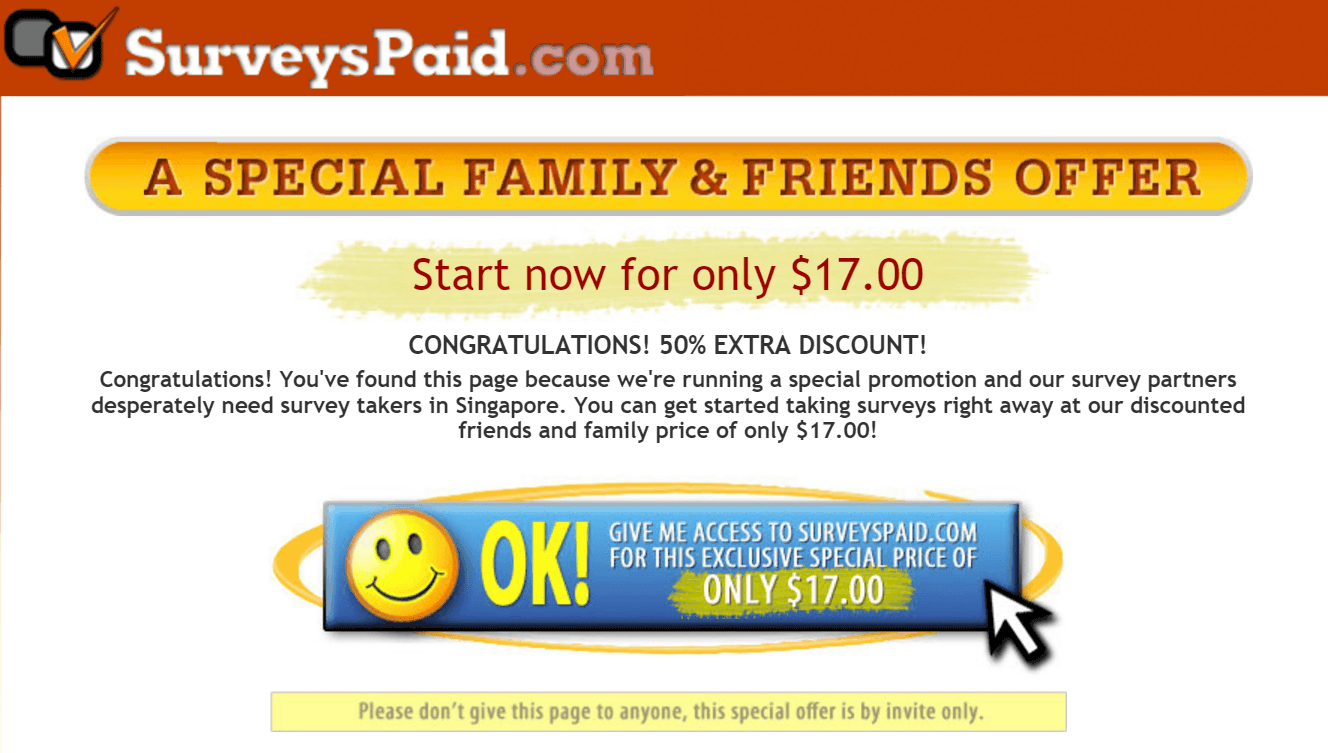 So suddenly it became cheaper because you tried to exit the page! Okay, maybe you will bite this time and sign up with the program. They also make it look exclusive and make you feel important by saying it is a 'Family and Friends' offer, but it's just another way for them to say 'QUICK BUY NOW, IT IS SO MUCH CHEAPER!'
If you're still not swayed by them, congratulations! But wait…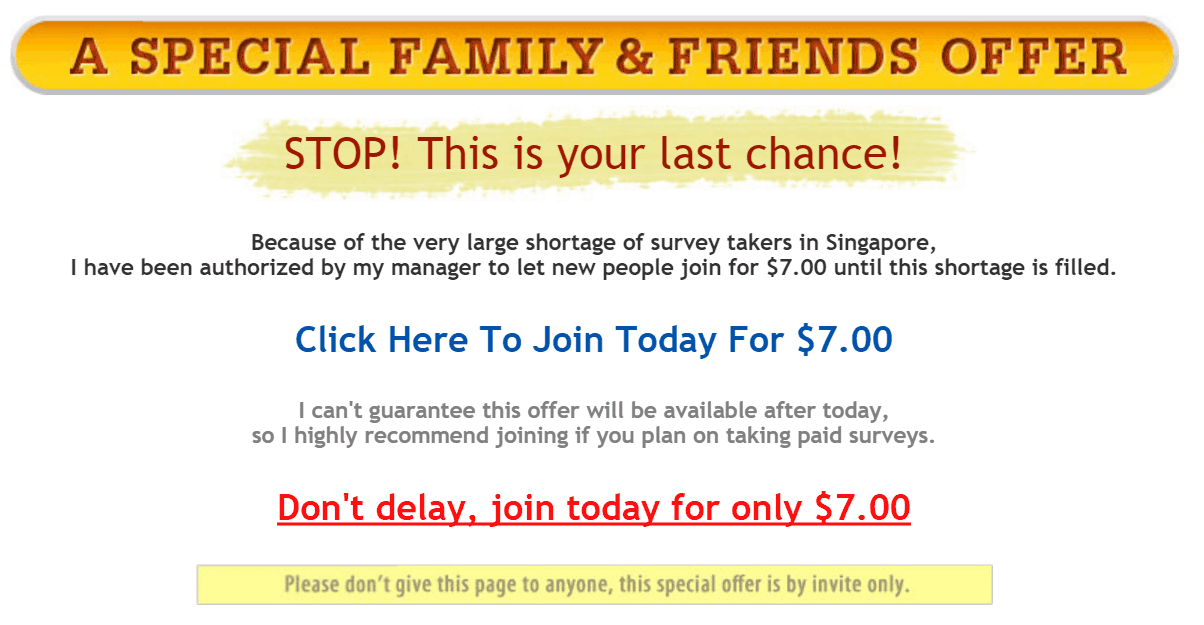 It's amazing how they can drop the price from $68 to $7 just by closing the browser tab, isn't it? This also shows how desperate they are to actually get people, and even if it just getting a new person at $7. All they want is some money from each visitor, and them dropping the price is just a way to make you change your mind. After all, most people wouldn't mind give away $7 just to try out a money making program.
---
What Other Are Saying
1.  Video Review
Sometimes, having a video is really a lot more convincing. This Indian user signed up for the website and showed a list of survey sites that are listed by surveyspaid.com. The ironic thing is that no matter what country you pick, they show the same list of website to everyone. The video also further exposes the scams and lies by the company.
Edit: Video is down.
2. Reviewopedia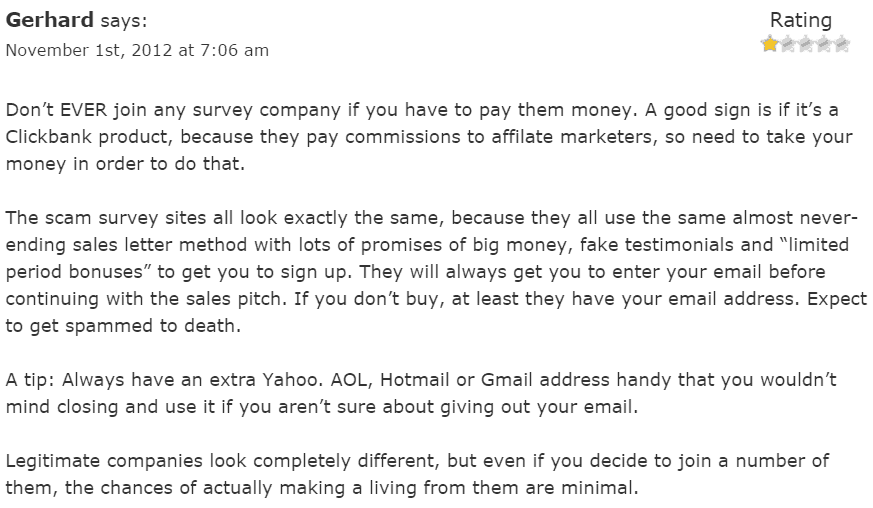 The first user, Gerhard, states the reason not to pay any money to such survey companies. He also points out the similarities of all these websites which is what I pointed out above too. The most important thing he stated that if you fill up your REAL email address, prepare to get a lot of spam.
Note that even if these companies do not get your money, they do have your Email Address and won't hesitate to keep spamming you with other 'money making opportunities'.
Diana here asked another question of whether the fee will be refunded, but an anonymous user stated that it is almost impossible to get support for this product. They will not even help or even entertain any request you send in at all too. It says quite a lot with these companies, as their role is just to make a quick buck out of any user that lands on their page.
3. Scambook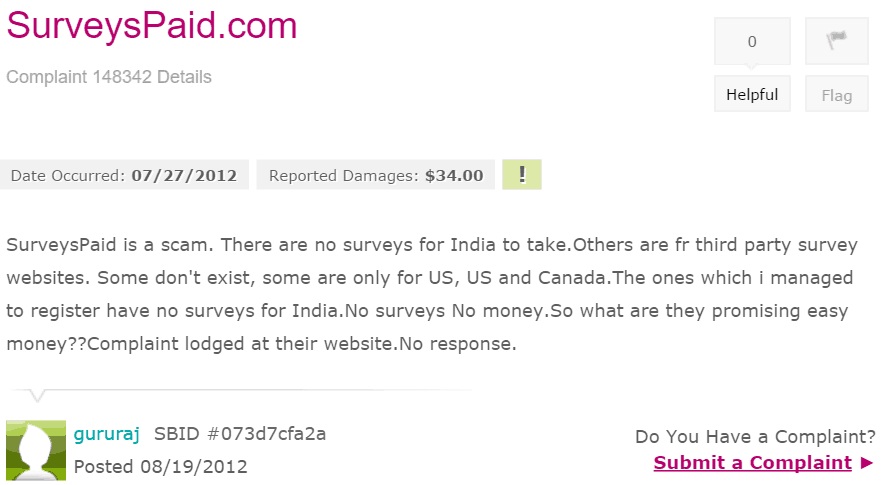 This user, gururaj, confirms what is being said in the video I posted above. Apparently, the survey sites are mostly for US and Canada. However, the list will state that it is listed in the country even if it isn't. Also, no customer support after a complaint was lodged.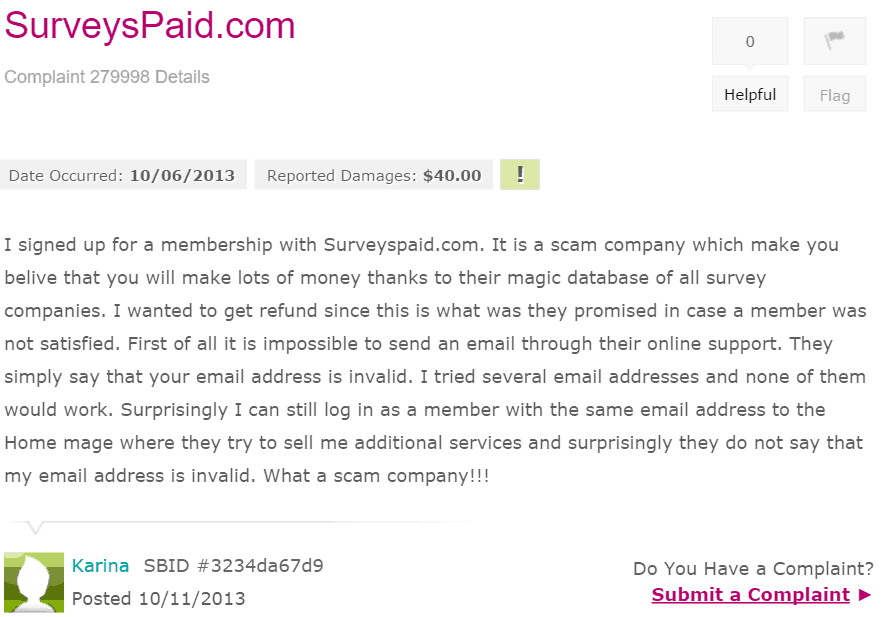 Karina is another user that signed up for Surveypaid and have pretty much the same experience as other users. Having a 'magic list' that doesn't really seem to work, and also not able to get support at all when needed.
---
Final Verdict: Surveys Paid
Website: http://www.surveyspaid.com
Price: $68
Owners: Unknown
SCAM! NOT RECOMMENDED!
---
Conclusion
What I love about SurveysPaid

Great looking website!
They present opportunities that are actually exists, such as paid surveys and focus groups
What I did not like about SurveysPaid

It costs $63 at most, and may even include upsells after signing up
There is no free trial for such a service
Program is meant for desperate people and newbies who don't know how to make money online
Does not explain to the user what to do at all to earn money
Very, very poor support from the company behind this
SurveysPaid does seem like a few of the other programs that I have reviewed, with it closely resembling Translator Jobs Online. Such programs that promises you many jobs opportunities are usually just companies that compiles a list of companies that provide the service and gives it to you. These are actually things you can actually find online for free, and with enough effort you can easily access the same list. One such place to look for legit surveys on the internet would definitely be Survey Police where they display the top surveys in your local area.
Like most of the other programs I reviewed, most people make money from selling the program and not with the program itself. For me, I don't want to sell such programs as they are clearly low quality and scammy products even though it may be easy money.
That's exactly the reason why I created this website, to expose scams and promote well-paying, legit high quality programs. As for surveys, take a look at the list of surveys I personally recommend (and use!) that 100% pays! Alternatively, take a look at the list of programs I recommend for newbies who want to make their first dollar quick.
Remember that there are no get-rich scheme that makes you thousands of dollars in a few days. The above recommendation makes you extra pocket money, but that's about it.
If you are still reading this and want to find something better, check out my top recommended program where I teach and help people how to start their own online business and website. It is also a free opportunity which doesn't require your credit card at all, so you don't lose out on anything by reading and taking action on this program.
Signed up for SurveysPaid or a similar website like that? Have you been a victim before, or did you manage to avoid it in time? Let me know in the comments below!