Name: My Browser Cash
Website: http://www.mybrowsercash.com
Price: Free to sign up, $12/month, $22/month
Owners: Digital Paper Products Inc.
Rating: 20/100
Passive income from automated Software

MyBrowserCash claims to help people make money from advertisements with their automated software, and users can start earning money from the advertisements. They reward users for completing tasks and offers, and things they do online, like visiting advertisements and more.
They did mention that the software is not a way to get rich, but just an way to make additional income. There are various ways to do that, which I will cover below.
---
What do they offer?
First of all, users are required to download MyBrowserCash software in order to begin. After installing the software, you will begin to see advertisements which you could click that earn you cash. You can also choose to turn off the ads if you wish too.
Below is a picture of their Main Page after logging into their site.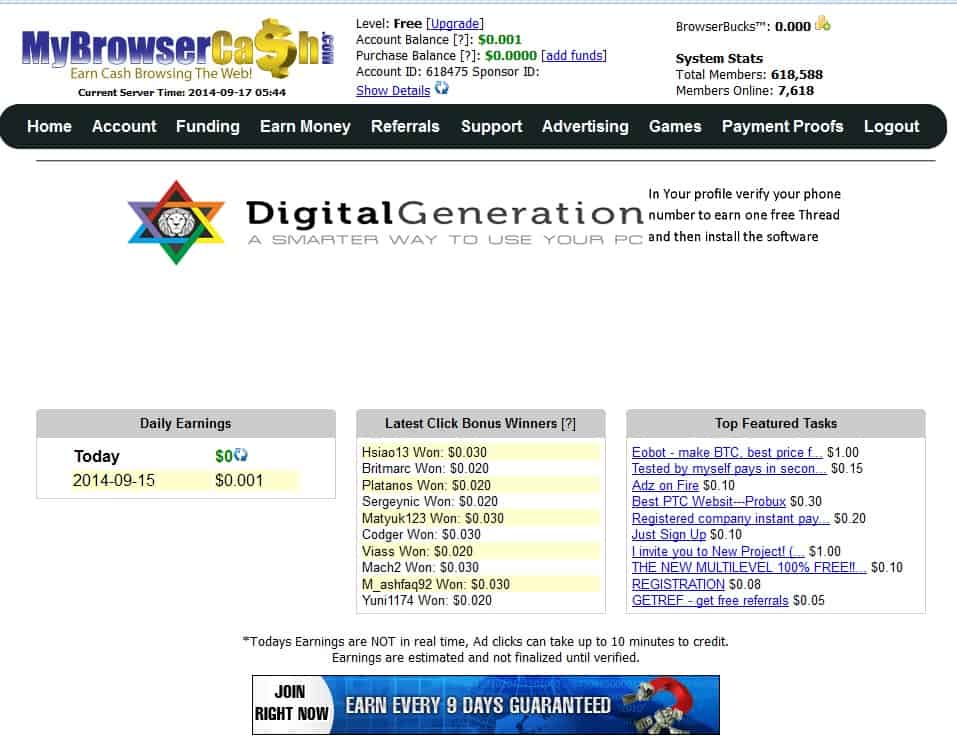 Honestly, it looks like a PTC (Paid to Click) site, as the basis is earning money from advertisements. There are also other ways to earn money from MyBrowserCash including completing offers and tasks,  such as signing up with another site, or downloading a program.
The payout can range from doing activities can range from $0.0001 to $1.00 or so depending on the type of activity.
One thing about this program is that you are required to download their software in order to really start earning. However, my anti-virus would keep popping up and block the download as it detects it as a virus.
The website do say in their FAQ that the program is a false positive, but I was not going to take the chance as it could be a potentially dangerous virus.
---
Pros and Cons
 The Pro's
The Con's
Need to download their software, which is flagged as a virus.
Low earning potential.
Website has so many advertisements.
Need referrals to really earn passively.
Lousy Support.
A lot of limitations unless you pay and upgrade.
---

Earning From MyBrowserCash
As mentioned earlier, the various ways to earn from MyBrowserCash are:
MyBrowserCash software
Paid to Clicks
Completing Tasks (Set by Users)
Completing Offers (Set by the Website)
Referrals
Paid to Clicks are usually worth very little, usually less than a cent per ad, while Tasks and Offers can go up to $1 per completed objective.
There is also another currency called BrowserBucks, which you can use to fund a paid membership. You can earn this currency by completing a different set of offers, or playing games on the website itself.
The main part of earning is mainly the referrals, where you can earn up to 35% of their ad view revenue, and 15% revenue from task completion.
---
Costs of MyBrowserCash

To sign up for the website is free, but you can actually upgrade to a paid membership for more benefits and faster earnings.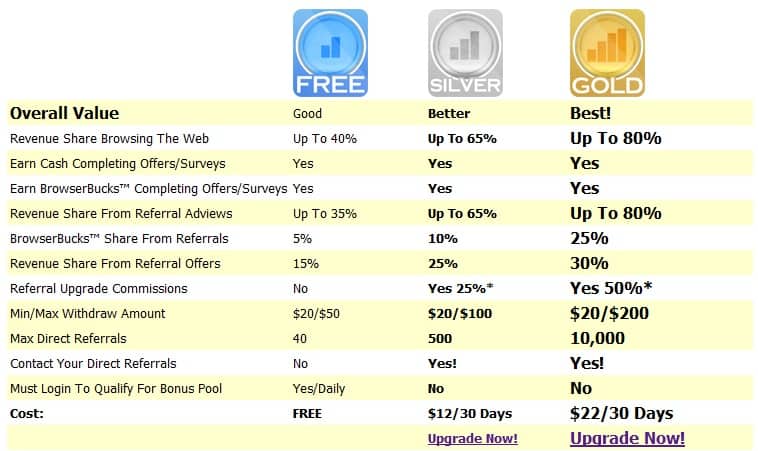 Silver would cost $12/month, and Gold costs $22/month. There does not seem to be any hidden costs, and you can really earn way more with either a silver or gold membership. You get a whole lot of benefits, commissions and earnings as well.

One thing about the payment page is that they seem to offer time constraint bonuses to users. This is an illusion used by many companies that make users think that they are missing out on a great deal if they do not act now.
This is actually fine, but the thing I did not like about it is that they claim that there are limited silver and gold spots. This is not true as upgrading membership has been there for a pretty long time already and does not seem like there are limited spots at all.
---
What others are saying

So far, this seem like a very legit site to make money from. In fact, they even included a payment proof picture on the website.
However, if you noticed the screenshot is payment dated 2012, and this seem to be the latest one on the website. I could not find any recent payment proof more recent then this too.
So the question is, are they still paying now? Let us take a look!
1. Reviewopedia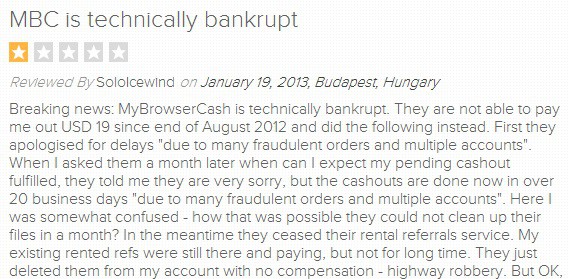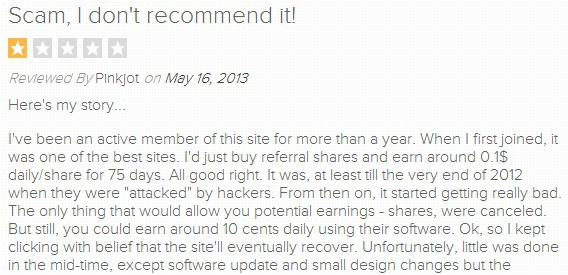 These 2 comments from Reviewopedia are made after 2012, and it seems both have been negative comments, explaining what happened to MyBrowserCash and how they couldn't cash out their money at all.
2. Scamadvisor
Scamadvisor rates this site as 0%, which means it is very unsafe. The reason for the 0% was due to low reliability rating from other websites, and was also deemed untrustworthy.
3. Scambook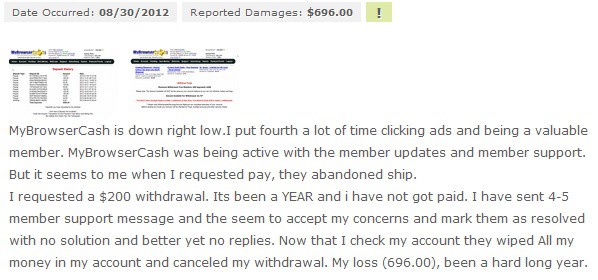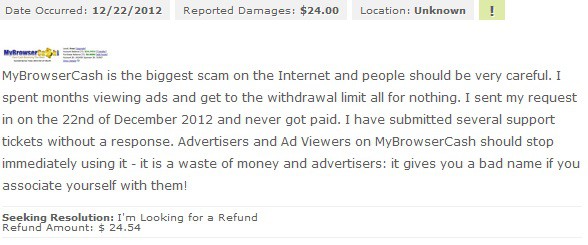 Two users reported of not getting paid as well. One of them even got their payment cancelled and wiped which is a really sad thing after spending so long with them.
---
My Final Thoughts
Reading through many comments from different websites, I can conclude that MyBrowserCash was once a legit program people could make money through completing tasks and offers. What I liked about it is that they did not promise fast cash, but just as an additional income source.
However after the end of 2012, it stopped paying users for some reason and eventually users that wanted to cash out payments after that were not paid. They were either fed false lies by the company, or have their account wiped out.
It is really quite a sad thing that a legit product online could quickly become a scam, leaving the website up in order to hook more people in based on their 'good reputation' in the past.
The other thing I feel uneasy about this is how you need to install their software to actually make money too. For me, I wouldn't install programs that would be flagged as a virus at all as it is very risky. Who knows that it could destroy your computer after installing it?
In conclusion, I would say stay away from MyBrowserCash as it is a site that no longer pays its members anymore.
---
Final Verdict of MyBrowserCash
Name: My Browser Cash

Website: http://www.mybrowsercash.com
Price: Free to sign up,  $12/month for Silver, $22/month for Gold

Owners: Digital Paper Products Inc.

BECAME A SCAM! NOT RECOMMENDED!
---
What's Next?
If you are still looking for a legitimate way to make money online, why not check out the list of apps and websites that are definitely legit here? All these websites are usually free to sign up, does not require you to even pay a single cent in order to make money!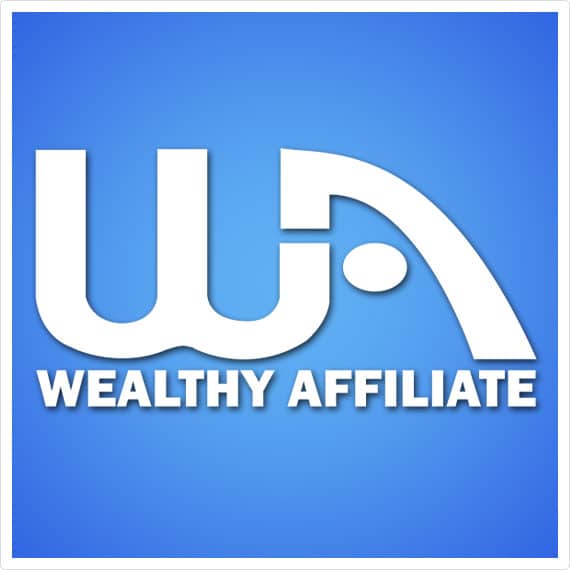 I also recommend newbies who want to learn to make money online to Wealthy Affiliate, which is also my #1 rated product on this website.
It is a place where you learn how to turn your passion into something you can make money online, and you are given step-by-step training plus community support to help you succeed. I also have conducted a tour on the website to show you what is it all about inside!
It is also free to sign up, and does not require any credit card detail at all. Just key in your Name, E-mail and Password and you get full access to the website! No Gimmicks here!
Have you tried out MyBrowserCash before? Tell me your experiences in the comments below!