Name: Profit Booster App
Websites: www.makemoneyrobot.com

Price: Free to sign up (With investment costs)
Owners: Michael Williamson
Rating: 20/100 
Money Making Robot?
I recently found out about this program called Make Money Robot, which is very similar to Profit Booster App which I reviewed quite awhile back. Apparently, this is another program that promises to make money right from day 1 for you, up to a whopping $1586!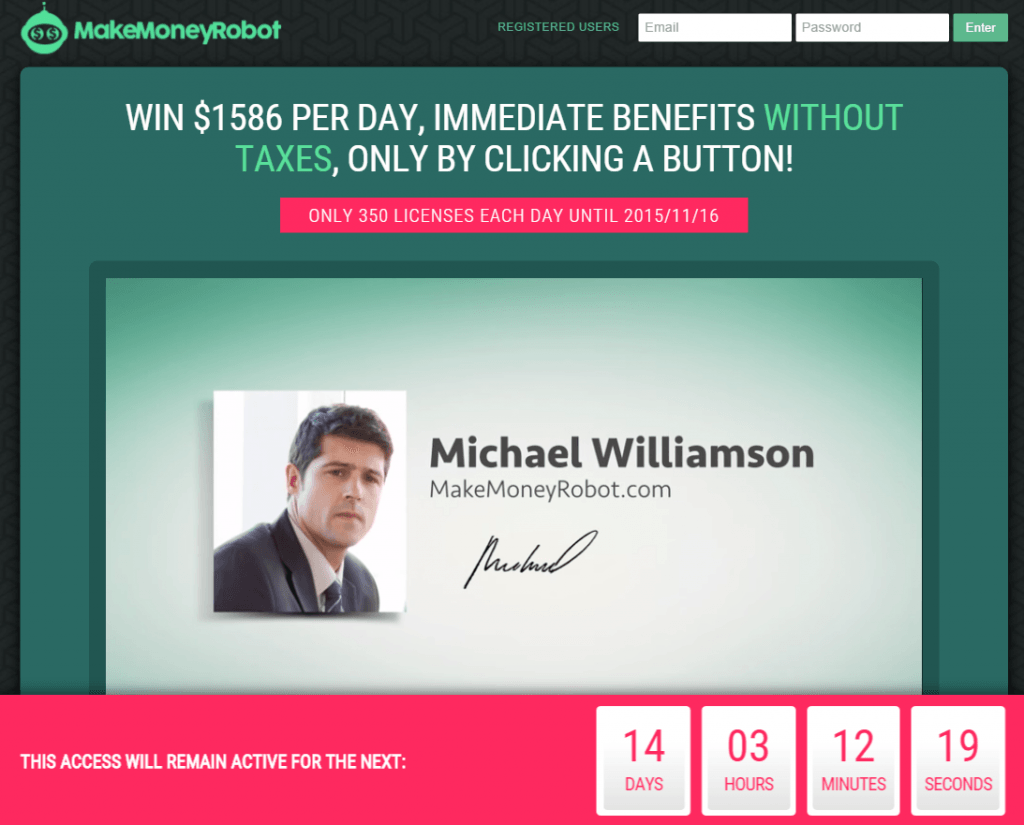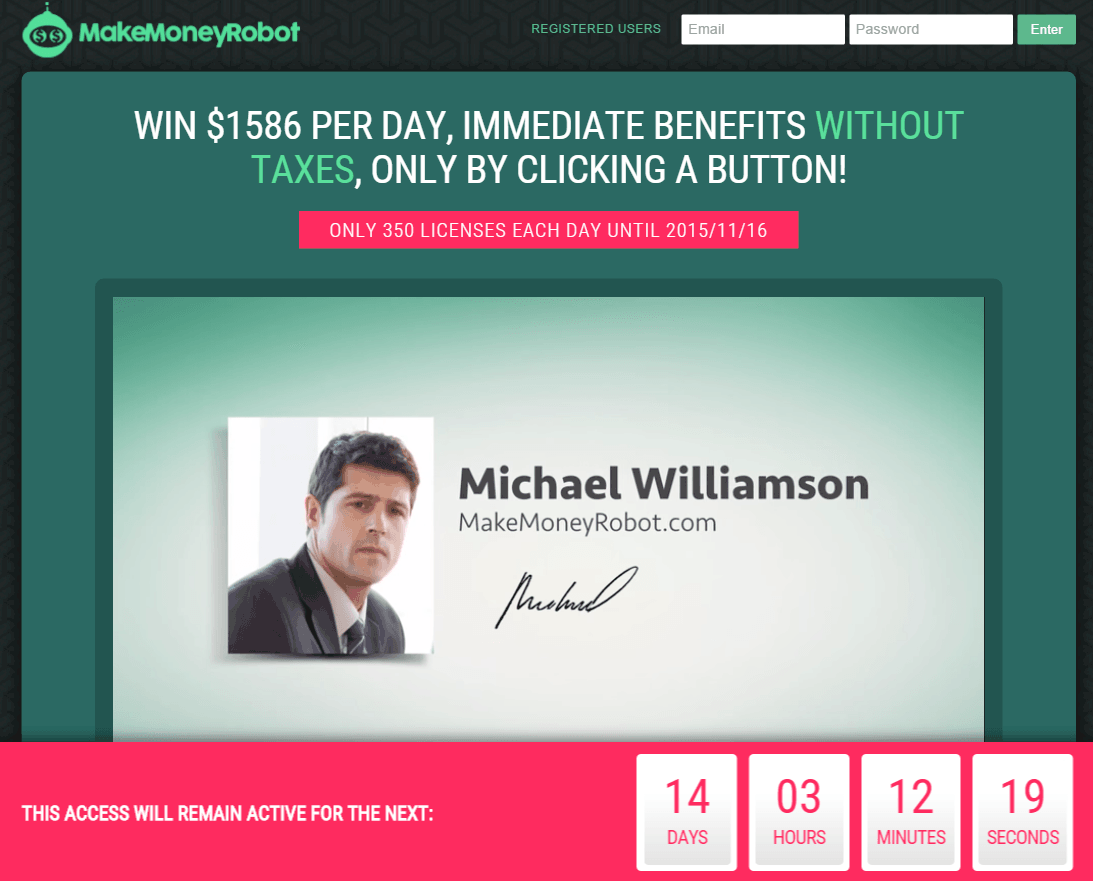 Well, why would I pass up such a great opportunity like that? Isn't it common sense to invest in such a program that makes A LOT of money so fast? I bet that it's because of that chance of losing all your money is why you may be reading this review.
I am equally curious too if this program worked, which is why I did all the research and wrote this review below.

---
What do they offer?
Make Money Robot promotes a software that can automatically run with one click of a button and makes money for you instantly after activating it. In order to start auto-trading, you need to deposit a minimum of $200 but the videos inside the sign up page recommends you to deposit $500 to $1000.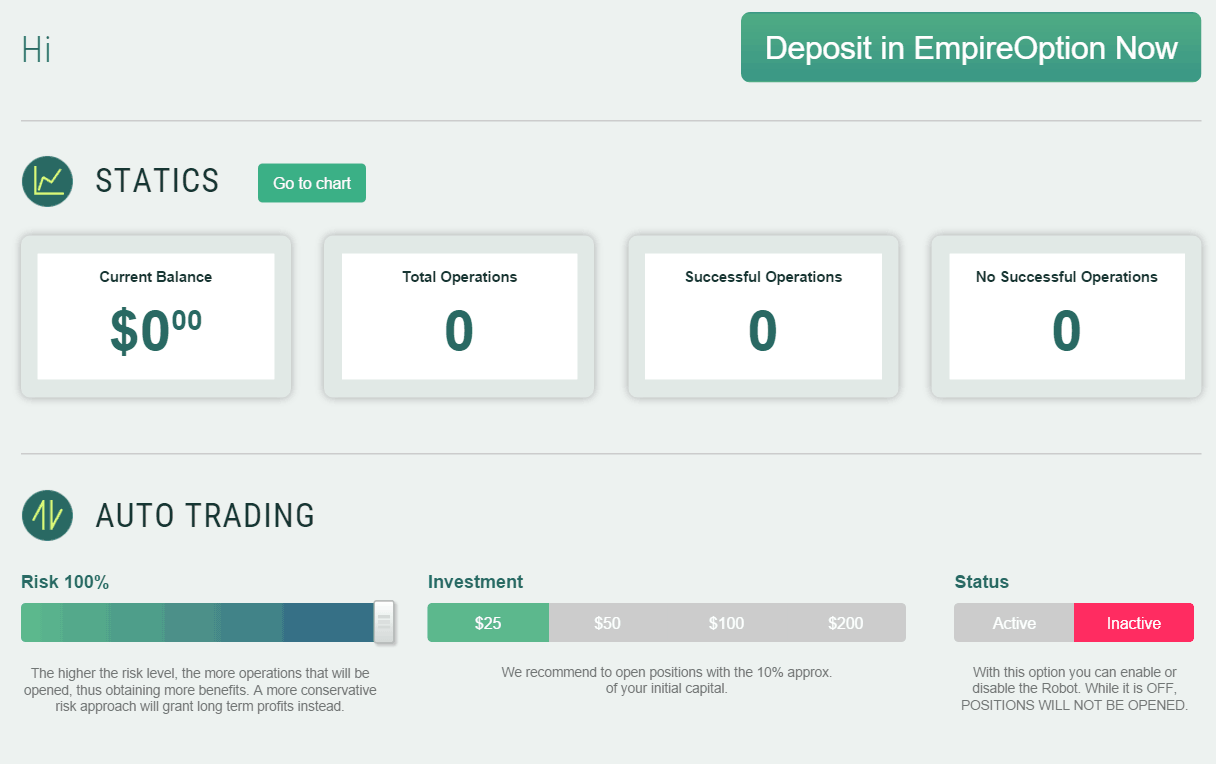 With this screen, you are supposed to set the risk level you want to take and how much you want to open each trade with. After which, press the 'Active' button and the machine will come to life. It is really that simple for a software.
The big question here now is: Does it really work or is it a huge scam? Let me break down this review to help you analyze Make Money Robot easier.
---
Analysis of Make Money Robot Website
There really isn't much on the website except for the few pages of videos and sign up, and the main trading page after you log into your account. However, I am still skeptical of this website due to a few points below. To be honest, it really seems like I'm reviewing Profit Booster App all over again.
Video is full of stock photos!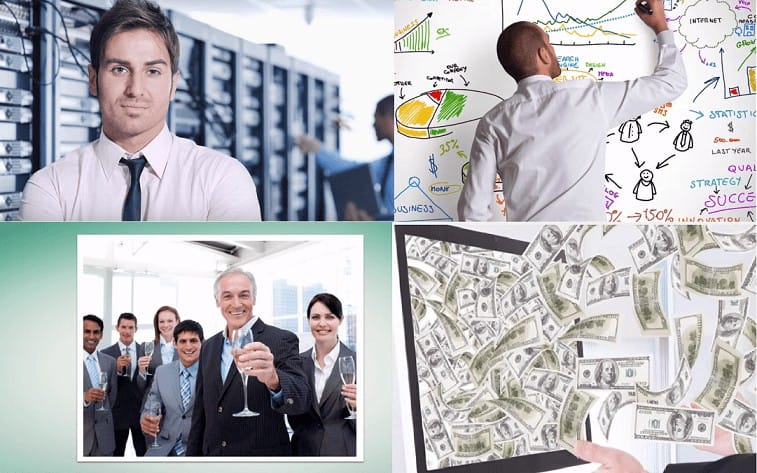 The first video that you encounter would probably be the introduction where Michael Williamson introduces you the system. It goes through a lot of stock pictures pieced together to form the video which talks and shows a lot of success and people being happy. Also, A LOT of money pictures (such as the bottom right hand of the top pictur) are shown, with a lot of big numbers that they proclaim you can earn.
I don't see any real people except for Michael's first picture when he introduced himself in the beginning. However after seeing the video, I can't help but doubt if that is even his picture or a random person's face. Nothing in the video convinces me that what he's saying is legit with so many stock photos.
He mentioned that he worked with colleagues and people to help develop the software, but I do not even see any of their picture at all. Why would any legit program hide anything at all?
2. The message of the video
In the introduction, Michael introduces a revolutionary system that can easily make $1586 per day and you can easily do it with just a minute a day. Also, you don't need to be financial literate or even IT savvy in order to start using this software to make money. At this point, I am already doubting what he is saying is real any more.
Also, he keeps challenging the viewers to be winners. To be a winner, simply follow what he says and invest in his piece of software that makes money. If not, you are a loser in life and will always be as you do not want to earn money. This actually makes me feel disgusted, as he is using feelings to make people buy into his software. Do you really like to work with someone who brands people as winners and losers so blatantly?
They also mentioned that the web has 1000's of phony people online looking to scam people. What makes you think that they aren't one of those people too?
3. Who is Michael Williamson?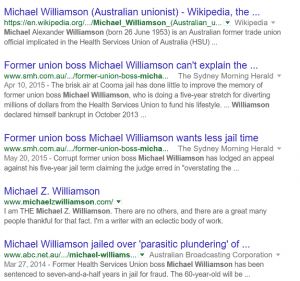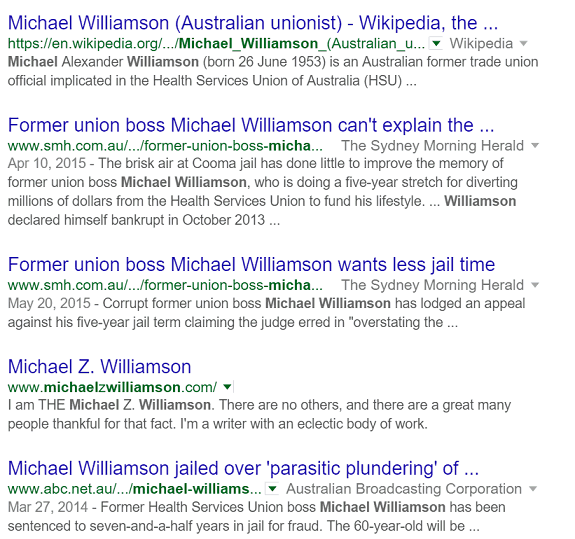 It's good to be even wary of people online, so I don't blame you if you doubt me and this review as well too. However, I have nothing to hide with my website, and you can easily find out a profile about me on Google, or even Facebook.
However, this guy claims to be an experienced trader. He developed a phenomenal software that can make money. Surely he should be featured somewhere, or can be easily found on Google. That doesn't seem to be the case though as I am unable to find a profile of this guy at all.
Google Search of him shows nothing relevant at all, and even going on Linkedin and Facebook shows no result of this guy at all too. The website doesn't link to any other social media page of the 'business' which is usually a norm for most businesses who want to get the word of their product out.
4. Unrealistic Earnings Potential
How skeptical are you after reading this line?

Honestly, I haven't found anything makes you that much money without any experience or knowledge of the program at all. This really just seems like people passing you money for knowing nothing out of thin air, which is really cool if it was real.
If not, this is a huge warning sign to stay away from such a program. Programs that claim huge earning potentials are usually scams, or tend to overstate the earning potential of the program.
5. Is it really limited time offer?
One thing I realized is how they mentioned that there are only 350 licenses are given out every day until 16th November 2015. However, I found a picture on another site, Isscam, that also investigates binary option scams. Their review was earlier, which shows an earlier picture of the main website.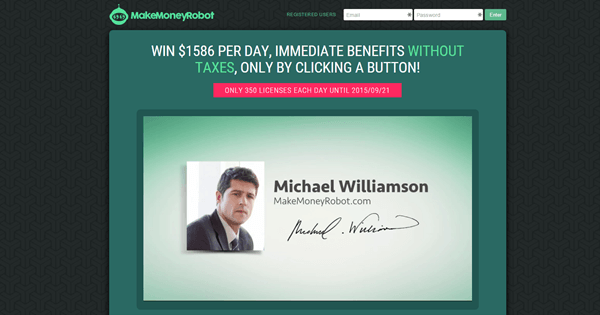 Credits: Is-Scam.com
This picture shows that the licenses are given out until 21st September 2015. This only means that they are faking the time limited offer so that people would be rushed to sign up, thinking that they are missing on the greatest opportunity ever. However, do not be fooled by such tactics!
6. Videos on Youtube
These videos are actually uploaded to Youtube, and there are some tell tale signs of it being a scam. Here's a picture to proof why they seem to be hiding something, and also how users feel about the video.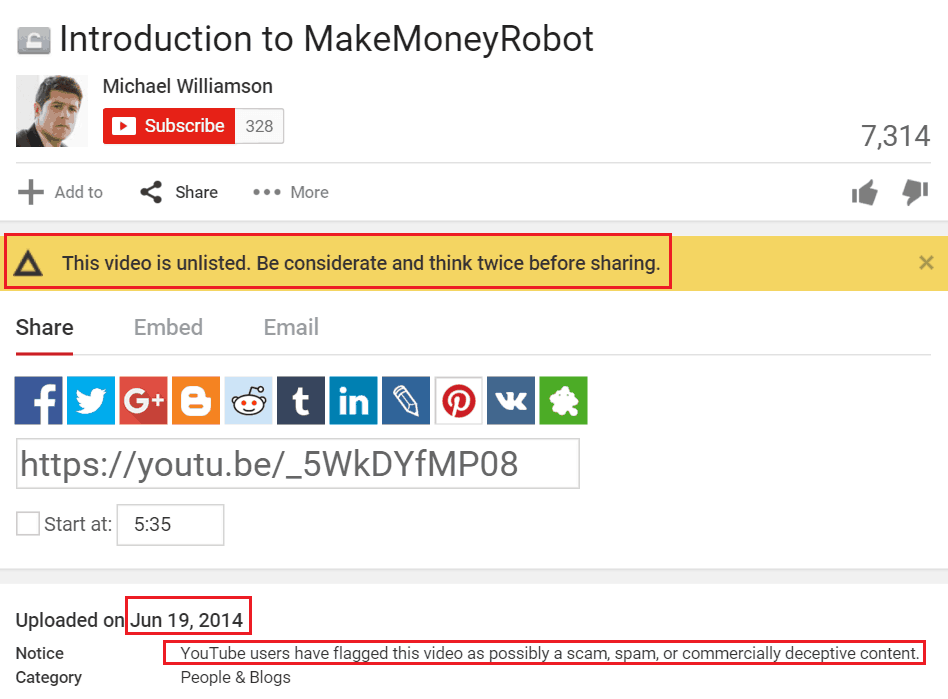 First of all, the video is unlisted. What this means is that this video will never show up as a result if people were to search for it. The only way to access the video is to know the URL of the video. One more thing about the video is that comments are also disabled, so you are unable to leave a comment about it.
Secondly, the date of the video is 19th June 2014, which means that Make Money Robot has been operating since that time as well. If it was such a limited time deal as I mentioned in point 5, shouldn't it be long down by then?
Lastly, Youtube users flagged the video as spam or a scam, which really says a lot on how people don't trust such content. As a bonus, look at the comments posted on his account.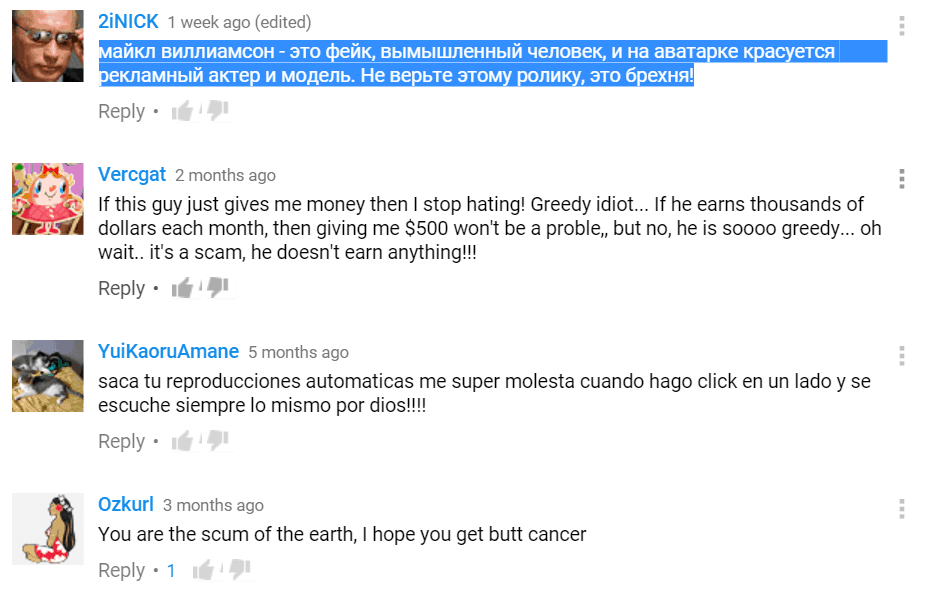 The first russian comment translates (fairly accurately?) to this: Michael Williamson – is a fake , a fictional person , and on the avatar flaunts actor and advertising model . Do not believe this roller , it is nonsense.
The rest of the comments speaks for itself.
7. Affiliate Program?
Looking through the website, I also realize that they have an affiliate program for people who want to refer visitors to their website. It does looks like a lucrative deal for people who want to make money referring other people to them.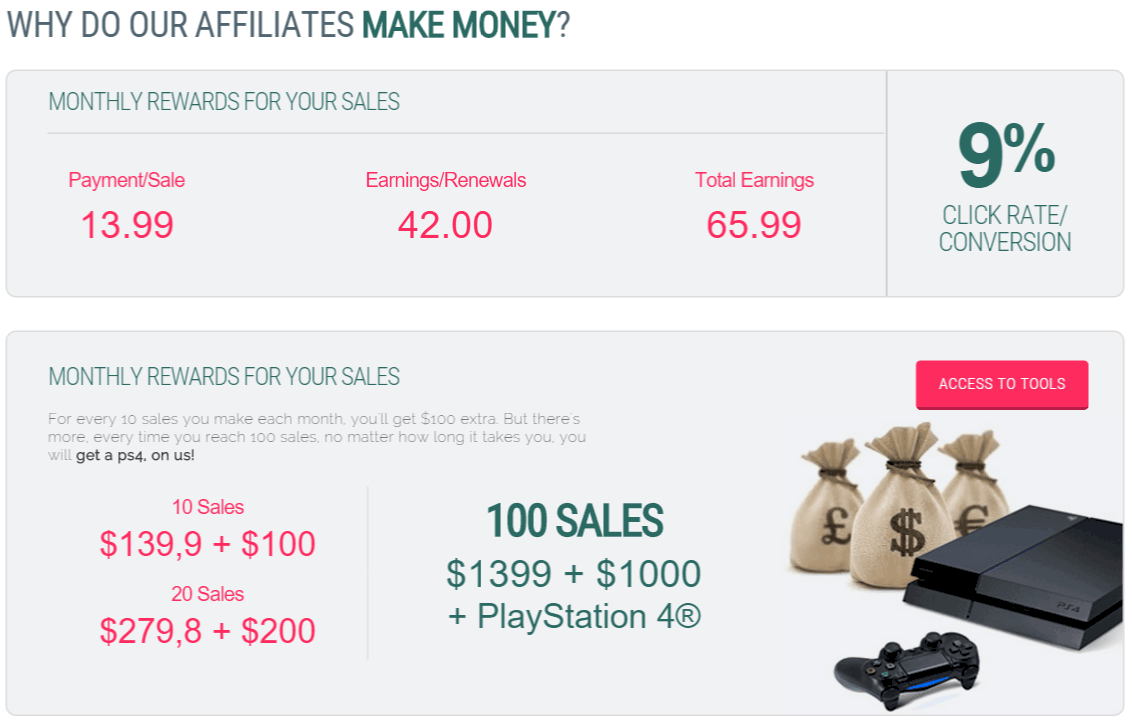 Wait… I thought the main way to make money was to use the program? Why are they paying people to refer more users into the program? Isn't it suppose to be time limited as well?
This may be the reason why you may encounter some positive reviews of this product. For me, the prizes do look very attractive but I really made it a point not to point people into the direction of doubtful programs such as Make Money Robot.
---
What others are saying
Trade Complaint

One user who registered with Make Money Robot tried out the robot but ended up losing almost everything from it. Ouch, really hurts.
The other reviews seem to say the same thing as well too.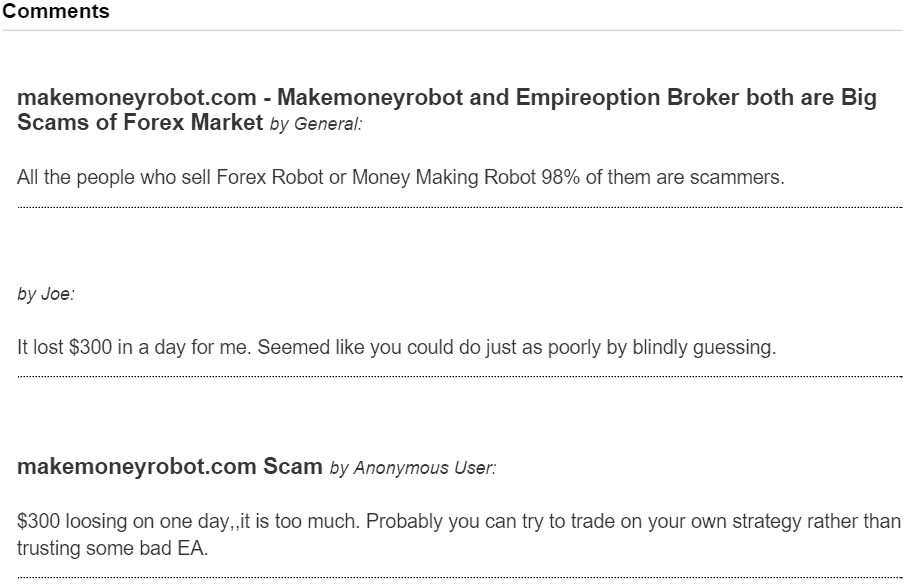 Seems like this program is made to lose money instead of gaining money! This is why when you really have no experience or knowledge about making money, you will mostly just lose all of your money quickly to scams such as this.
Scrolling through their comments page actually can show a few things such as these few comments: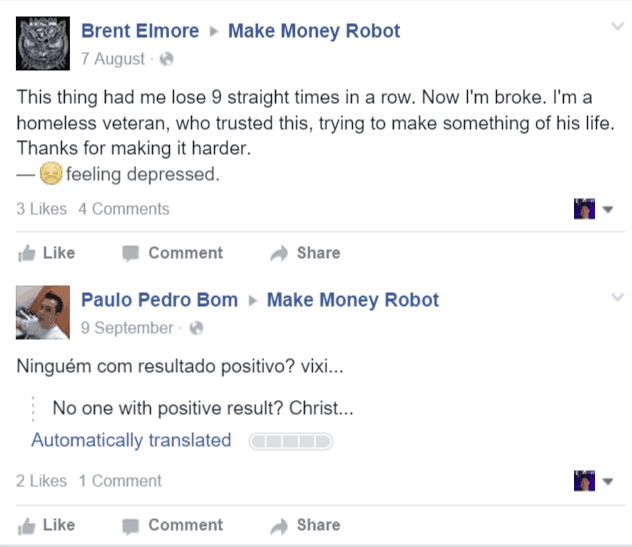 The first comment made by Brent seems really sad as he lost 9 times in a row. If he betted $100 per trade, that's $900 down the drain instantly. Ouch.
Paulo seem to make a good point too. When scrolling through the comments, I don't see anyone posting any positive result at all. All of the comments seem to be just billing and account equiry, but no one posted ANY gains that they made from Make Money Robot which just seems suspicious.
---
Final Verdict of Make Money Robot

Name: Make Money Robot
Website: http://www.makemoneyrobot.com
Price: Free (with investment cost)
Owners: Michael Williamson

NOT RECOMMENDED AT ALL FOR NEWBIES!
---
My Final Thoughts
Make Money Robot is one of those automated software that claims to make you A LOT of money right off the go, which really seems highly unrealistic in my opinion. If it really worked, there should be a lot of reviews with people posting results all over Facebook and the Internet right? All that I really found was skeptical reviews that were really just biased reviews as these reviewers just want to make money from the affiliate program.
MakeMoneyRobot itself makes money when you choose to deposit money with the broker that they recommended to you. Imagine if they just get 10% of every $200 deposit, that's an easy $20 for them! However, the realistic amount may be higher as users invest way more than that.
I really doubt that this program works, as it over promises and doesn't seem to deliver on it. Anything that promises huge returns, no experience required with a fully automated system really just seems too good to be true, and you should stay away from such programs if you want to avoid trouble.
For me, I believe in something that works. Thus, I only recommend programs that I know can make money and are legit. Preferably, something with only a small investment cost, because making money online doesn't require you to pump in $1000s of dollars before you can even start making your first dollar.
If you are still reading up to this point, you could be still looking for that next money making opportunity. Let me recommend you the system that is helping me make a decent online income. However, this program is not fully automated and requires you to put in the work before it works for you.
This program is something that could help you stop searching for the next money making program which could be another scam, such as Make Money Robot. It is also free to sign up, without any credit card obligations so that you aren't tied down as well too.
Something that you can easily jump into with minimal investment cost and something with a free trial in order to test such a program.
Interested yet? Check out the my review of the #1 product I recommend for newbies by clicking below!
Check Out My #1 Recommended Money Making Program
Do you have any experience using Binary bots like Make Money Robot before? I would love to hear your opinions!