Name: Circles.Life
Websites: http://circles.life
Price: Plan starts from $28/4GB (+2 GB If Port In Post Paid Number)
Referral Code: Use code 'TERENCE' to get an additional $20 off registration!
How I Began With Circles Life
So just saying that this isn't a paid review by any means, but I just want to clearly state I am currently a user of Circles.Life and decide to share my thoughts and review of the network so far.
I'm entering the 7th month using Circles.Life now (Started August 2016), and it all began when I cancelled my 1 year mobile contract with Starhub.
So most of my friends were like 'WHAT!? How much did you pay just to cancel your 1 year plan?'
My answer was typically like "Meh, not much."
It costed me $300 ($25 per month), but what I gained in Circles.Life was potentially a lot more data plus I paid almost the same if I waited it out vs switching over. Which was why I decided to take the leap of faith to jump when it was still relatively new.
Plus I got hooked onto one of their promotion at that time, offering 2 GB per month up to December 2016.
Since then, I have been promoting it quite a bit to my personal network but finally decided to pen down the reasons why you should take the leap of faith too!
Reason 1: Huge Data For Cheap + Crazy Deal Included
One thing you should know is that Circles.Life is a data-centric network. That means they focus heavily on giving users more data which everyone uses on a daily basis, instead of things like talk time and SMS.

Their base plan starts from $28/4 GB (+2 GB if you port in a postpaid number). That also includes a 100 mins talk time (not including incoming call)
Their bonuses are also really good, unlimited whatsapp, caller ID, and 4G are free with your plan (Which you need to pay extra on other major telcos)
If you exceed the data given, talk time or SMS: All you need to do is pay for what you use.
If you know you need to use additional talktime or SMS that month, you can easily change your plan (Described in point 2) to add as you please. It's $6/GB, $4/100 mins Talk Time, $4/100 SMS if you add it onto your plan.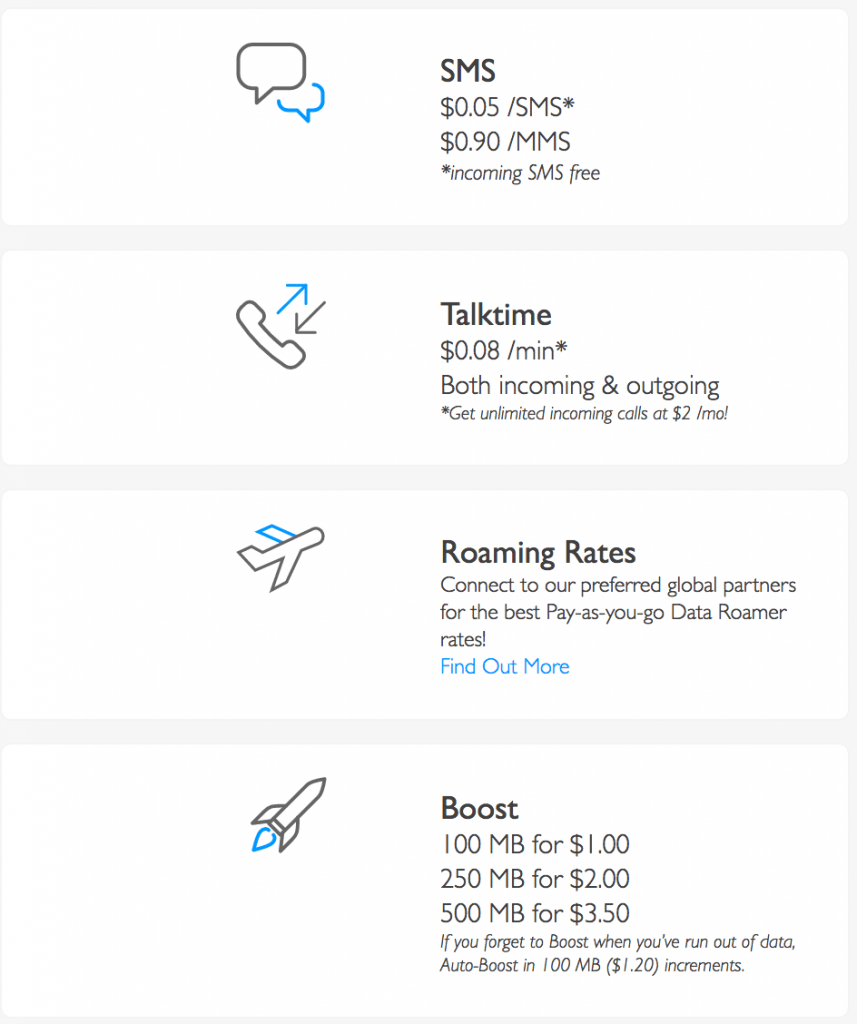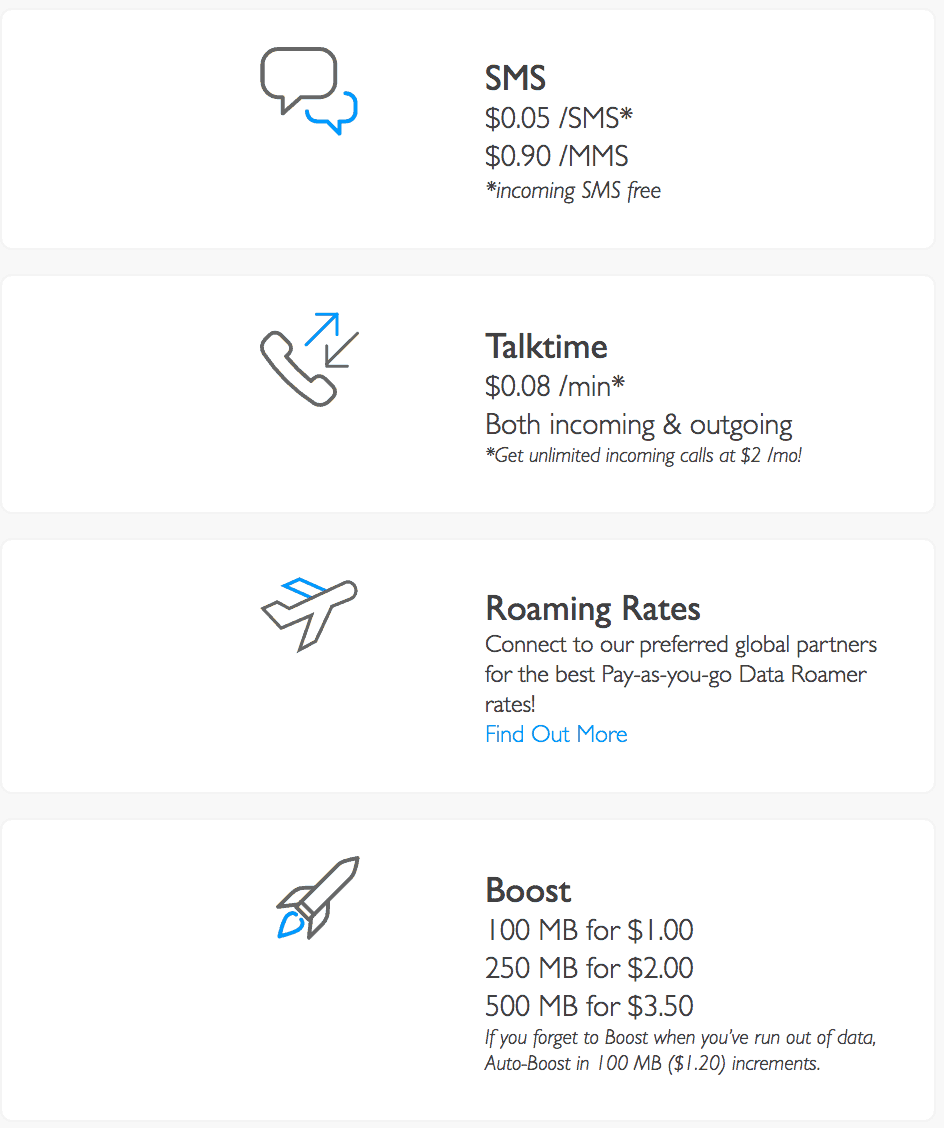 $20 for 20 GB!?!?!?


With the current promotion of 20 GB for $20, you can potentially get 26 GB for $48 NOT INCLUDING other bonuses from promotions. That's really a huge ton of data I'm not sure you can even finish using!
I know that this promotion currently beats all the major telco out there easily. If you are always starving for data or exceeding your plan, this one is definitely for you!
Check out here for more information on how you can immediately get this!
Reason 2: No Contract Obligations! Change as you please
One thing I like about Circles.Life is the ability to change your plan at any point of time.
Accessible through the mobile app, all you need to do is go to the menu and go to customize and you will be presented with a picture like this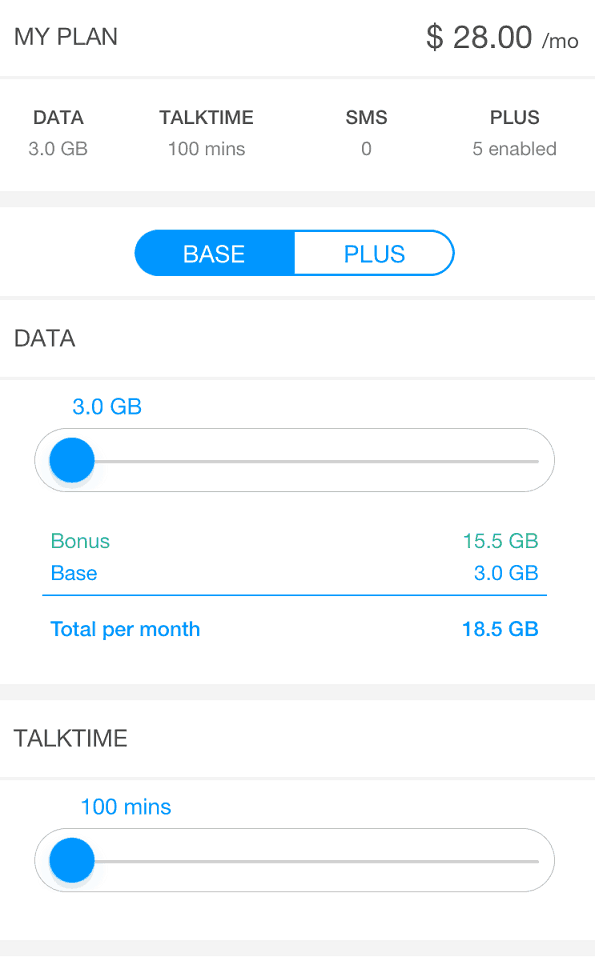 As you can see, there are a lot of options you can pick and choose, including a slider to customize how much data, sms and talktime you want for the month.
Once you select a new plan and confirm, it will take place for the following month.
Under the 'PLUS', that's where you can add options such as:
20 GB for $20
Unlimited Incoming Calls for $2
Caller ID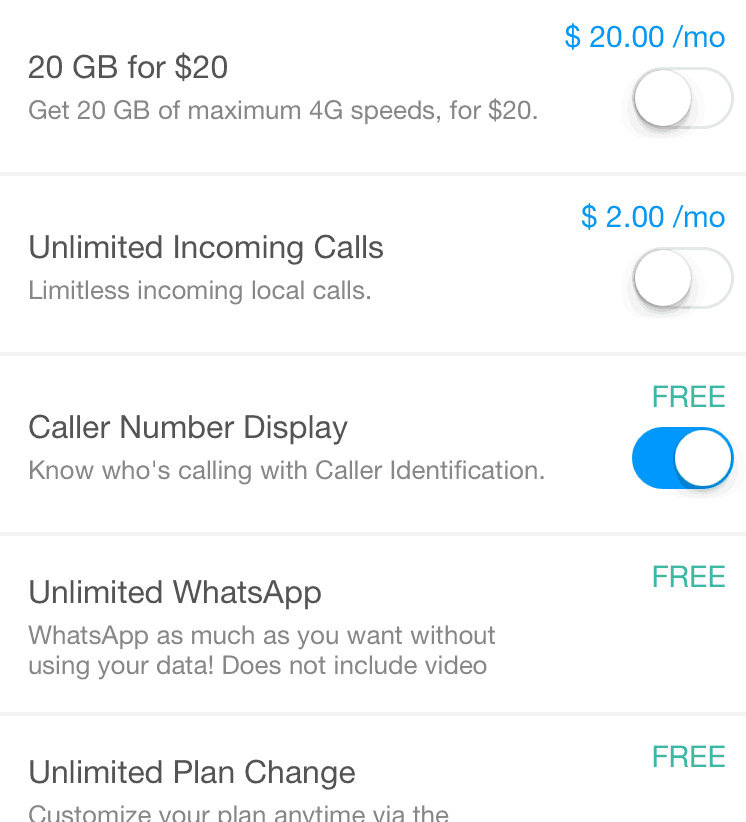 Reason 3: Stable Network!
The question I always get is the network stable? What's the point of data if you can't use it? Is the 4G working well?
Answer: Yes. That's because they tap on M1 infrastructure and rely on them to provide date. According to Wikipedia and Singapore Business Review
In July 2015, Liberty Wireless signed an agreement with M1 Limited that allows it to tap on M1's mobile network. This will enable Liberty Wireless to provide voice, messaging and data services to customers; becoming the first Mobile Virtual Network Operator (MVNO) in Singapore to offer a full service mobile network experience.
As seen, they are only a Mobile network and not a full telco like the rest too.
My only 'bad' experience was one time when the network was interrupted for a few days, but users were compensated with an additional 1 GB data of bonus data for the next 2 month each.
This shows quite a lot when you think about it, because I don't remember major telcos giving back anything to the consumers if the network happen to be unstable or even go down for a few days.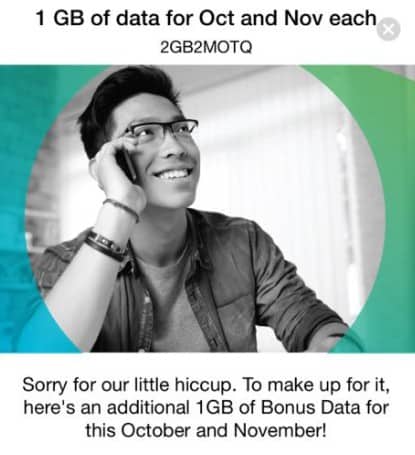 Reason 4: Their promotions and bonuses
Here's a list of ALL their promotions ever since I joined:
NDP Signup Promotion (2 GB For 5 months)
Zalora Signup Promotion (500 MB forever)
#NeverRunOutOfData (1 GB Forever)
Lazada Signup Bonus (500 MB Forever)
Data when network was unstable (1 GB for 2 months each)
New Year Bonus (1 GB for 6 months)
Contract Breakup Bonus (Up to 12 GB till 1st July)
Signup Promotion for Uber/Grab Drivers (1 GB for grab forever+ 2 GB for uber forever on top of $20 off)
GrabReward Signup Promotion (1 GB Forever)
$20 Off Bill with Perx
2 GB Port in Bonus (1 GB forever + 1 GB till end of Dec 2017)
500 MB data forever every 6 months up to 2 years (2 GB forever after 2 years)
#NeverRunOutOfData 2 (1 GB Forever)
Circles Birthday Bonus (1 GB from 1st July to 31st Dececmber)
Circles Birthday Party (Up to 20 GB FOREVER)
Think about this: The longer you take to get onto Circles.Life while waiting for your plan to be up, the more promotions you are about to miss.
If I have waited for my Starhub contract to expire, I would still be using Starhub with 3 GB AND have potentially missed almost 20-25 GB worth of data per month which I can freely use now.
You can check more promotions here as well too as they update the latest promotions and contests too.
Reason 5: Their Support
Their support team is nothing short of amazing. It is usually quite fast when you want to contact them because the user base is a lot smaller than the major telcos.
That means you don't need to wait 30 minutes to an hour just to get help on something wrong with your phone.
Looking at their Facebook page, there's always someone to answer all the questions in ANY of the posts they created.
I haven't seen any questions gone unanswered on their page before yet because they take the time to respond to every single request on their Facebook page.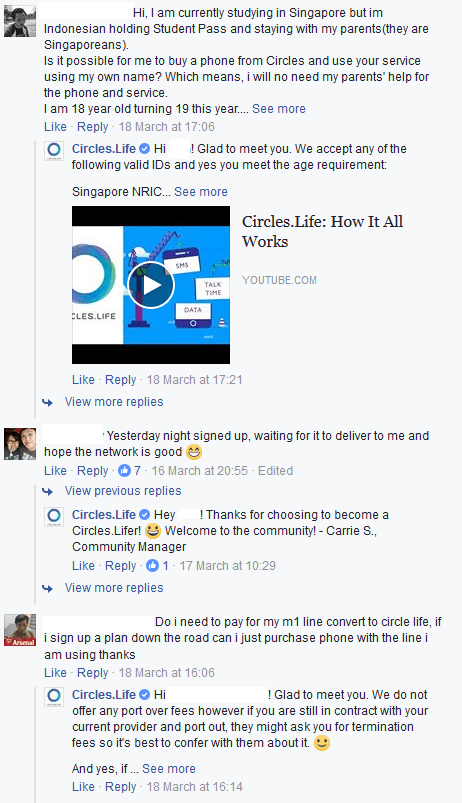 The only downside is that there is no phone chat. The only way is either live chat (Through the website or Circles App), or Email.
I have used all methods to contact before, and the support usually fulfills my request and solve my problems really quickly. Also, it is only available on Weekdays from 9 AM to 10 PM.
Being on Circles.Life for quite awhile now, I know their team is small but expanding fast because I usually get the same people coming back to help me on my support. The speed of getting my problems solved is usually pretty fast.
For example, I recently sent in a ticket as I did not receive my 500 MB loyalty bonus. I proceeded to contact live support at 12 PM to ask for help and couldn't resolve the issue during the chat.
However, the problem was solved within the hour after the support person forwarded it to the manager.
I got the 500 MB bonus within the same hour as well. The speed of them solving issues have been this quick and I have been very satisfied with their support so far


Reason 6: Worry Free Data (By Boosting!)
One thing you don't need to worry is exceeding your data plan, which is one of the main perks of Circles.Life. Besides giving regular promotions and free data, they also have ways to make sure you don't pay for anything extra.
What I mean is: You pay for what you use. You don't pay an additional $10.70 for exceeding your data plan by 1 MB like the other telcos out there.
Circles.Life solves this problem by introducing the BOOST option, where you pay just for a small additional chunk of data which last until the end of your billing cycle.
These are blocks of 100 MB ($1.20), 250 MB ($2) or 500 MB ($3.50) which are instantly charged to your account and giving you that extra bit of data in case you do exceed your data plan (If that's actually possible!).
When you sign up for a new Circles.Life plan, you are given 2 chunks of 100 MB data extra for free to try out. The 'boost' option immediately adds to your plan and charges to your account immediately.
The purpose of it is so that if you are running out of data at the end of the month, this provides an affordable option to last through 1 or 2 more days.
The data expires if you don't use finish the data by the following month.

How the boost works is simple:
You can even choose to 'auto-boost' your account so that if you hit the data cap, you will be instantly boosted 100 MB every time you are low on data.
If you don't like auto-boosting and want to do it manually, you can off the options under settings so that you can manually boost data yourself.
Reason 7: No shops.
Let me explain why this is a good thing: Remember the times you went to queue for the latest iPhone or Samsung Note/Galaxy overnight?
Or at best, waiting a few hours so you can get the latest phone.
That won't be a problem with Circles.Life as all you need to do is get a phone when you register and checkout.
Alternatively, you can purchase a new phone and have it delivered to you if you are already on Circles.Life. It's worry-free and goes to your home straight without any hassle.
Best part is you get to choose to pay for it upfront, or over 6, 12, or 24 months. Payment for your phone and payment for the data plan is considered separate and paid differently instead of bundling it together like the major Telcos.
If you are just signing up for Circles.Life with a new plan and phone, everything will be delivered to your doorstep at the designated date and time you specified.
How about if you don't want a phone? Where do I collect my SIM card then?
Same thing! Delivered to your house.
However, you will need someone to be able to collect your SIM card on your behalf as you need to sign for the package when it is delivered.
You can select the date and time when the package is coming, and then plan your schedules accordingly. Porting in will be done right after you get your SIM Card (Which is why they need you to sign and verify so the process will be simple!)
Reason 8: Change Providers and Port in Without Worries
Once you registered and got the SIM card delivered to you too, it will take just a few hours before the porting is completed once you accepted the delivery.
Watch this video and it'll be clearer.
Best part of everything is that Circles.Life does all the cancellation for you, and you don't need to contact your old telco for any purpose. There's really no hassle in transferring your number at all!
According to Circles.Life website, you need to make sure that you fulfill the following requirements before you port over:
Must be a post-paid number
The number is registered under your name and NRIC
Your number is not inactive or suspended
You do not owe anything to your current telco
If your number is on another telco then all you need to do is to get a temporary number first. Once you receive your SIM card, then follow this page to finish the rest of the process to port and transfer to Circles.Life under your own name.
Reason 9: Bill Transparency
Remember when your bills were all 'Before GST' and you had to take the time to calculate everything after GST?
How about the times when you were suddenly charged for something that you didn't even use and you had to make a lot of phone calls to support just to get it fixed and deducted from your account?
Circles.Life made it simple so that you won't face any of such issues any more.
Your costs can be easily seen in the app and you get charged only on things you use. I have not faced any sudden 'extra' charges because it's all very clearly stated in the app on what I am paying for.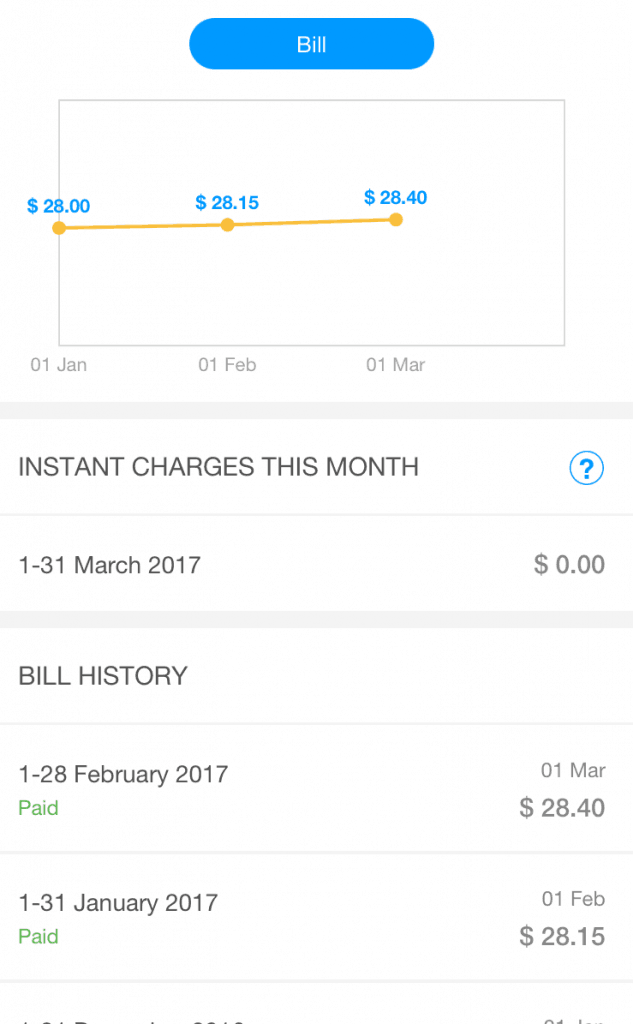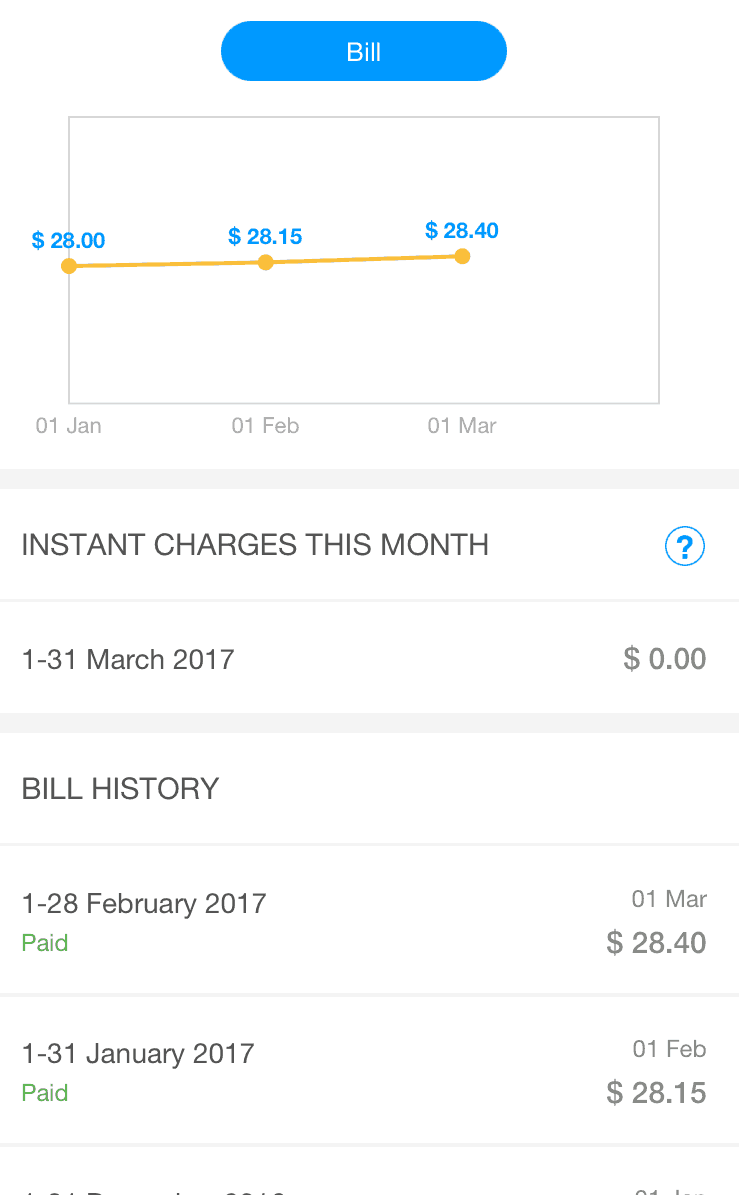 Circles.Life sends you a PDF document to show you what they charge you every month, including your additional costs as well too. You can view all past costs, usages and download the history of your past invoices on this page too.
One thing to note: When paying for a bill, you are basically pre-paying for the next month (Sep bill paying for Oct).
However, Instant charges are charged immediately to the current month and it is for paying for things like boost, or the 20 for $20 promotion.
Reason 10: Get Rewarded For Introducing Friends
So this is probably one of the best thing and probably what motivated me to write this post to be honest. Like, LOL.
It's because every person you bring onto the network with your code, you get an additional 200 MB for life as long as the person stays on the network.
It may not sound like much, but referring 5 people is 1 GB and it adds up pretty fast.
While I'm on that, take a look at the leader boards right now and you'll see the top few people has crazy amount of data: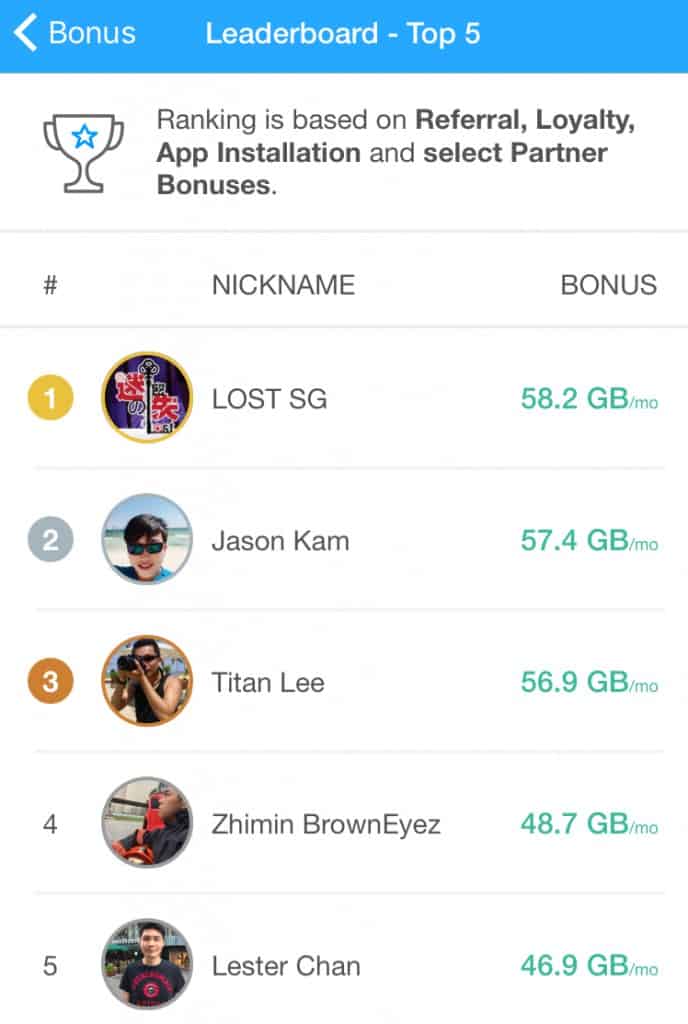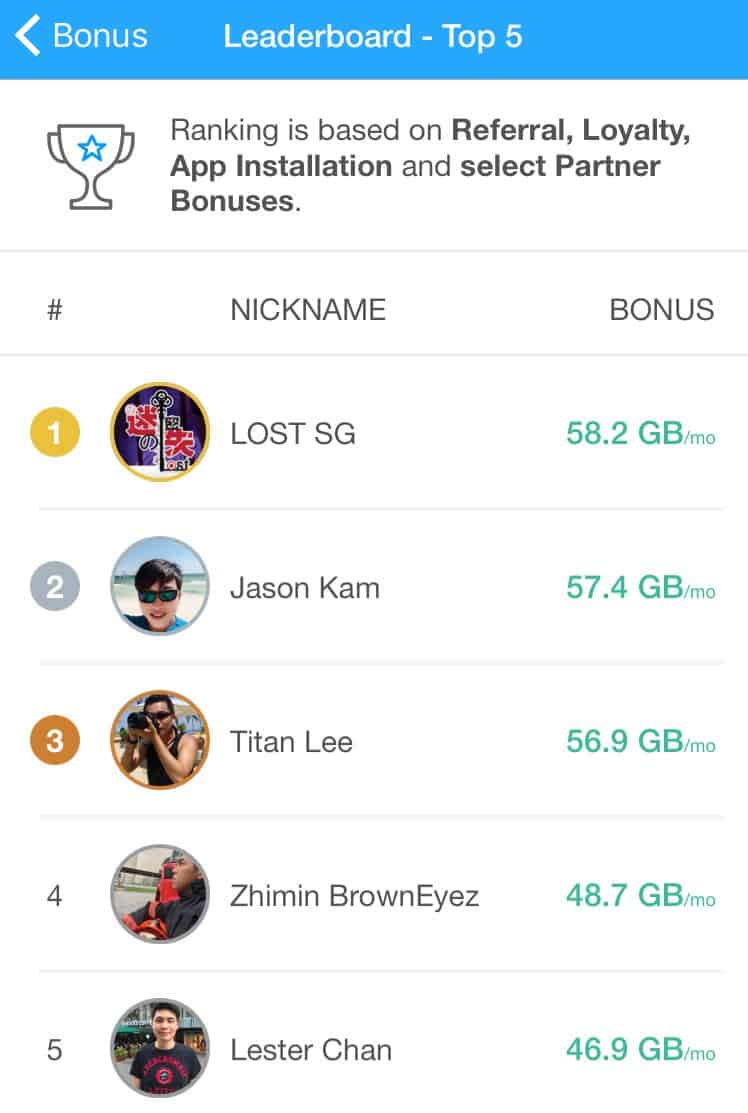 Yep, people referring and getting up to 40 – 50 GB bonus data which is pretty insane. These people  have been stacking up so much bonus data that I doubt they even use finish 1/2 of it at all.
Additional Perks
That's not all. Here's what you get when you hit a certain tier of bonus data:
3 GB /mo Leaderboard Bonus Data: Customized Referral Code!
5 GB /mo Leaderboard Bonus Data: $20 iTunes Gift Card!
15 GB /mo Leaderboard Bonus Data: 2 Gold Class Tickets!
30 GB /mo Leaderboard Bonus Data: SuperCar Ride! 

Take a look at this video by Circles on people who have taken the SuperCar ride:
50 GB tier has recently just been announced with it being a trip for 2 to Bangkok! Meanwhile, there's another tier at 70 GB which has not been announced yet.
Will you be the one to climb up and beat the rest of the people in bonus data?
Conclusion
Circles.Life has been great for me so far. I have been using it for the last 7 months as of writing this article and have not regretted the jump from Starhub.
I am currently getting about 19 GB data including various promotions and referral which is pretty great.
The way I use my data has changed a lot as I can easily stream 2 hour videos on Youtube without worrying anymore, and downloading big files using data connection.
It's also good since I do need data connection on the go, and use my hotspot for Internet to do my work too, such as writing this post at Orchard Central Coffee Bean!
Hopefully you enjoyed this article and why you should switch over to Circles today if you're still on the fence.
You can potentially save a lot more money instead of waiting for your contract to end, and benefit as much as I did too when I broke my 1 year Starhub contract.
In order to enjoy a $20 off registration, head over here to sign up your account and start the sign up process.
Towards the end of the registration process, use the referral code TERENCE for your discount!
Referral code: TERENCE (For $20 Off Registration!)