Name: Two Dollar Click
Website: http://www.twodollarclick.com
Price: Free to sign up, $19.95, $39.95
Owners: Unknown
Rating: 5/100 (SCAM)

Get at least 2 Dollars clicking ads
The Two dollar clicks PTC promises users at least $2 per 30 second ad click. This seems like quite a crazy amount for just one click. In this review, I will be going through if two dollar click actually pays or if it is a scam.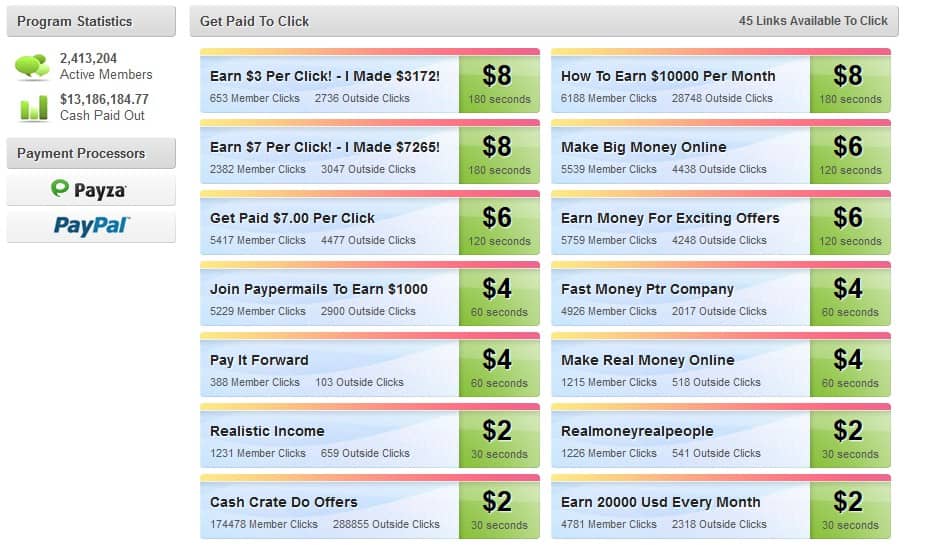 Looking at the list, it seems like a lot of money after clicking the ads. So is two dollar click legit at all? Let's find out!
---
What do they offer?
The site promotes itself as a paid to click (PTC) site that pays people to view advertisement. After which, you are rewarded an amount stated on the website.
I decided to sign up for an account and start using this service. The moment I signed up, I realize I was a free member and that you could upgrade to a paid membership. However, there wasn't much of an explanation of what upgrading entitles you until I stumbled upon this.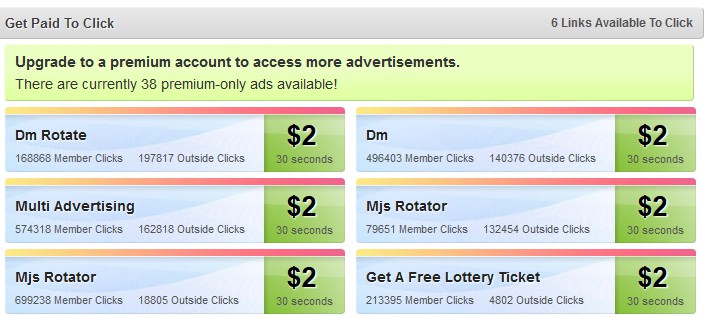 Apparently, I only have access to a few $2 ads compared to the number shown that I could click when I was not logged in at all. So it was when I realized upgrading gives you more ads to click, or you are stuck with about 6-7 ads daily only apparently.
Checking out the website, clicking on the ads were the only way to earn money. Other way includes referring your friends to the website and earning a commission from them.
Membership
Deciding to check out the membership, I was directed to a purchase page.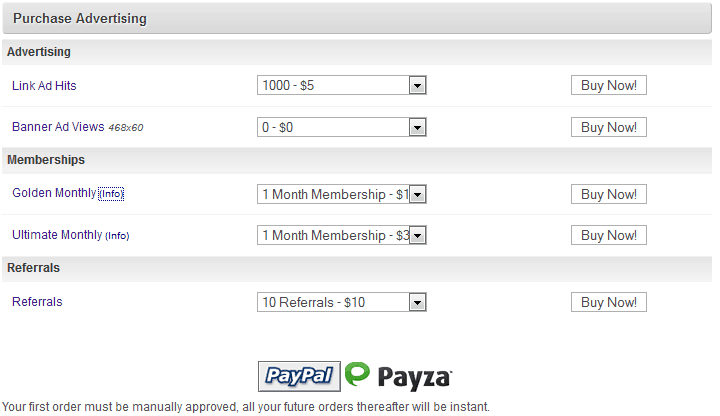 Apparently there's 2 tiers  of memberships that you can buy: Golden Monthly and Ultimate Monthly. Attempting to click the 'info' button doesn't open a new window, and apparently directs back to this purchase page, so there's no information on the difference or what it offers you exactly.
The membership is actually quite expensive, considering that you are paying $19.95 and $39.95 for the golden and ultimate monthly membership respectively. I'm guessing the golden tier gives you more $2 ads, while the ultimate tier gives you higher value clicking ads.
Besides that, you can buy referrals as well, or advertisement to advertise your website as well.
Payment Proof?
One page that caught my eye was the payment proof page.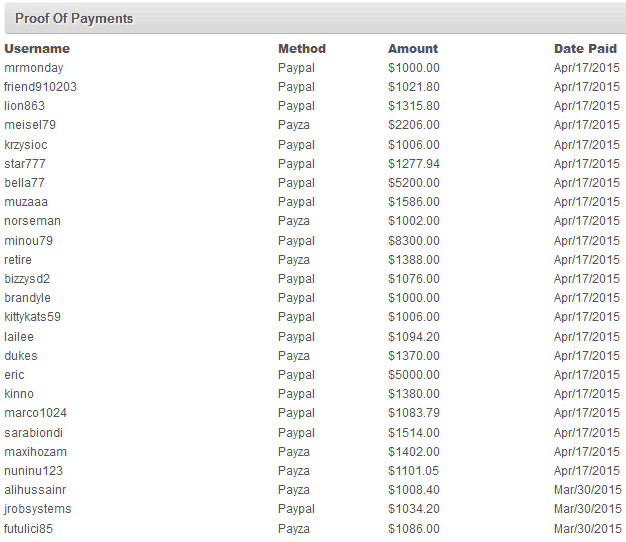 I mean, how believable is this at all? I could just manually type in I paid someone $1,000,000. It is really suspicious that they don't show the actual payment sent on either an official Paypal and Payza page.
Besides, if you scroll down the page enough you will see a user with a payment of $9999999.99 which shows how much of a joke this page is as well.
There is no Privacy Policy page, which most legit websites have listed on their website to protect their users as well.
---
Pros & Cons
The Pro's
The Con's
Must pay to unlock more ads, which is very costly.
Minimum Cashout is $1,000 which may take very long before a free member realizes it a scam after cashing out.
$2 per ad click is really unrealistic and unsustainable (If it was even legit)
No Privacy Policy
Site is not updated (Still listed as 2012)
---
What others are saying

1. PTC-Investigation.com
PTC investigation did a thorough review on why the site is a scam. This includes reasons such as how the owner of this site owns other scam sites and using fake BBB accredited certificates.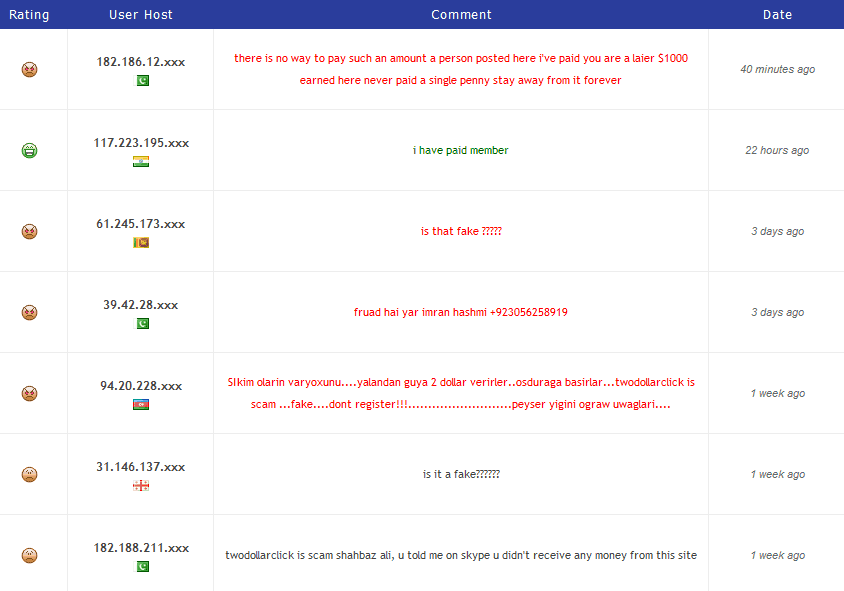 Users also can leave their experiences in the box which shows if their experience with the site is positive or negative, and majority of the comments are saying how this site is a total scam. It seems that in the years of operating the site, many users have fallen prey of such an obvious scam.
2. A Two Dollar Click Youtube Video
Apparently, a user is promoting two dollar click through a youtube video right here, showing how to sign up and use the service.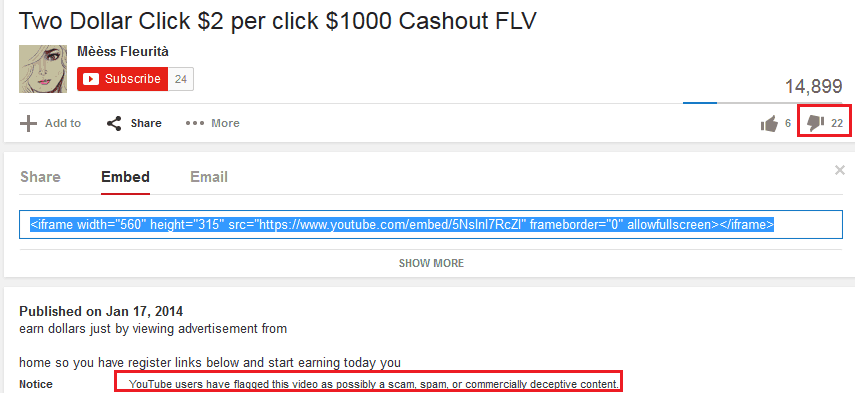 This video was shown to be downvoted/downliked quite a lot by the users, and the video has been reported as a scam, spam or deceptive content. The comments below the video also are people either questioning the legibility of the program or just reporting that they have been a victim of this scam website.
3. Web of Trust
Web of Trust has rated this site as poor trustworthiness, and a scam. The comments left by members definitely do prove how much of a scam this website is.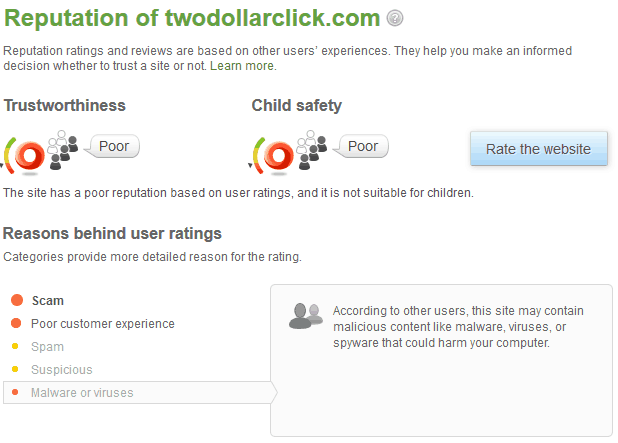 Some of the comments are:
"Showed up posting to Yahoo Answers=SPAM"
"No payments deneg.na link nobody out, liars and mosheniki.god can not get their money and contact nimi.NE tie-FRAUD !!! "
"Promotes, supports, and/or operates scams including distributed fake web traffic, click/link/email/blog spam, counterfeit products, malware, pyramids, and/or ponzis. Do not waste your time, effort, or reputation on this site, nor provide any personal or financial information"
"SCAM !! another GPTNETWORK sites, they never pay. Stay away from all of GPTNETWORK sites (tendollarclick, sixdollarclick, twodollarclick, etc)"
---
Final Verdict of Two Dollar Click

Website: http://www.twodollarclick.com
Price: Free
Owners: Unknown
SCAM! NOT RECOMMENDED!
---
Conclusion
What I love about Two Dollar Click

Nothing, except that I wished I could earn $2 per ad click
What I did not like Two Dollar Click

It is a total scam which tricks innocent users and wasting their time and money
Despite not updating the website, they are still able to operate and scamming people for so long
Two Dollar Click is another classic PTC website that gives the Paid To Click industry a bad name. There are still some legit PTC websites such as Paidverts that do actually pay out its users.
That being said, take a look at the list of apps and websites that I have reviewed so far right here. These are definitely legit and paying programs that have definitely paid out to its users. Alternatively, take a look at the list of programs I have compiled which contains many different variety of resources that you can start making money online today!
If you are interested to learn more about my #1 recommended program to earn a full time income online, click below to check out more!
Check Out My #1 Recommended Money Making Program
So what do you think about Two Dollar Click? Have you used it before? Let me know in the comments below!