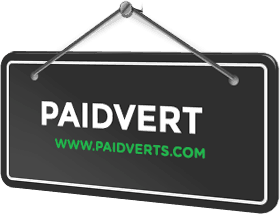 Paidverts is one of the up and coming PTCs (Paid to Click) sites that I have been seeing advertised around lately. It does seem promising for people who love PTC sites, as it is one of the legit and paying programs out there at the moment.
Generally, I avoid PTC sites due to the low earning potential. However, Paidverts is quite different as the more you use the site, the higher you get paid. Of course, by investing in the program, you get paid more and faster as well.
EDIT: Paidverts has been operating rather suspiciously in recent times compared to when I first wrote this review. I'm sure they are still paying, but if you use this website, just be careful.
---
Summary
Name: Paidverts
Owner: MyTrafficValue (http://www.mytrafficvalue.com)
Pays through: Paypal, Payza, Western Union, Solid Trust Pay, Egopay, Bitcoin
Available on: Website
Free to start: Yes, and upgrade options available!
Click Here To Sign Up for Paidverts
---
How to get Started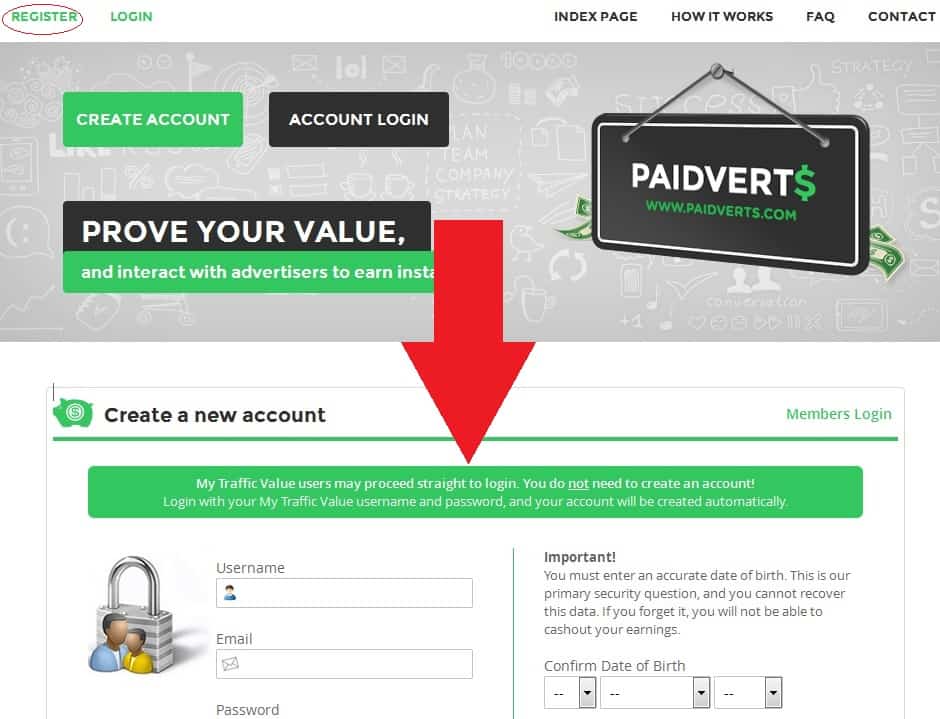 You can access the site using my link above, and you would be directed to the main page. Once you hit on the register button on the top left hand corner of your screen, you are directed to the registration page where you are required to enter your username, e-mail, password, and date of birth.
If you use My Traffic Value before, you would not need to register for a new account and can log in using your same account, as both sites share the same account.
---
How to use the site
Once you have registered and create your account, you will be directed to the main page. On this page, you will see a checklist on how you can maximize your earnings and how to earn more from the site.
When you just signed up, your account is inactive and not eligible to receive ads. To be eligible for ads, you need to accumulate BAP in order to receive paid ads that are worth money.
What is BAP?
BAP (Bonus Ad Points) are the main feature of this website. Depending on how much BAP you have, you will receive better paid ads. There are 12 different BAP groups and you slowly get better paid ads as you climb the group.
The lowest group ranges from 1600 to 12000 BAP, while the highest group is 20m BAP and up.
Everyday, BAP is deducted from your account to give you paid ads, and also to pay the daily 100 BAP tax. If you do not click them within 20 hours, it would disappear from your account and you do not get any BAP or money back.
How do I get BAP?
There are 2 ways you can accumulate BAP, a free method and a paid method.
The free method would requires you to click ads. Every ad would give you 25 BAP after typing out 3 lines of required text and visiting the website for 30 seconds.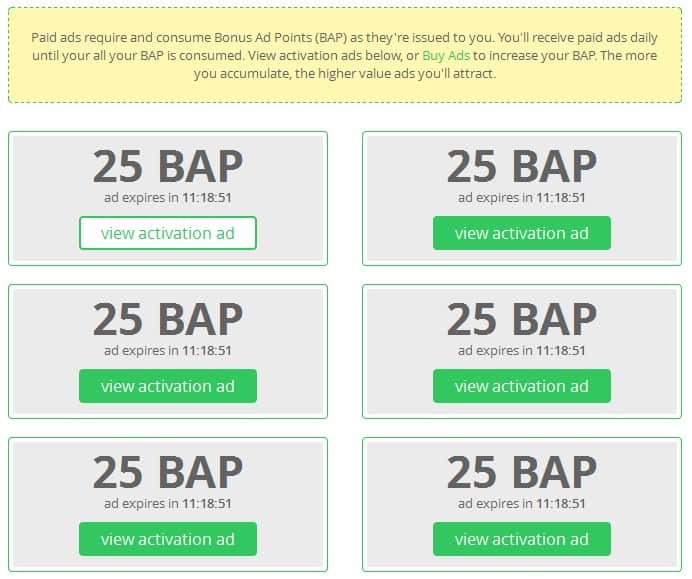 You would initially receive 16 ads to press to accumulate BAP. After viewing 100 BAP ads in total, it would reduce to 8 ads per day.
Using these BAP, you can choose to play games which require spending BAP to get more BAP, or you can keep the points to accumulate.
The paid method is to buy ads. When you purchase $1 worth of ads, your account would be credited with 3100 BAP, and also given 50 clicks to your promoted website. This also translates to $1 worth of ads giving you $1.55 worth of ads to click on in the future.
How do I get paid ads?
There are 14 BAP groups that you can fall into:
BAP Group 1: 1.6k to 12k
BAP Group 2: 12k to 24k
BAP Group 3: 24k to 48k
BAP Group 4: 48k to 96k
BAP Group 5: 96k to 180k
BAP Group 6: 180k to 360k
BAP Group 7: 360k to 720k
BAP Group 8: 720k to 1.5m
BAP Group 9: 1.5m to 3m
BAP Group 10: 3m to 6m
BAP Group 11: 6m to 20m
BAP Group 12: 20m +
BAP Group 13: 50m+
BAP Group 14: 100m+
If you are below 1600 BAP, you would only randomly ads that pay a small sum until you hit the first BAP group. The key is trying to get into one of these BAP groups, and actually climbing the groups slowly in order to get more paid ads that pay bigger amount.
The other way to get paid ads is using 50 BAP to request a micro pack, giving you $0.0025 worth of ads to click on.
---
Paying and upgrading

There are a few things you can pay for in order to receive more paid ads to your account: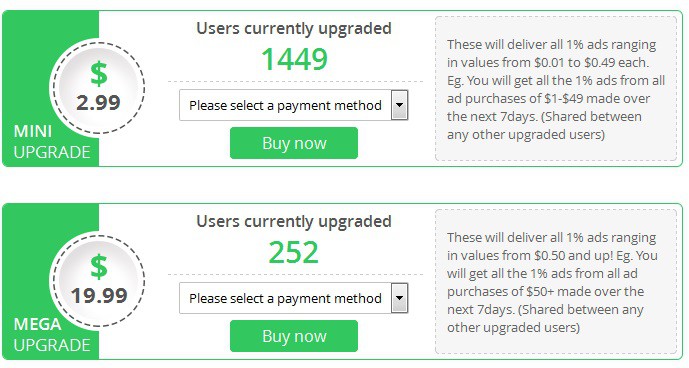 These are entirely optional. However, if you are looking to get more well paying ads, you can buy them these upgrades which last for 7 days.
You are guaranteed to get your money back from what you spent, or you will be automatically eligible for 7 days extension until you earn back what you spent on the upgrade. You can choose to purchase both upgrades if you really want to get a ton of good paying ads.
You could also buy the $0.05 upgrade where you can get $1.00 worth of ads that are recycled. These ads are basically from people that did not manage to click in time, and are passed onto you to click. Recycled ads tend to be of smaller value, with many $0.0005 ads and $0.001 ads.
However, if you do not click these ads within the 20 hour window period, it will be passed on to someone else.
In my opinion, if you are serious on earning with this site, you can go ahead and upgrade. For me, I find it really time consuming to keep clicking ads all day. The thing is that these ads would also consume your BAP as per normal, making it less worth it
Unless you are super bored or can do this passively in the background, I would advise spending money upgrading.
---
Cashing out
You can access the menu to cash out by clicking 'Cashout Earnings'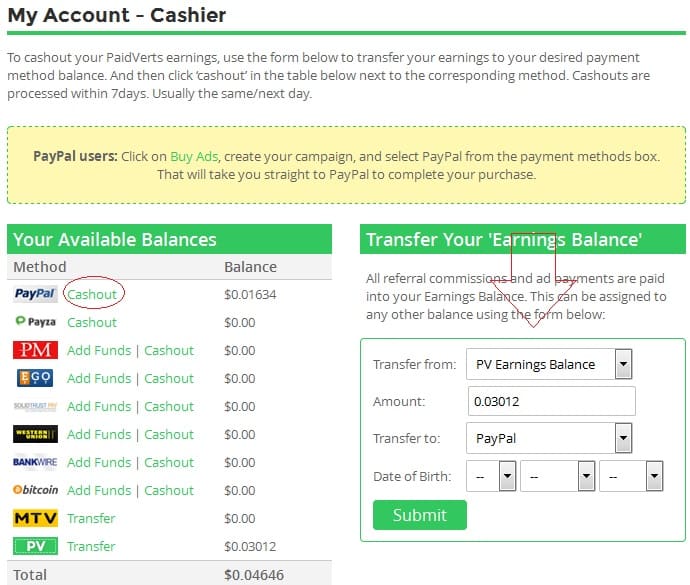 There are multiple options you could cash out to on Paidverts. To cash out to your preferred payment provider, you need to transfer the money from your earnings balance.
In this case, I would transfer to Paypal. I would then type in the amount and transfer to Paypal on the right side. After which, I would click the cash out button (circled in red) in order to process the cash out.
The minimum payout is $2.00, and has a 2.5% + $0.25 tax. As Such, cashing out $2.00 would leave you with only $1.70 in your Paypal account.
If you want to invest your money back into the site, you could use the money to buy ads and get BAP. You could even use the money to purchase the mini or mega upgrades to get more earnings faster.
---
Personal Tips
You want to check back the site twice daily to click on any potential ads. If you do not click the ads assigned to you in 20 hours, it would expire. Any BAP spent getting the ad would be lost too.
If you want to start making money fast, I recommend investing in a little money as it pays back quite quickly.
You can purchase ads and get 3100 BAP per $1 spent, which allows you to get paying ads quicker. You can get the traffic of the ads onto your target website and potentially monetizing the traffic.
If you have a lot of BAP and won't be using the site for awhile, you can pay and freeze your BAP so you do not lose them daily.
---
Referrals
The referral program in Paidverts is simple. You get 5% of your referrals clicks, and 10% of their ad purchases. It is only a one tier system only, so only your direct referrals can earn you money.
If you would like to thank me, you could use my link which I provided at the top of my post too.
---
Is this legit?
Usually, most PTCs are scams, or turn out to be scam. As of writing of this post, I am glad to say Paidverts is still paying!
There are multiple payment proof on the internet if you search up Paidverts, and I have listed some of them right here.
EDIT: I just got my first cash out from the site!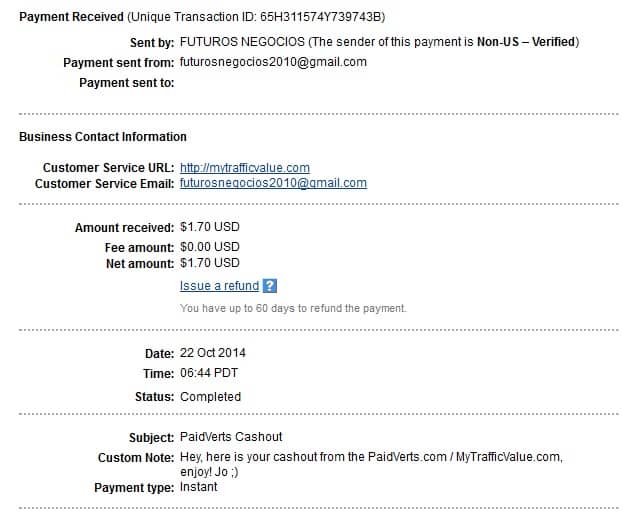 ---
Final Thoughts
What I love about the site
For a PTC site, this site is somewhat different and can pay significantly a lot per ad click if you invest time in it. In a way, you can earn more and more if you invest money and referral.
The low cash out rate is great too, which makes it easy for people to cash out without much effort. It is even easier if you invest a few dollars.
Great support on the forums: Updates are coming in daily from the owner itself regarding both Paidverts and MyTrafficValue.
What I did not like about the site
You are earning less than one cent per click when you are just starting out, which makes it a lot of effort for very little money. Compared to my other programs like MyAppAware where you earn $0.50 to $1 per app review, this is really pathetic.
It is still rather new, launching only this year. Many PTCs tend to stop paying after awhile as they can't sustain their business.
All in all, Paidverts is a very promising PTC site as it is a legit website to earn money, even though it does not pay a lot when you start initially. However, if you can refer a lot of people to the website, you are bound to make some passive income like the top player, who is making close to $1000 per day.
Of course, it is free to sign up on Paidverts. But on such sites, you need to invest a little money in order to make money quicker too. If you do decide to invest in such a site, make sure you only invest what you can afford.
Also, there is always that chance where a site might become a scam any time and stop paying its users just like MyBrowserCash. Sites like these tend to be quite risky, as you can really make a profit quick too.
If you love to earn more money through websites like Paidverts, Why not check out my full list of apps and websites here?
You can also check out my #1 recommended product where you can learn to use your passion to make money online by clicking below!
Check Out My #1 Recommended Money Making Program
What do you think about Paidverts and PTC sites? Let me know in the comments below!