Clixsense started out as a PTC site since 2007 and have survived until this day where many members are making quite a lot of money from the website itself. For me, I used the website once in awhile in the past but have not touched it much.
Since 2007, the website has slowly transformed to what it is today where you can earn money from things other than clicking ads such as sites like paidverts, such as doing surveys, completing offers and more!
Today, I will be covering the review on Clixsense after delving into the many ways to earn money from the website.
---
Summary
Name: Clixsense
Owner: Clixsense
Pays through: Paypal, Payza, Paytoo
Available on: Website
Free to start: Yes, and upgrade options available!
Click Here To Sign Up for Clixsense
---
Clixsense sign up procedure
Once accessing the main page, click the sign up button on the top right hand corner of the screen. After which, you would be directed to the sign up page as per below.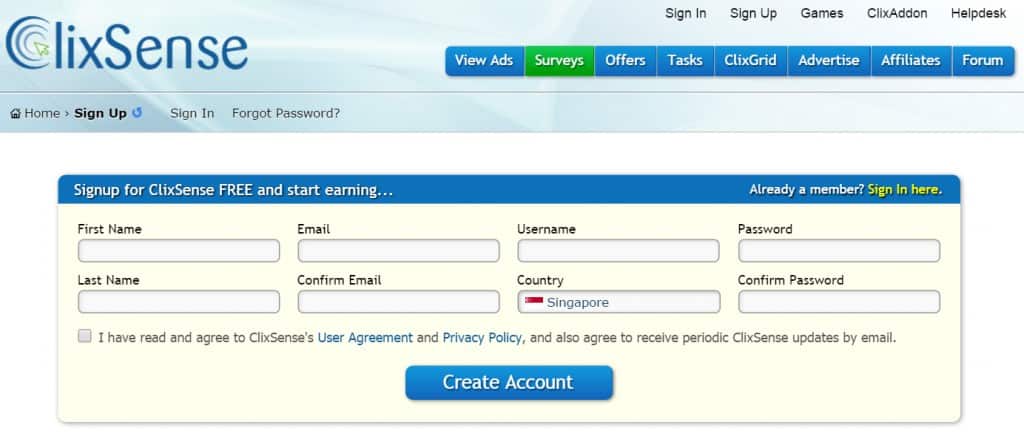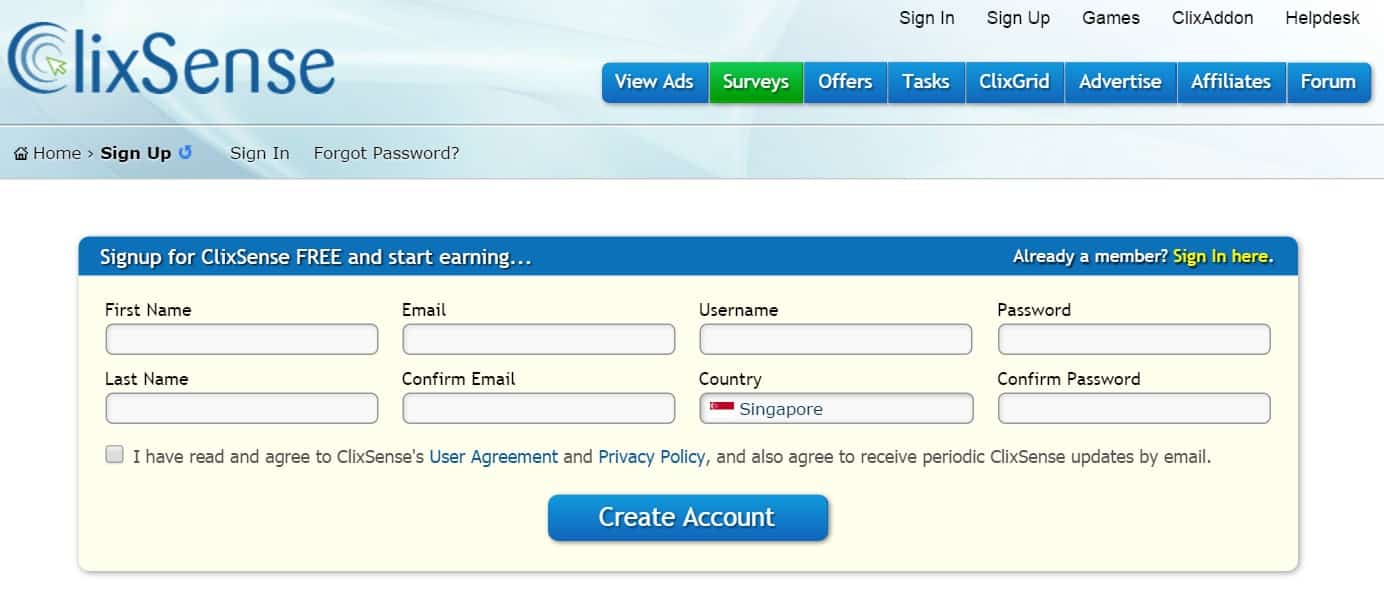 Fill up the required details including your Name, email, password and you'll immediately get access to your free account immediately.
---
How to use the site
There are many ways that you can earn from the site. The original way is actually clicking ads and getting money from it, but it is one of the slowest ways to earn as there are a lot of other ways that can make money way faster.
Let us go through the possible ways to earn money from the website.
1. PTC (Paid-To-Clicks)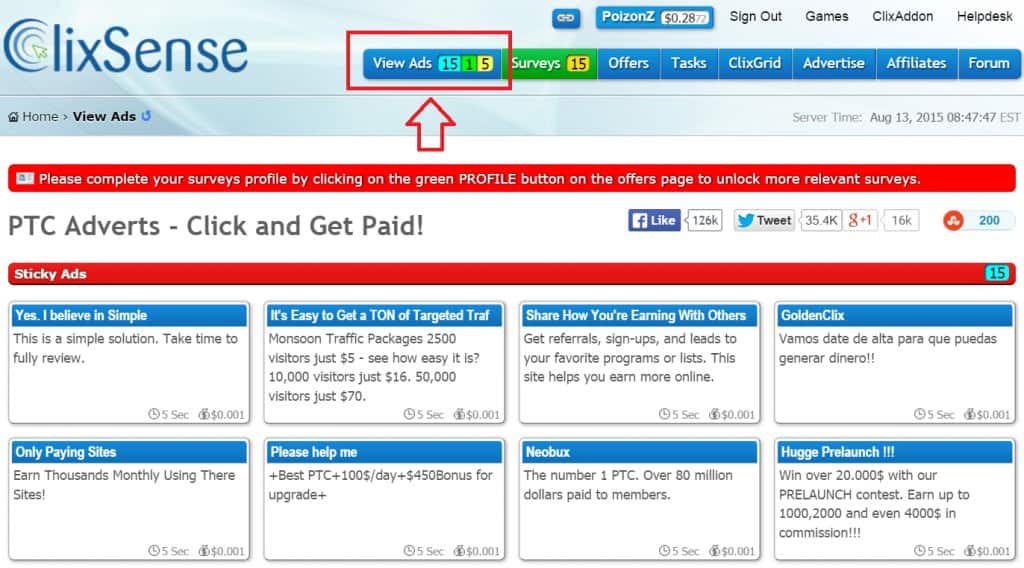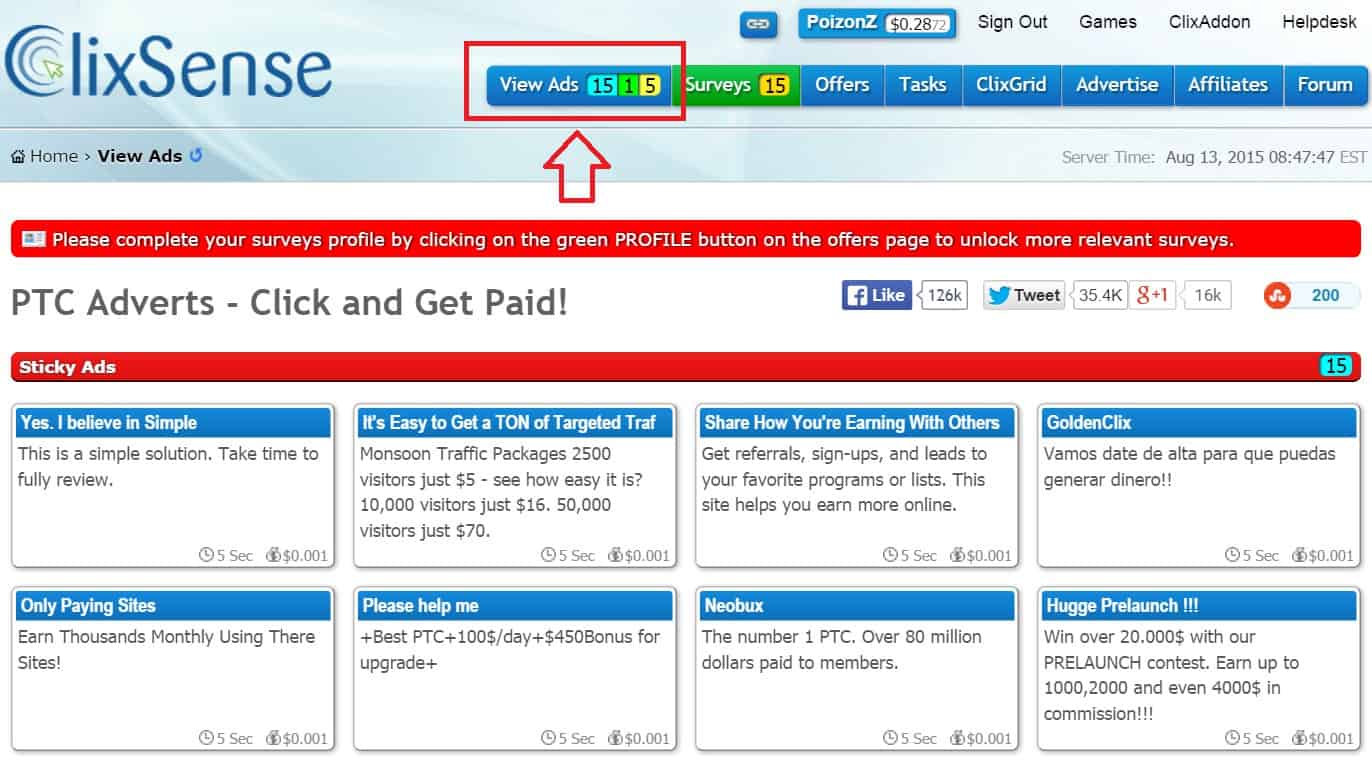 On the tab itself, you can see the number of ads that are provided. The different number represent the different type of ads, which doesn't really matter as they all earn you money either way. Once you click through an advert, you need to click through a verification process. In Clixsense, this means clicking the cat. Always the cat. (Unless it changes in the future)



After the verification, you need to stay on the page for the required time (ranging from 5 seconds to 60 seconds). This means you can't click away and AFK too, as it will stop the timer from ticking down. This is also the reason why the timer is pretty fast as well, and that you earn typically very little per click too ($0.001 per ad mostly).
2. Surveys
Clixsense also has surveys that you can complete, which allow you to complete surveys and get the money credited to your Clixsense account. This means there is no need to go directly to survey site providers such as Globaltestmarket and Opinionworld.


One thing I like about this is that they show you the amount of time it roughly takes to finish the survey, and how much they pay you after doing the survey. Some things to note will be:
Update your profile. Answer the series of questions (About less than 5 mins to answer all) and get surveys that target your demographics, which means lesser chance of getting screened out
The yellow ! means that you may get screened out late in the survey if you choose to take it
Surveys will instantly pay you right after finishing
Surveys usually change everyday as there are new surveys, and old surveys expire fast
Also, there are daily surveys where you can keep doing the surveys multiple times, or even unlimited times. However, I feel that it is hard to qualify for these surveys as they may hardly target your demographics. This means also cycling through a lot of surveys before you get one that doesn't screen you out early.
3. Offers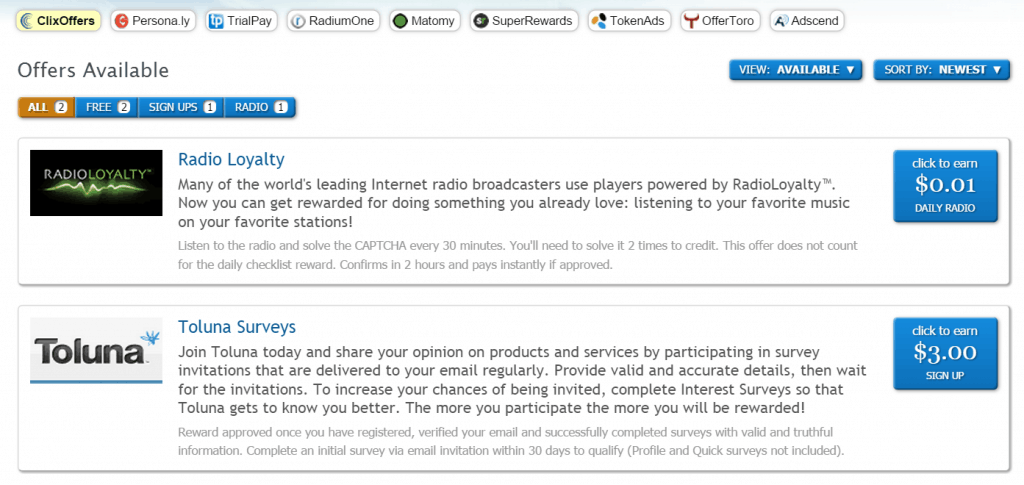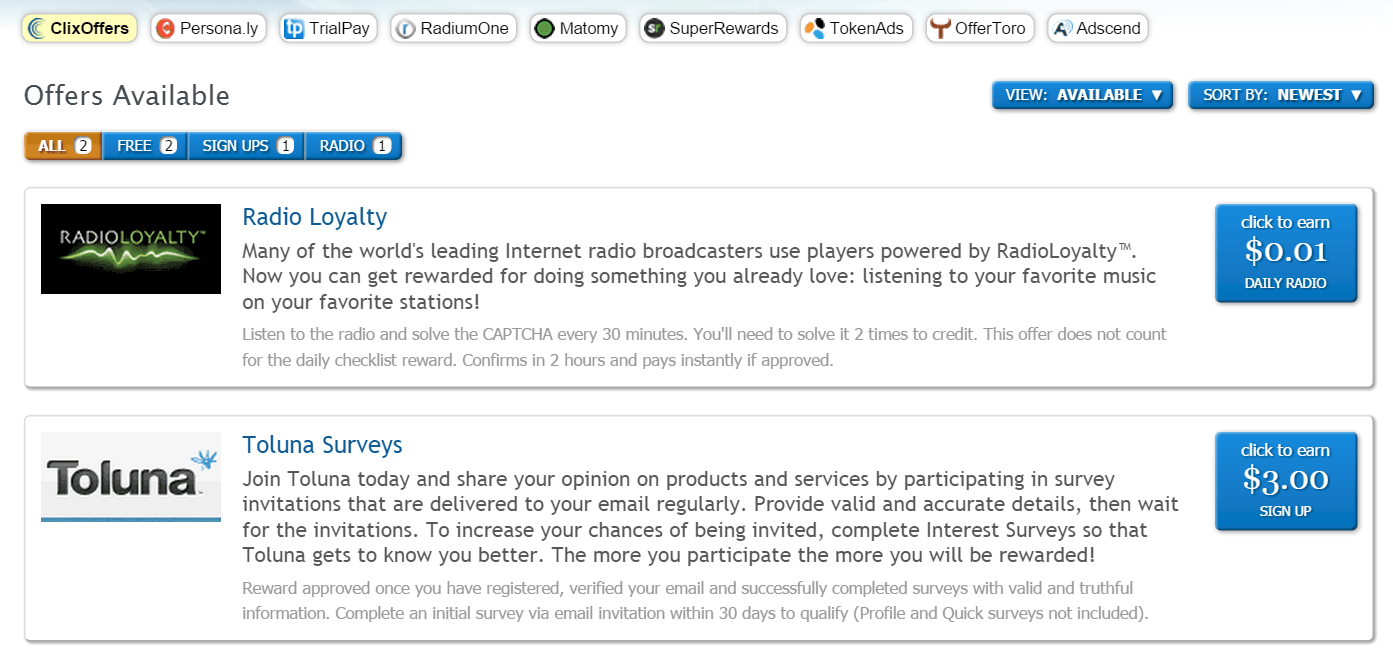 Offers are things that includes:
Videos, Radio: Watch and stream these to get paid
Paid to sign up: Once you sign up for a service, you get paid. The example in the picture requires you to take a survey before you get paid.
Paid to buy: Purchase a certain product, then get paid for it
Paid to download: Download a product, or an app and open it to earn credits. Similar to Featurepoints.
4. Tasks
Tasks are provided by Crowdflower, which is a crowdsourcing service that allow people to do work in order to get paid.
In these tasks, you are given a set objective to do such as finding out a company address and confirming it. You need to fairly accurate too if you want to get paid. Out of 10 questions, you may need to achieve at least 7-8 correct or you would not be paid.
In my opinion, crowdflower tasks are usually quite long and menial, which means you get paid very little for the effort you put in. This may be true at the start, but may pay better as you progress into more tasks.
At this point of time writing this section, I do not have any offers so I can't show any examples, but will update as soon as I get one.


5. ClixGrid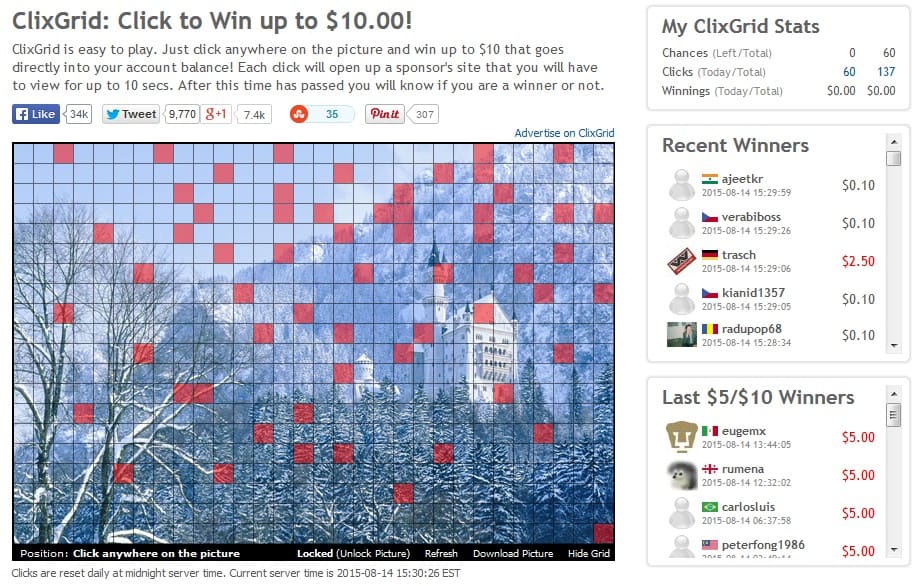 Clixgrid is basically a mini game in my opinion. All you need to do is click each square and wait for a 5/10 second advertisement (Depending whether you paid for a premium membership, more covered below) before it prompts you if you win any money or not. You would have 30 or 60 chances per day as well, depending on your membership level too. It's just pretty much luck based, so you need to click any tile and wait for the timer to expire before you win something, or be told to try again later.
6. Daily Checklist bonus
You may have probably also noticed this on the sidebar, which is the daily checklist bonus. These are the required things you need to do in order to get a higher earning bonus. By achieving the daily checklist bonus, you get bonus that will add an amount to your total earnings at the end of the day. To achieve the daily checklist bonus, you need to:
Click 6 PTC advertisements
Click 20 Clixgrids squares
Complete 10 tasks OR 2 surveys/offers OR 5 tasks with 1 survey/offer
Visit 1 page of the forum
Extra bonus: Install the Clixaddon on your browser and run it at least 1 hour to activate this bonus
Extra bonus: Complete the daily checklist at least 3 days in a row to activate this bonus
How much you earn also depends on your membership level. As a free member, you can achieve up to 7% maximum bonus, while a premium member can hit up to 16% maximum bonus as you can see on the picture above. More details about the daily checklist is listed here.
---
Membership levels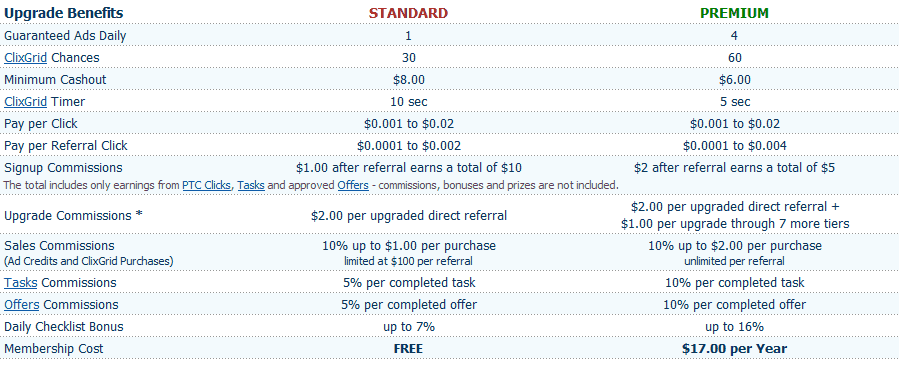 Clixsense has quite a lot of benefits upgrading to a premium membership. For just $17.00 a year (or $1.42 a month/$0.05 per day), you can actually get quite a lot of benefits. The biggest one of them being unlocking for Clixgrid chances, bigger referral commissions with 8 tier affiliate program, and higher daily checklist bonus.
Honestly after upgrading, I can get back what I spent on premium within 2 weeks of PTC and spending only about 10-15 minutes per day at most. If you are wondering whether it is worth it to upgrade, I would definitely say it is as you would earn back everything within a month at most. This means you have 11 months worth of upgraded benefits with Clixsense.
---
Cashing out
The minimum cash out for Clixsense is quite reasonable, being at $8 for free members, $6 for premium members. Depending on your payment service, there is a fee that you need to pay as well when you cash out. 

Where to cash out would be under your account summary. When you reach the required amount to cash out, there will be a box that shows the cash out button where you can proceed to cash out. Cash outs are then processed and completed every Wednesdays before 5 PM EST.
Checks will only be processed once a month instead of weekly. I definitely would recommend using a payment service such as Paypal as you would receive funds immediately during the processing date
---
Personal Tips
Complete the Daily checklist bonus! The difficult part in my opinion is completing the 2 surveys/offers/10 tasks daily, so find out the easiest way to go around it. For me, that would be doing surveys and offers as I don't get tasks at all.
You can only have one account per household. Means if you join, your parents or siblings would not be able to make an account.
I definitely recommend upgrading to premium first if you are serious about this site. You would earn the money back within a month at most (Even within 1 week is possible).
You can always do your Clixsense PTCs and Clixgrid with other programs such as Paidverts which does not require you to focus on the screen while clicking ads.
---
Referrals
Referring people to Clixsense is actually very worth it as there are multiple components to earning from referrals.
1.  PTC clicks

This is the amount of money you earn from each click your referral does. The left side is for normal members, while the right side is for premium members. Premium members get 2x the amount than free members usually get
2. Signup bonus
As a free member, you will earn $1 when your referral hit their first $10 in earnings.
As a premium member, you will earn $2 when your referral hit their first $5 in earnings.
3. Tasks/Offer bonus
As a free member, you will earn 5% of all tasks and offers your referral complete.
As a premium member, you will earn 10% of all tasks and offers your referral complete.
4. Advertising Purchases
If your referral decides to buy advertising on Clixgrid, you can get paid for it too.
As a free member, you will earn 10% of the purchases up to $1 earned, and capped to a maximum of $100 per referral.
As a premium member, you will earn 10% of the purchases up to $2 earned, without any cap.
5. Upgrading bonus
If your referral decides to upgrade to premium, you will get $2 bonus credited to your account as a free member.
As a premium member, you will also earn the same amount. However, you can earn up to 8 levels of upgrade which pay you $1 each. This means your referral's referral will earn you $1, up to 8 levels deep.
My referral link
You can use this link personally if you want to support me and be my referral! Also, I might give out free upgrades to really active members once in a while!
---
Is this legit?
I recently just restarted on Clixsense, which means I have not achieved any payment yet. However, Clixsense is a well trusted site that has been on the internet for really long now. There is a forum section that is dedicated to showing payment proof on clixsense.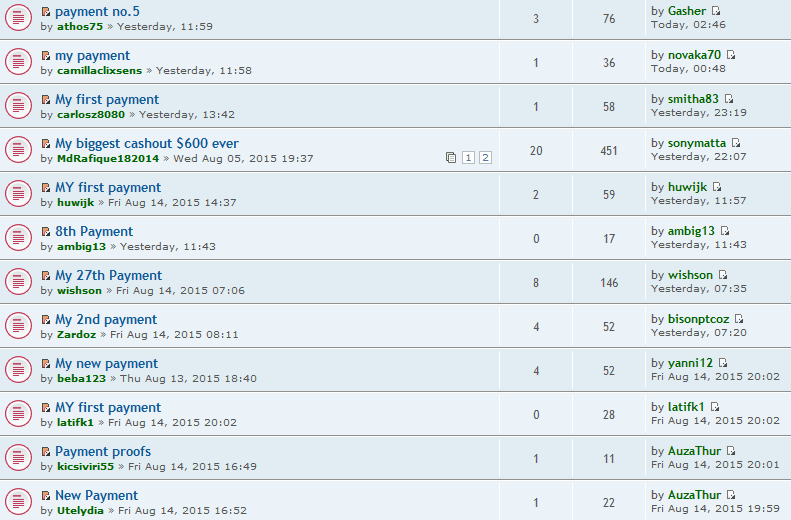 Doing a Google search will also show you many pictures of payment proof as well from the website. If a website was a scam, it wouldn't last for more than 2-3 years. Till date of writing this article, Clixsense has survived 8 years on the internet so far which shows that it has some credibility.
---
Final Thoughts
What I love about Clixsense
It is way more than a PTC site. It is more like a GPT (Get-Paid-To) site where you can earn from many different ways such as doing surveys, downloading apps, completing offers and more.
The premium membership is really worth it. You can essentially double or triple your earnings for a low cost of $0.05 a day!
Forums are really active. There are people sharing tips on how to get more referrals, or earn more on Clixsense.
One of the oldest PTC out there that is still paying to date, which shows that it can be trusted.
Can start earning a few dollars a day even on Day 1
What I did not like about Clixsense
For the PTC and Clixsense Grid ads, you are forced to watch the advertisements. Some of these products may be scams being promoted on the website.
Clixsense has been a site that I know since 2008, but have not used it much as it was mostly paid to clicks at that time which earned really little. While writing this review, I decided to upgrade and try out the premium membership to test if it is worth it to give an honest review about it. All I can say is: Definite worth the money!
Why is that so? It guarantees ads, more chances to win on clixgrid with shorter waiting time, more referral earnings, lower cash out threshold, and even more! I would definitely make back the money myself even without the help of any referral earning me any money at all.
It is definitely free to sign up, but upgrading is optional to earn but highly recommended. Of course as usual, only invest any money that you can afford to lose. If upgrading means you can't buy food for the next few days, then you should definitely not do it.
If you love to earn more money through websites like Clixsense, do check out Paidverts too! Why not also check out my full list of apps and websites here?
You can also check out my #1 recommended product where you can learn to use your passion to make money online by clicking below!
Check Out My #1 Recommended Money Making Program
What do you think about Clixsense? Let me know in the comments below!