Pros
45 Tools for $49 a month!? That's pretty much a steal!
Free Trial available to test out how the platform works
Most tools could be more expensive if you buy them standalone
New Tools are always added in the mix - you pay nothing for the extra new tools
Cons
Tool overwhelm: Not sure which one to start with
Tool overlaps: There are some tools that overlap with each other in terms of functionalities
Tool redundancy: You may have some of the tools here with a standalone license, or other programs that serve a similar purpose already
Tool redundancy: You may have some of the tools here with a standalone license, or other programs that serve a similar purpose already
Other Information
Websites: https://incomefromthereddot.com/briefcase

Price: 7 Days Free Trial, $49/Month 
Owners: Appsumo
Quick Summary
What It Is: Briefcase By Appsumo is a compilation of softwares designed to help you create, grow and scale your business. There are tools ranging from helping you get traffic, to email automation, to managing your social media, to learning from business experts, cloud storage and productivity. The list just goes on!
Pros: In terms of investment, this is really one of the best things I could ever find. You pay one subscription price to access to over 45+ tools, which is essentially close to $1 per tool per month!
Cons: Overwhelm of tools to use suddenly. This is why there's this article to help you get started!
My Recommendations: If you're looking to automate your business or save a huge ton of time, briefcase is definitely for you. For a very low investment cost, you get access to all the tools that could easily cost you anywhere from $5 to $100 per month if you buy them alone! I know this is probably one of my best purchases for the year for my business!
---
45+ Softwares For $49/month?

When I first heard about briefcase, I was definitely skeptical that I was able to get so many tools for such a low cost of only $49 per month.
Some may think that for such a price point that it could be a scam because it's too good to be true.
Then again, the company behind this (Appsumo) have been offering really great deals such as $49 for one software with lifetime access.
I remember first buying from them when they were offering a $49 lifetime subscription to 500GB space on pCloud, a cloud storage solution.
It's actually $175 for 500 GB space if you wish to buy it now, so it's definitely a steal I got it for more than 2/3 of the price off.
Since then, Appsumo introduced many one-time payment products. The moment the deal ends, some of them were added to Briefcase where you get to enjoy the product as long as you pay the monthly membership.
pCloud is only one of the products you'll find in Briefcase if you subscribe, and there's a whole lot more products included.
With all that being said, Briefcase compiled many of Appsumo's past deal into a membership website.
Warning: It's going to be lengthy because I'll be reviewing each and every single tooll (even if it's briefly) with my own review as well.
---
What Do They Offer?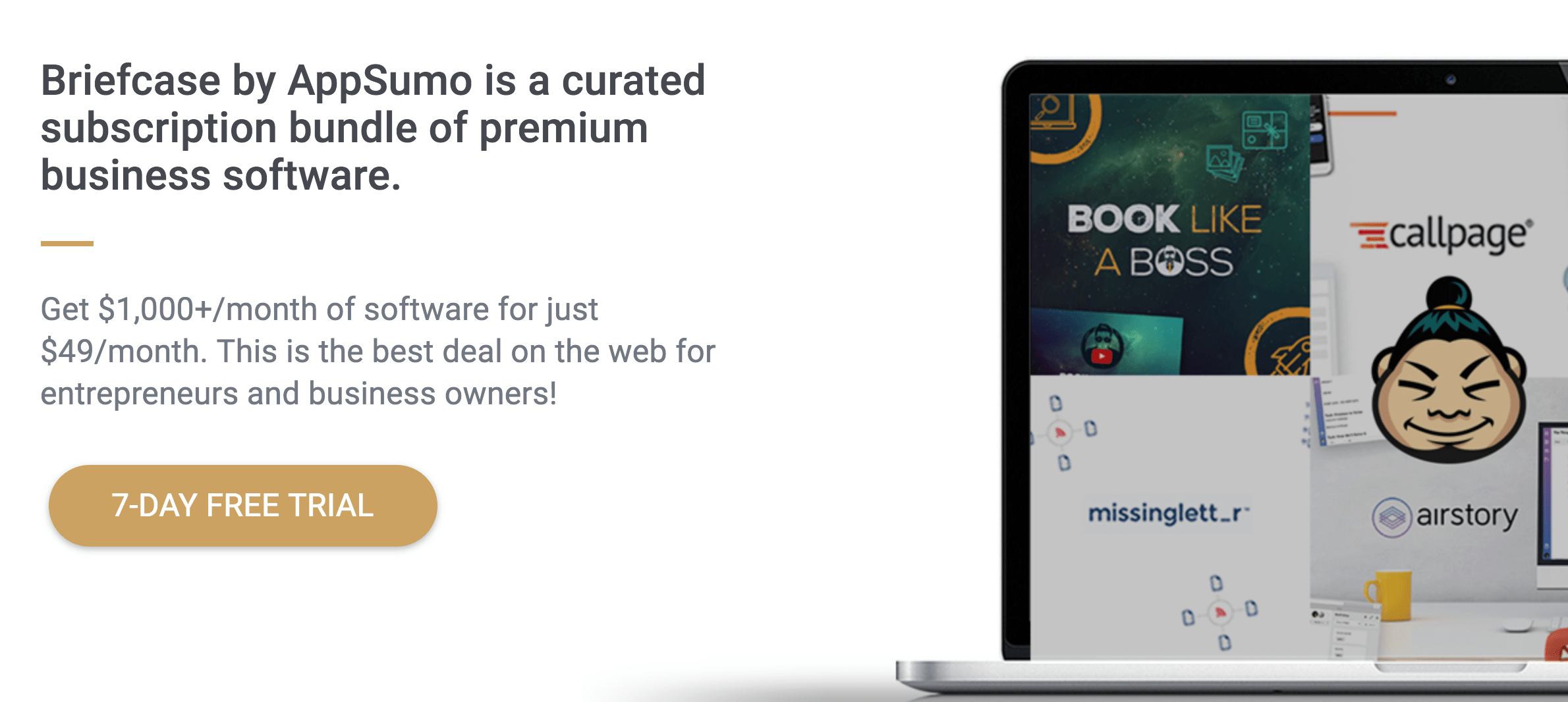 Briefcase has broken down tools into many different categories which has recently updated into more specific categories.
There are currently 20 categories which are:
Accounting
Advertising
Cold Reach
Customer Insights
Data Analytics
Design
E-commerce
Hiring
Lead Generation
Learning
Marketing
PR
Productivity
Sales
Scheduling
SEO
Social Media Automation
Surveying
Video Content
Website Builder
Included in Briefcase are 3 versions of Briefcase which you can choose from.
The basic membership starts from $49/month, while Pro goes for $99/month.
To be honest, the basic version works best for most people as the 'Pro version' just unlocks a few more tools (some include an upgraded version of the basic tool) that may be useful only for small/medium businesses or agencies like specified below.
If you're a freelancer or solopreneur, then Briefcase basic ($49/m or $500/y) works fine for you: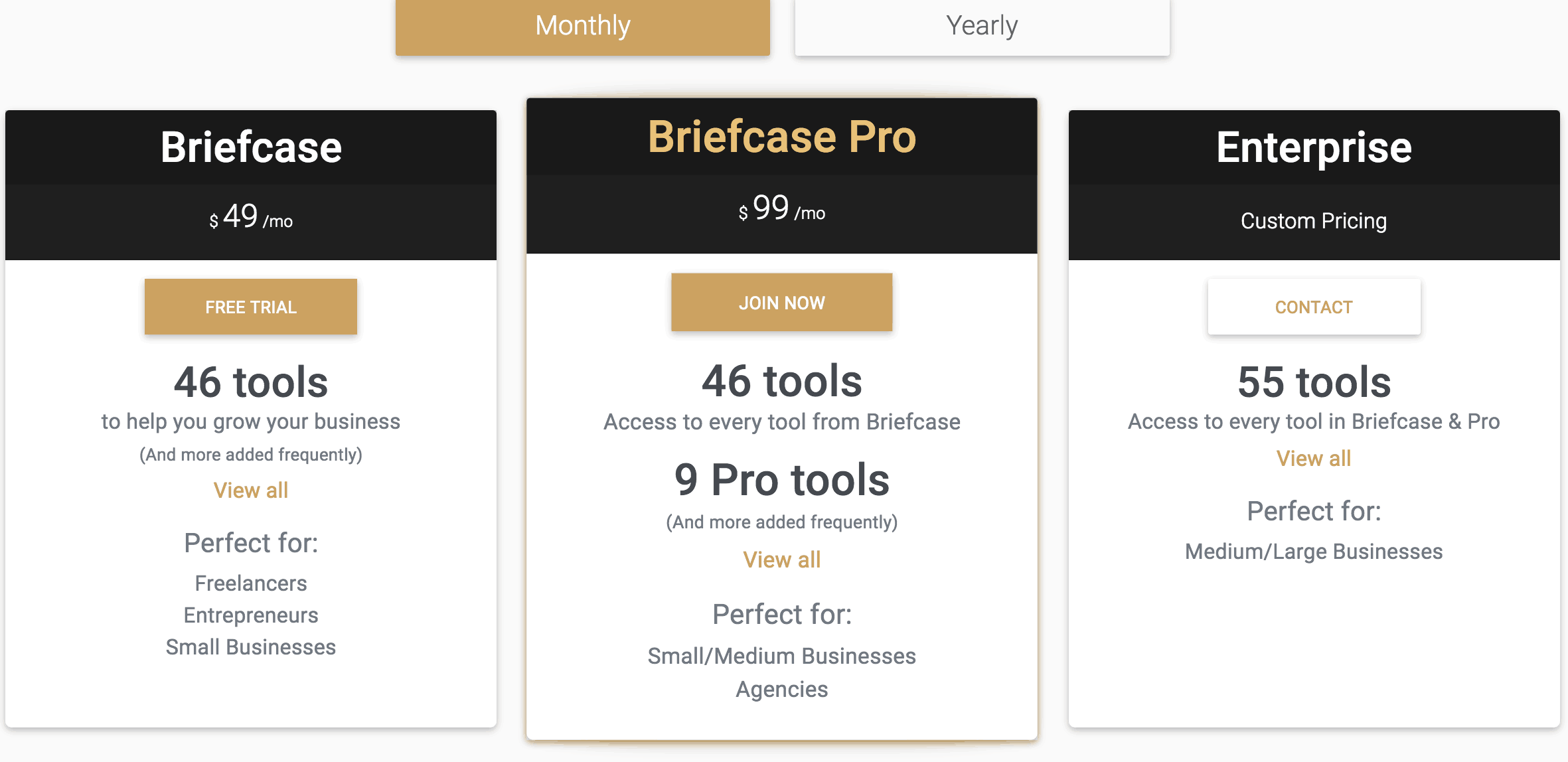 ---
How Briefcase Works
In this section, I'll go into how Briefcase works and how you redeem each tool.
Step 1: Find The Program You Want
With so many options to choose from, You can click on the categories tab to see a full list of everything at a snap shot. For this example, I'll be picking 'Billy' from the Accounting section.
Step 2: See What It Offers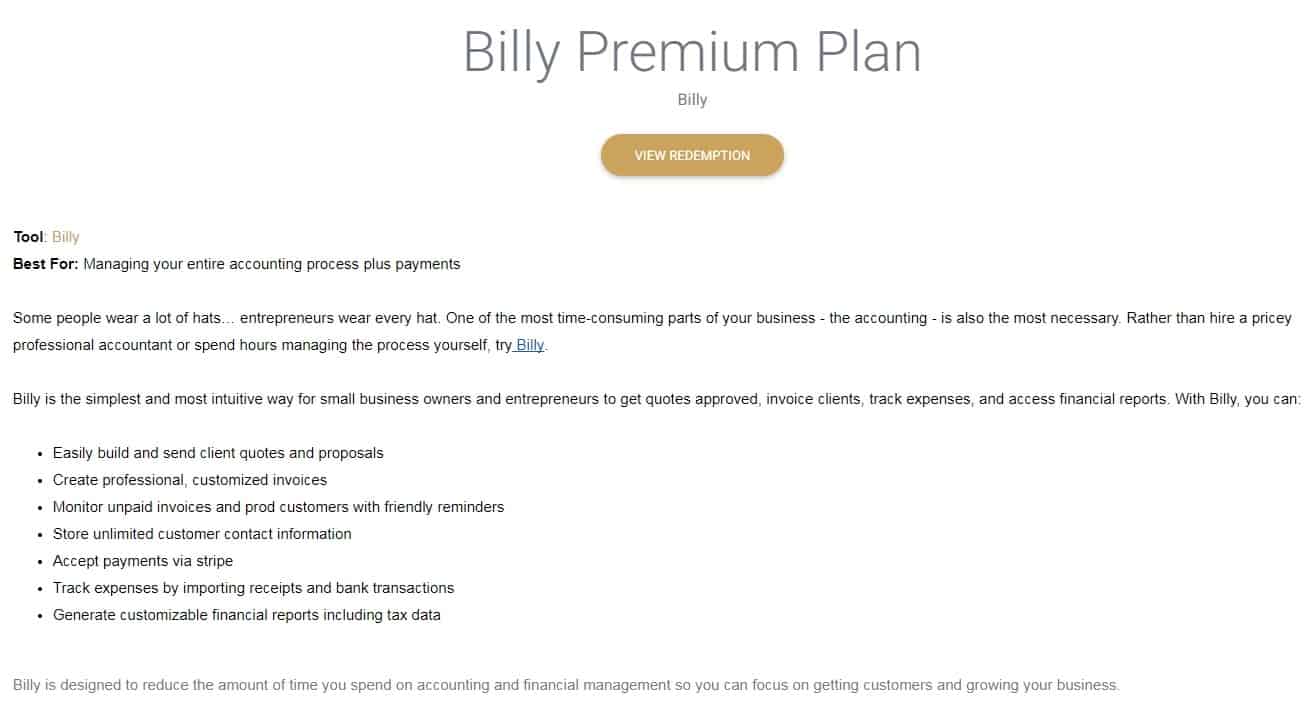 Once you clicked into what you want, you'll be shown what each program does best and a simple explaination of how each program works.
If you want to redeem the product, click the 'View Redemption' Button.
Step 3: Redeem Your Product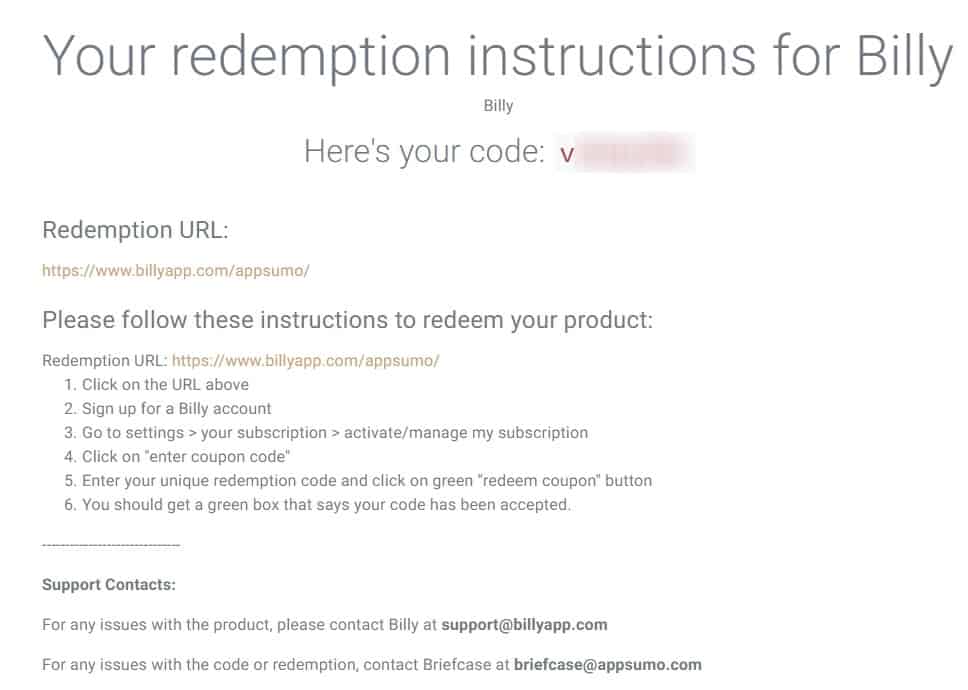 You'll be shown instructions on how to redeem each products. This part is important as it differs for each product.
Step 4: Redeem Your Code

On the website itself, there is a way to redeem the code. For Billy, it is signing up an account first then inputting the coupon code.
Some other programs require the coupon code when signing up, some after the signing up process so it varies.
Step 5: Enjoy!
That's pretty much it! It's a pretty simple process.
However if you run into any problem, there's always a way to contact either Briefcase or the product itself through the email which is displayed on the page with your redemption code.
---
Full Review Of Briefcase Tools
In this section, I'll be breaking down and reviewing each of the tools that is available in briefcase.
Each tool will also include what each tool does briefly and who it is best for. Also, the price shown on each tool is the price of the tool if you buy it outside of briefcase for the similar level of product.
Over time, tools will be added and removed. This list will be adjusted accordingly once in awhile while keeping the 'retired' tools at the bottom of the list.
Current Tools In Briefcase:54
Basic Tools: 45
Pro Tools: 9
1. Accounting Tools
Accounting is essential for your business, especially when you need to track the inflow and outflow so you can work within your cash flow.
Also, important for businesses who needs their profit and loss statements and balance sheets in place.
Only one tool here at the moment which can help you to do all these.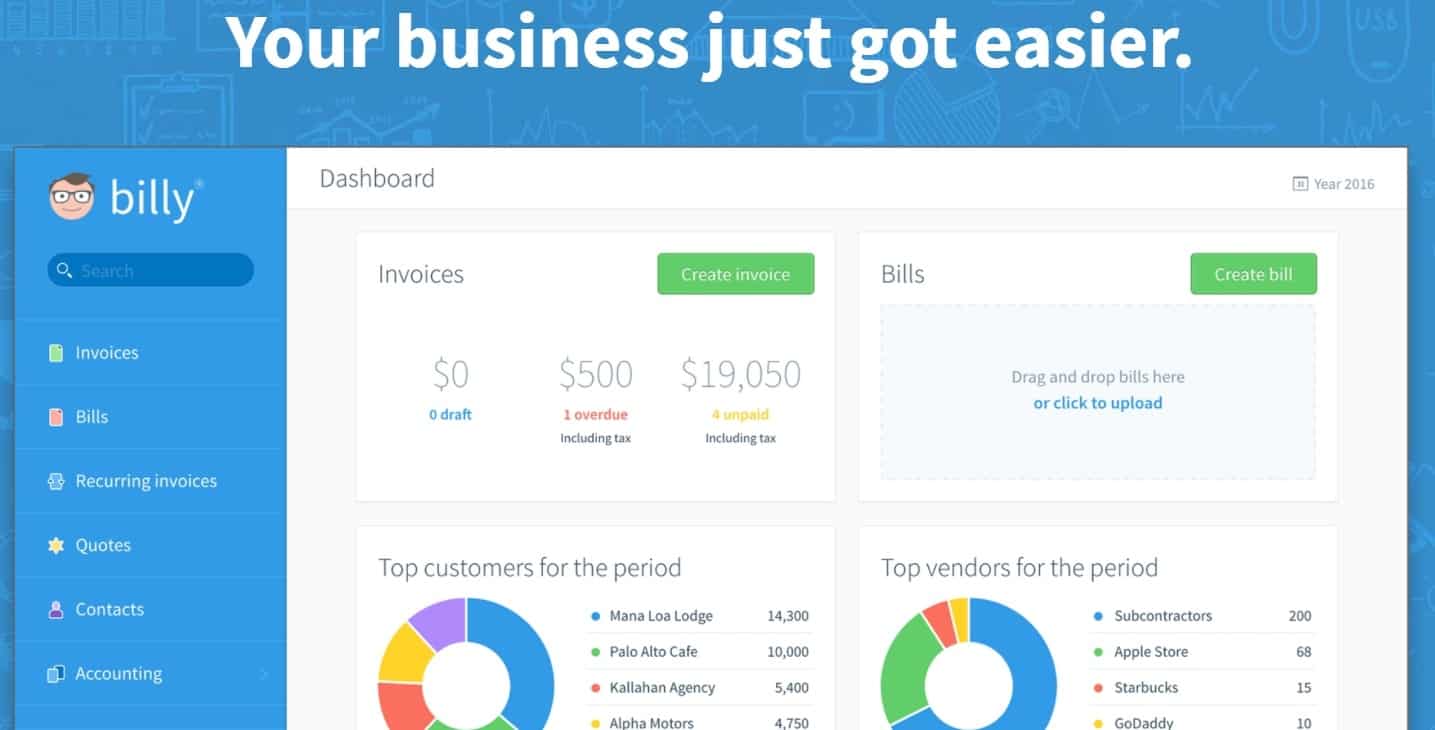 What It Does: Managing your entire accounting process plus payment
Best For: Freelancers and businesses collecting payment from clients, and syncing their accounting into it
Usually Costs: $19/month for Gold plan
This program definitely helps you to automate your business to collect payments from clients easily.
There's a simple account set up process that gets you up and running (Personalizing your invoice, Link to Stripe, Link Bank Account, invite accountant/co-woerkers) that takes less than 15 minutes to finish.
This program also helps you to automate your quotes, bills, recurring invoices as well too.
And it is as easy as clicking a box and filling in the relevant details.
My Review: Billy is definitely a great program if you're a freelancer billing clients and need a system to get up and running. There's a lot of automation that can help keep your billing going and it's a one time set up mostly. Saves you way a lot of time and money if you don't have such a system yet.
2. Advertising
Paid advertising is one of the main ways for a lot of businesses to acquire customers.
Why not make the process easier and get more conversions in the process?
These tools are designed to help you get more bang out of your advertising buck. Imagine getting twice as much leads for the amount of money spend!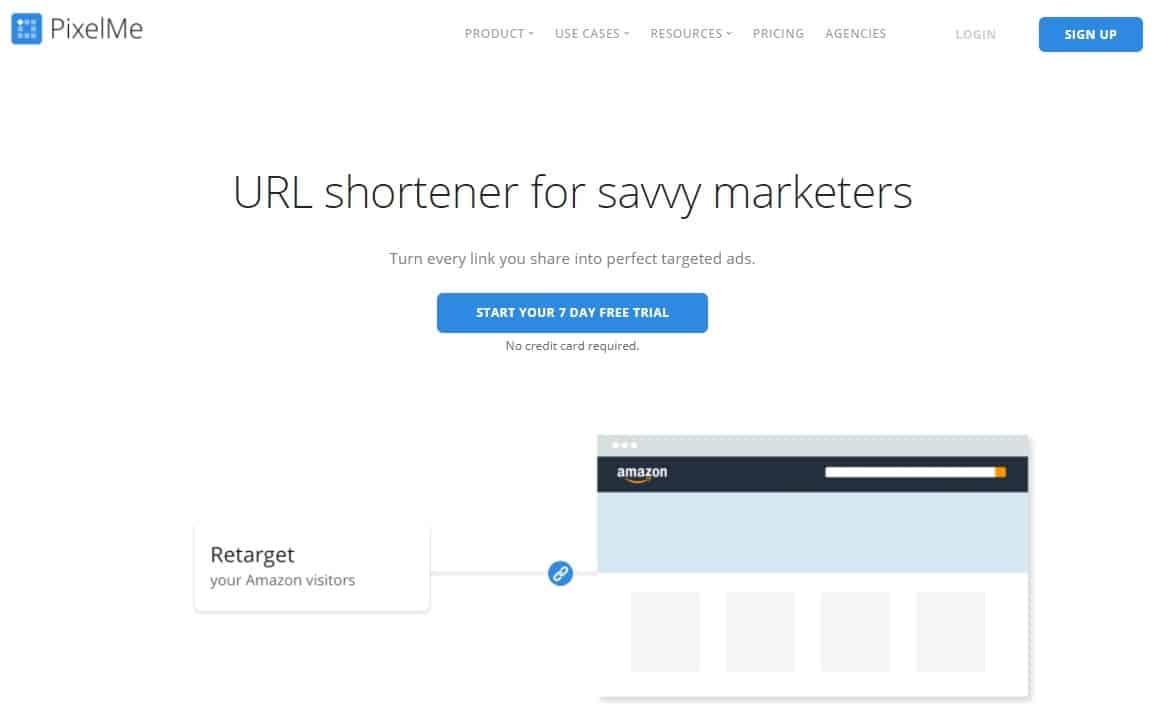 What It Does: Retargeting people who click on your links
Best For: People who are running paid advertisement, especially Facebook and Google.
Usually Costs: $79/month for Pro Plan
If you are already running paid advertisement, this program helps you to drop a pixel in anything that you link.
Think of it as a URL shorterner that adds your pixel to whoever who clicked the link. After which, you can retarget those people!
You can also customize the shortened link as long as you have bought the domain for it as well too.
This works best if you're linking to content that is not yours too, as the pixel will track who clicks on your link. Perfect if you don't have time to create your own content, but want to target people interested in a certain topic.
Pixelme Pro supports: Facebook, Twitter, Linkedin, Google Adwords, Quora, Pinterest, Nexus Segment.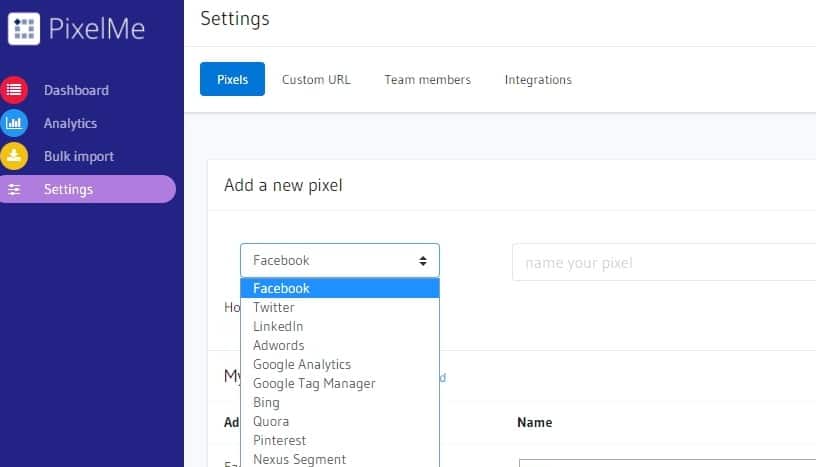 However, this plan comes with only 5 pixels so you would need to choose wisely if you are using all the above platforms.
BONUS: This program also links with another program in Briefcase – Missinglettr.
My Review: PixelMe is a game changer for my business as it helps me to attach my pixel to any link and help retarget people who are interested in a certain topic. This is one of the tools I started using immediately after buying because it helps me to get a lot more out of my paid ads.
What It Does: Retargeting people who click on your links
Best For: People who are running paid advertisement, especially Facebook and Google.
Usually Costs: $199/month for Agency Plan
This does exactly the same as PixelMe Pro (#2), but you have the ability to use your links for clients as well.
Ideally, you should only need this plan if you are doing social media marketing for other companies.
This gives your client 5 pixels and also a custom URL for each of your client.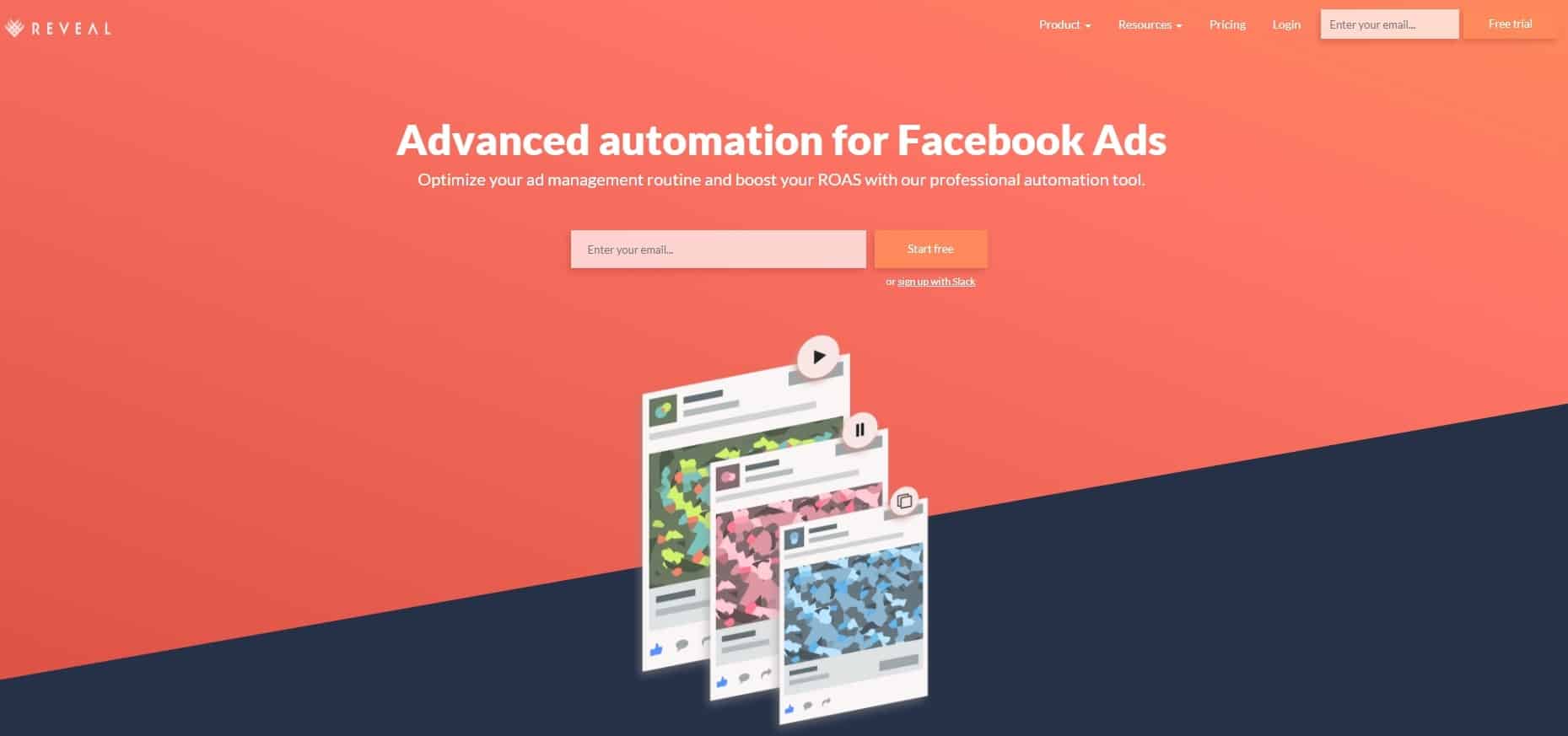 What It Does: Managing Facebook Campaigns
Best For: If you are already doing Facebook Ads for your business
Usually Costs: Starts from $49/month for $5000 Ad Spend. Briefcase plan includes up to $10000 Ad Spend.
Reveal automates your Facebook campaigns, especially when you have a lot of campaigns running at a time.
You can set rules to help you start and stop ads based on the criterias you set. For example, it can help you off your ad if you spend more than $50 and haven't gotten a purchase for that particular day.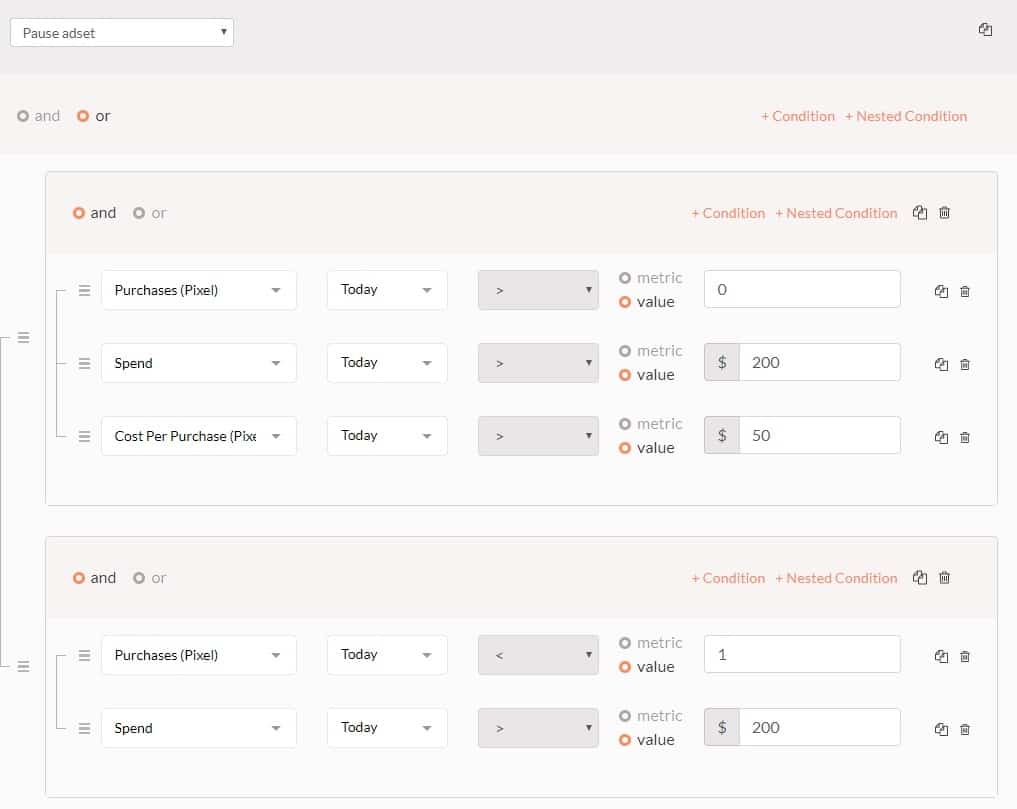 Reveal also helps you set alerts to send you a notification through email or Slack once a certain criteria is hit (Such as if your CPC of an ad hits $2.00).
Lastly, you can generate reports to see important figures such as how much you spend and number of clicks generated from your ad. You can customize the report to go out daily, weekly, monthly, or whatever you wish, with whatever important metrics that you want to track too.
This tool gives you full control of your ads, and a birds eye view of everything you need to know.
My Review: Right off the bat, this is one of the more difficult tools to master because there's a lot of things to set up. I'm currently still reviewing how I can use this tool with the current business I'm in, but I know this is a gold mine in terms of automation as it'll save me a lot of time from monitoring my Facebook ads.
3. Cold Outreach
Reaching out to the Cold Market is always the biggest challenge.
However, having tools to warm them up faster always helps. With only one tool here at the moment to do this, it will help you reach out to audience who have not heard of you before yet quicker.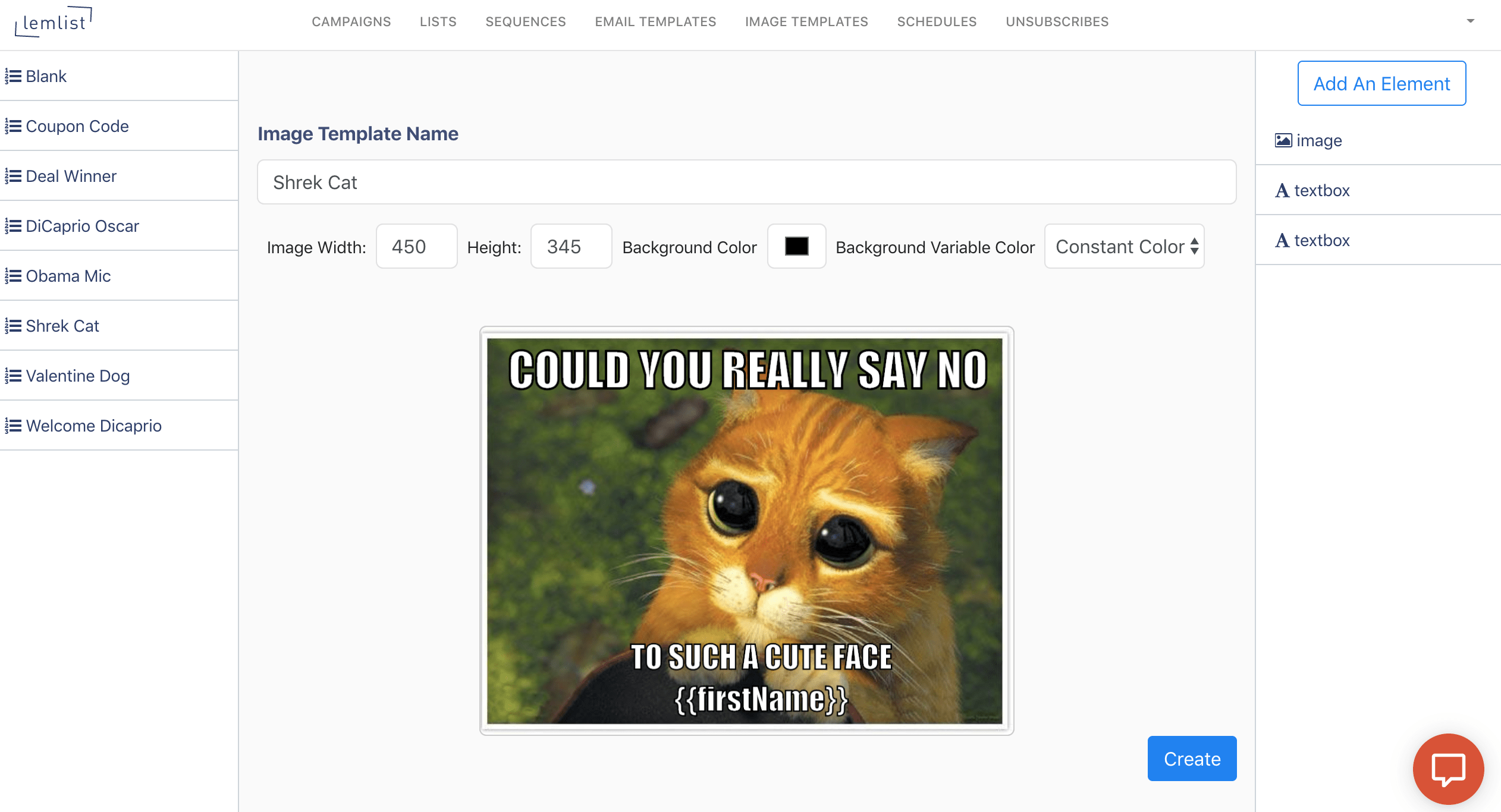 What It Does: Generating personalized images to get a better email response rate
Best For: Email Marketers
Usually Costs: $34/month
Mainly, Lemlist is a way you can personalize image with a person's name on it. It's a pretty neat feature to see an image personalized to your name.
Also included are a lot of templated emails and sequences you can use straight away – and they are proven to have worked before.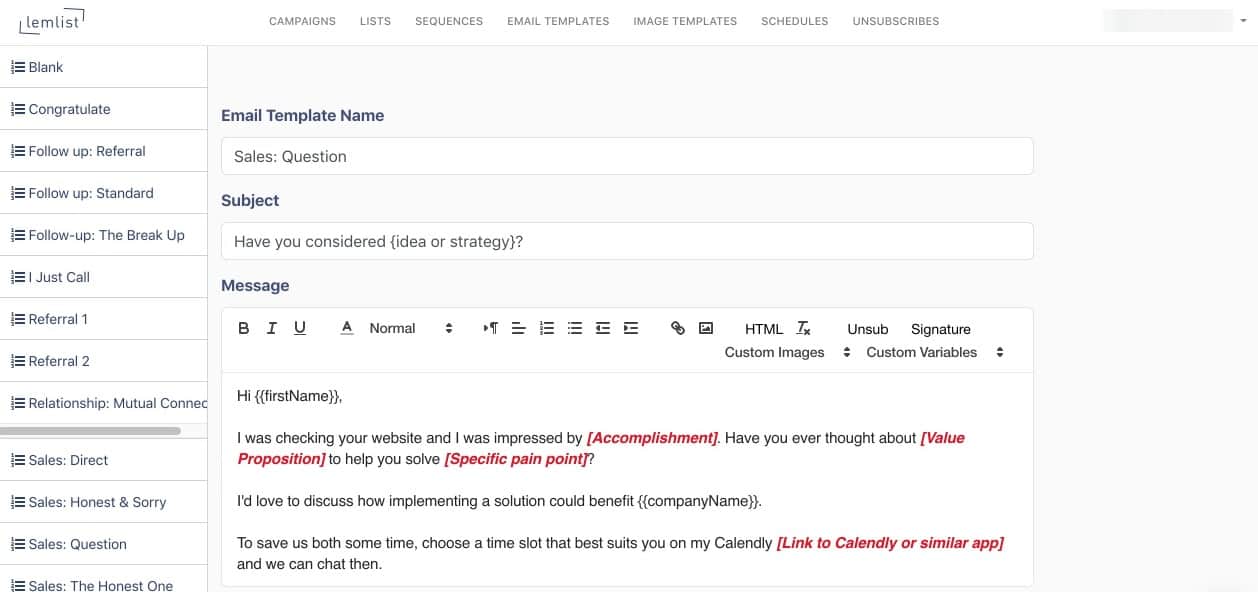 There's a lot of customization and automation that you can do with lemlist like with most email marketing providers, such as sending a certain email when your lead does not open your first, or to send a 2nd email after a few days.
For cold outreach, this is a great way to warm up your audience pretty quick.
However, there's the hassle of uploading your leads as it is done manually and not automatically if you are already using another email marketing platform to email.
But, it's pretty cool if you want to reach out to 'new people'.
Here's an idea for lemlist: Put in contacts you gotten from name cards of business associates and put them through a sequence of email for your business.
My Review: I haven't exactly started using this tool yet, but it seems like a really good tool for email marketing with the personalization. Not too sure that it may be worth the hassle to keep importing new contacts.
4. Customer Insights
Guessing what your audience thinks and actually knowing what your audience thinks are two very separate things. One is just 'guessing' while the other one actually tells you want your audience wants.
These tools below help you accomplish that in the form of surveys. Improve your customer experiences and conversions with your existing customers and know what you can do better to enrich their experiences with your business.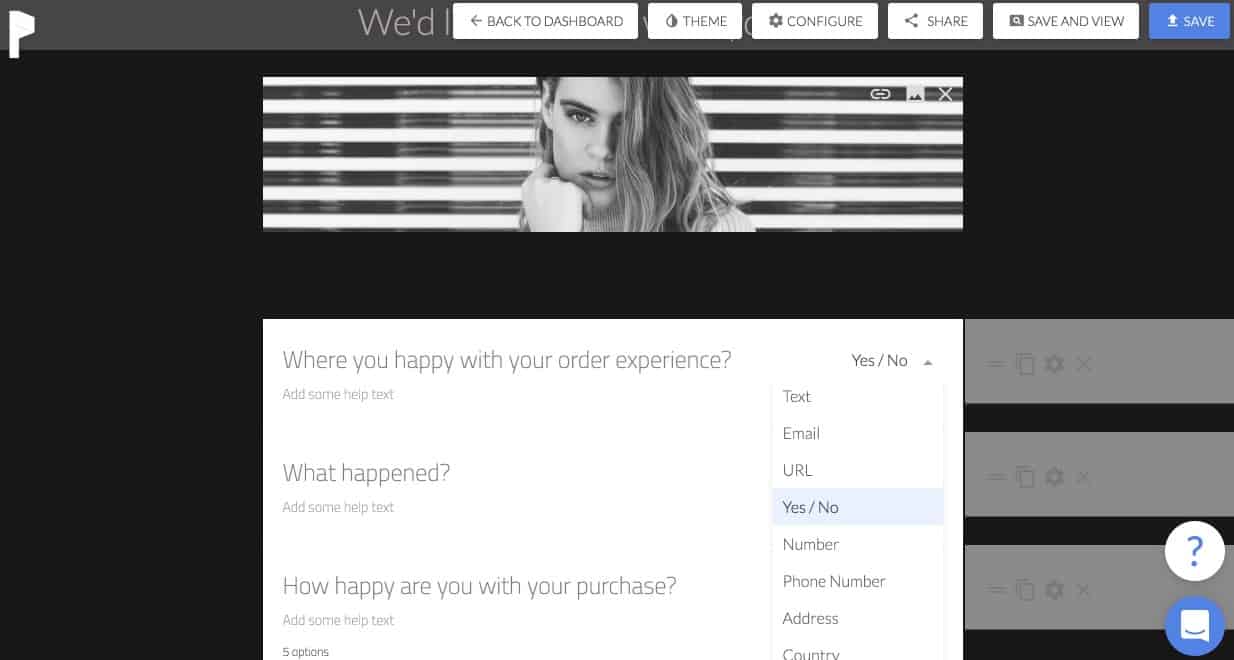 What It Does: Easily build, embed and share forms
Best For: Businesses that does surveys
Usually Costs: $15/month
Forget Google Forms when you get this tool.
Paperform Essentials open up a lot of possibilities and customization with what you can do with the forms.
Be it adding a video, photo, text around the page, everything is easily done with a drag-and-drop interface.
Best part of it is that you can even collect payment, do quiz/survey forms, integrate Google analytics and even more cool stuff that you can't do with most survey forms out there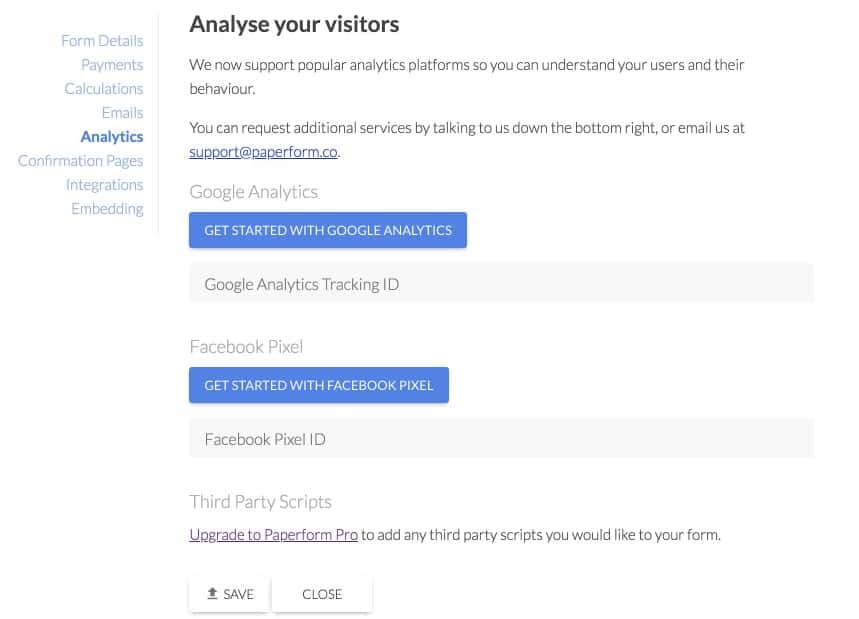 However, this version of Paperforms lacks a few of the 'pro' features. This includes customising your URL and things like adding third party scripts. It's mostly negligible as the core functions of Paperform still works.
Overall still a great investment as it allows you to integrate with many platforms using zapier, collect payments and do quiz-like surveys.
You should be able to do almost everything with Paperform Essentials, but the pro option is only an additional $19/month if you need the features.
My Review: For such a simple to use tool, I've definitely started to move from Google Forms to this platform as there's a lot more customization that I can do with Paperforms. Really love the simplicity of the drag and drop, and the ability to customize the form the way I want it (Compared to a standard layout in Google Forms)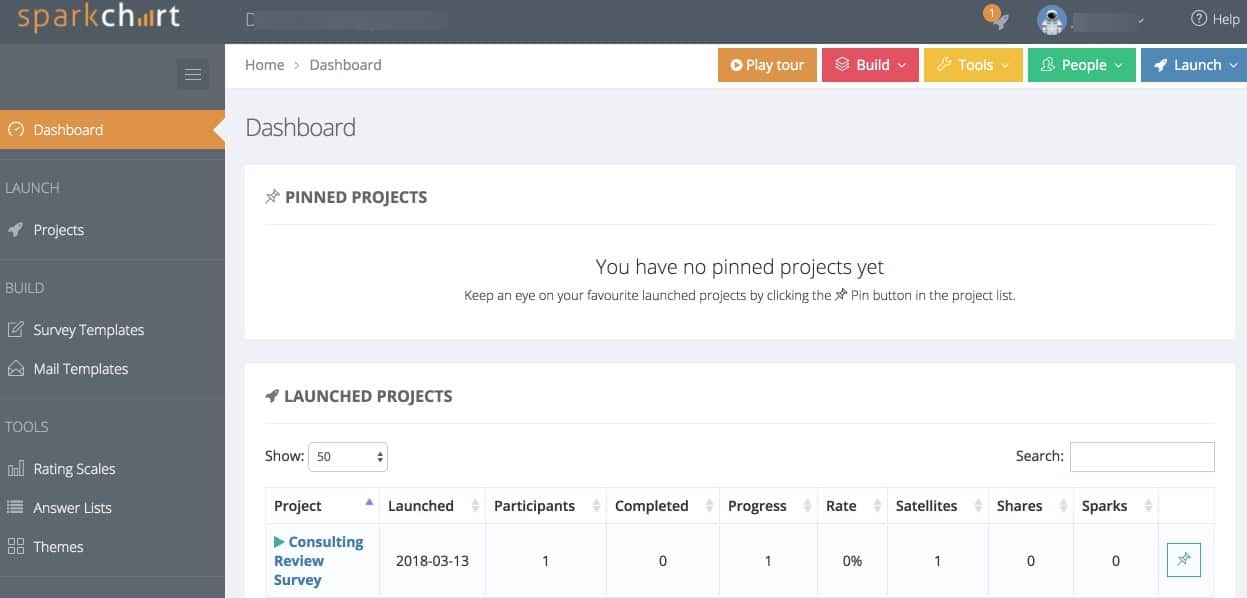 What It Does: Designing and analyzing survey
Best For: Getting detailed customer feedback
Usually Costs: $40/month
Sparkcharts is slightly different from Paperforms as this platform is designed to make surveys only for existing customers.
The platform itself helps you build the survey for customer feedback, including all the templates that is required to do so.
However, I found this platform to be slightly confusing at first compared to Paperforms. To fully utilize it, you'll probably need to go through the training first as there's a lot of setting up to do.
This platform is definitely powerful once you set up, as you can customize and make new forms pretty quickly after that.
My Review: I have not gone full in-depth into Spark Charts as I have not much use for it yet, and will update my review on this as soon as I use it as I am currently using Paperform more.
5. Data Analytics
One of the important thing is knowing your numbers, and also your competitor numbers.
There's only one tool here now – and it helps you to spy on your competitors and all their important statistics so you can make a better decision for your business.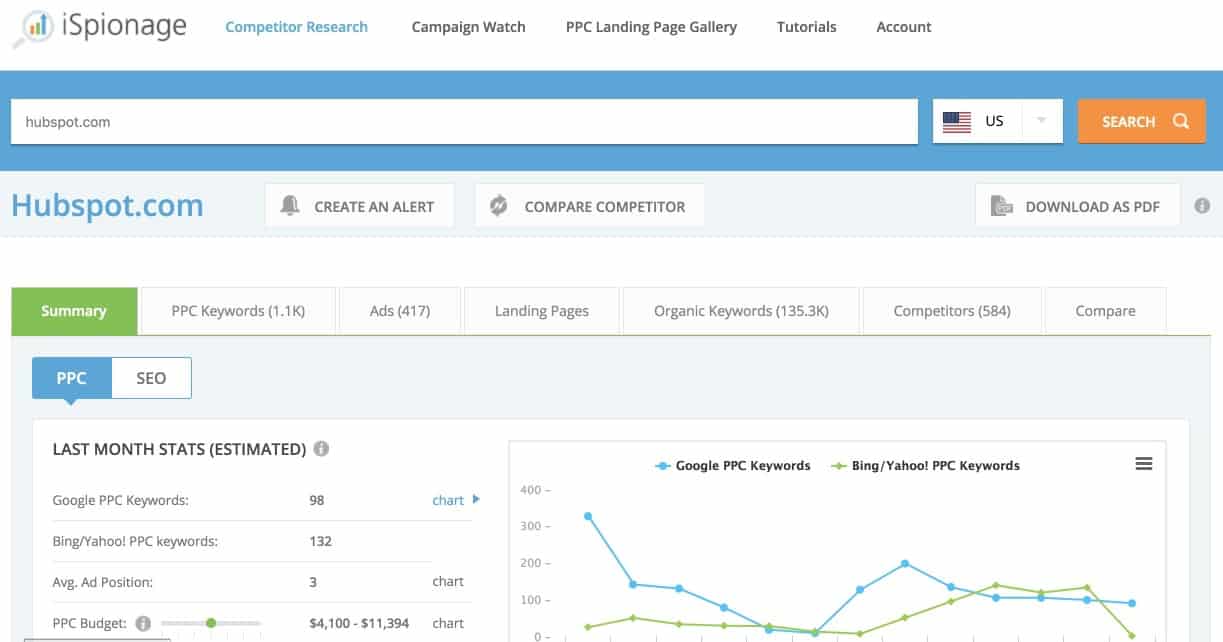 What It Does: Seeing your competitors' advertising analytics
Best For: Getting intelligence on your competitors, like a secret spy tool!
Usually Costs: $29/month
iSpionage is especially for people who are already into paid advertising as it gives you what you need to spy on your competitors.
Just input a domain name and you'll be able to see everything your competitor has done – Both SEO and PPC.
Check everything out: PPC keywords, Ads, Landing Pages, Organic Keyword, Their Competitors, Spending… all in full details!
You can also use alerts to keep track on your top competitors as you need as well, for certain keywords or website.
Best part is when you're creating a landing page, you can easily get ideas from what your competitors are doing already.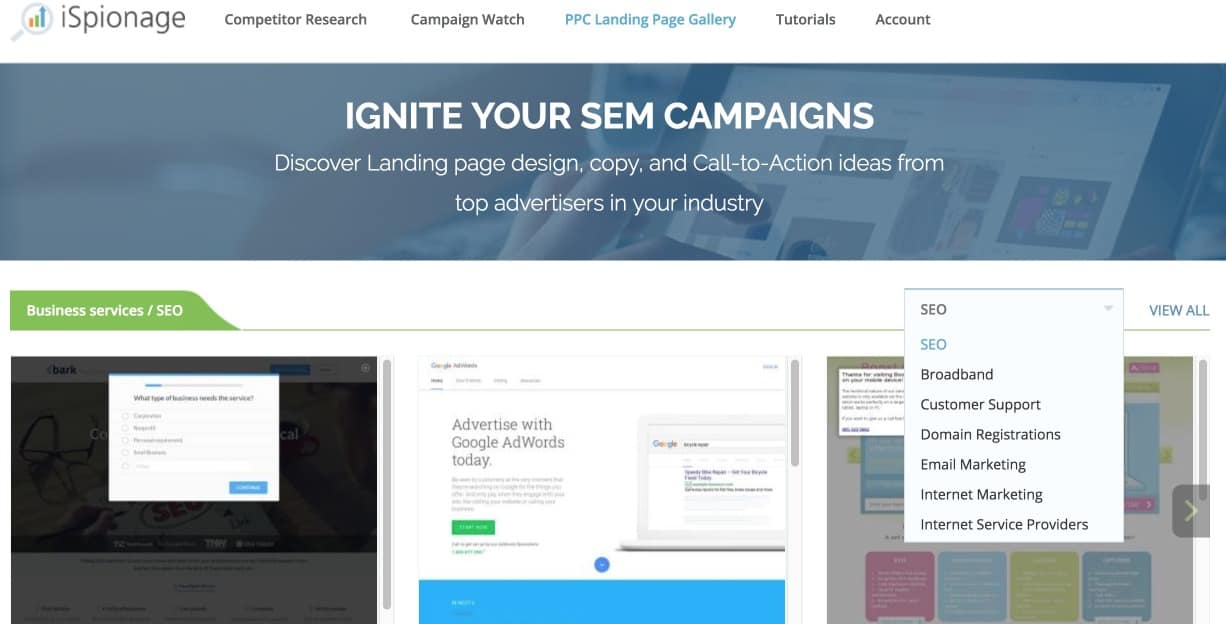 My Review: When I discovered the potential of this tool, I was blown away by how sick it was. Considering that this tool is really worth the money considering you can do 50 searches a day, and that most other spy softwares cost upwards of $50/month easily for this amount of information. It is another gold mine to me among all the other briefcase tools.
6. Design
Design is a big aspect for any business as it's the thing that capture eyeballs, especially on Social Media.
These tools can make any Design 'Noobs' to become a pro rockstar – all without the use of complicated tools like Adobe Photoshop.
In just a matter of minutes, you can create stunning looking designs, lead magnets, presentations and more with these tools
What It Does: Recycling your content into ebooks
Best For: Create great looking Lead Magnets, repurposing from your blog posts
Usually Costs: $49/month
If you know what a lead magnet is, then this tool will help you speed up the process of making one.
Especially if you already have a blog as you can easily convert existing blog posts into lead magnets.
Beacon helps you to 'recycle' your old blog content and make it into a professional looking E-book within minutes, helping you to repurpose some of your old blog content as well too.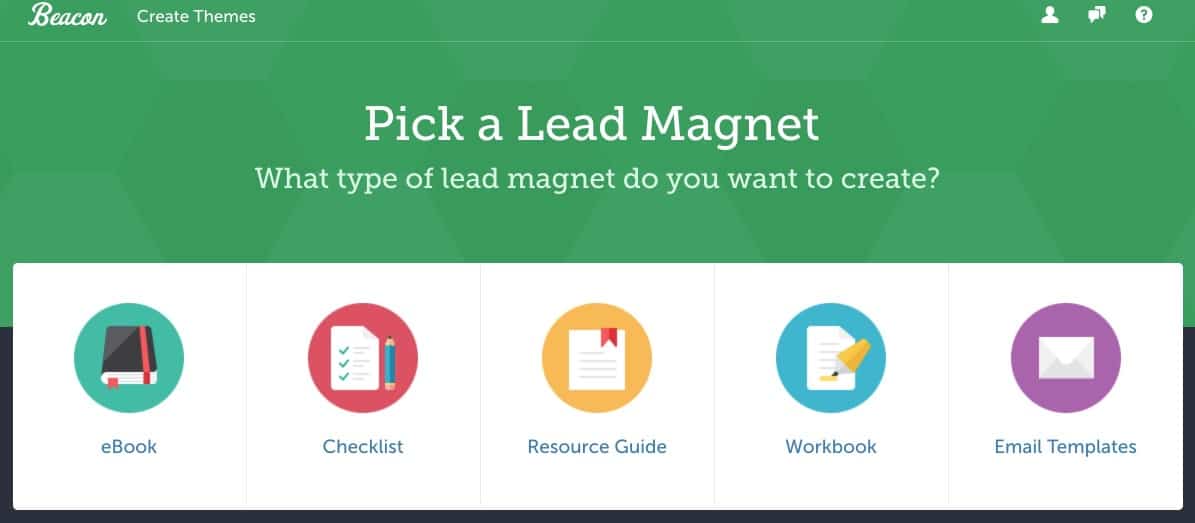 The tool also helps to guide you through a process to make certain lead magnets too, such as check lists, resource guides, workbook or email templates.
After which, you are given a template library of stunning cover images to help you make your lead magnet look professional
Overall, this tool helps you create lead magnets faster, more efficiently while not compromising on the design as well.
My Review: Repurposing is one of the important things to do for business, so this tool comes in handy when I'm turning my old blog content into E-books. Using it was really simple as the tools is catered towards creating lead magnets more, and provided the professional designs which I'm looking for. A great tool to have in my arsenal!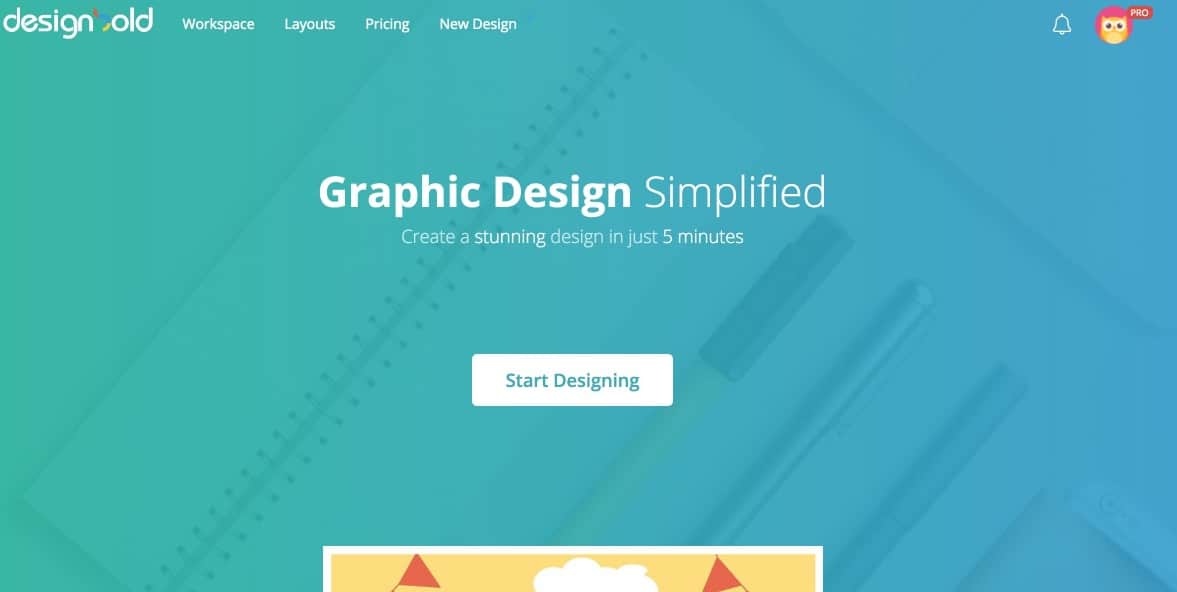 What It Does: Making beautiful presentations, flyers, resumes and webinars
Best For: Non-Designers who want a simple way to create stunning looking images
Usually Costs: $19/month
My first impression of Designbold is that it is very similar to Canva…
…And mostly it is.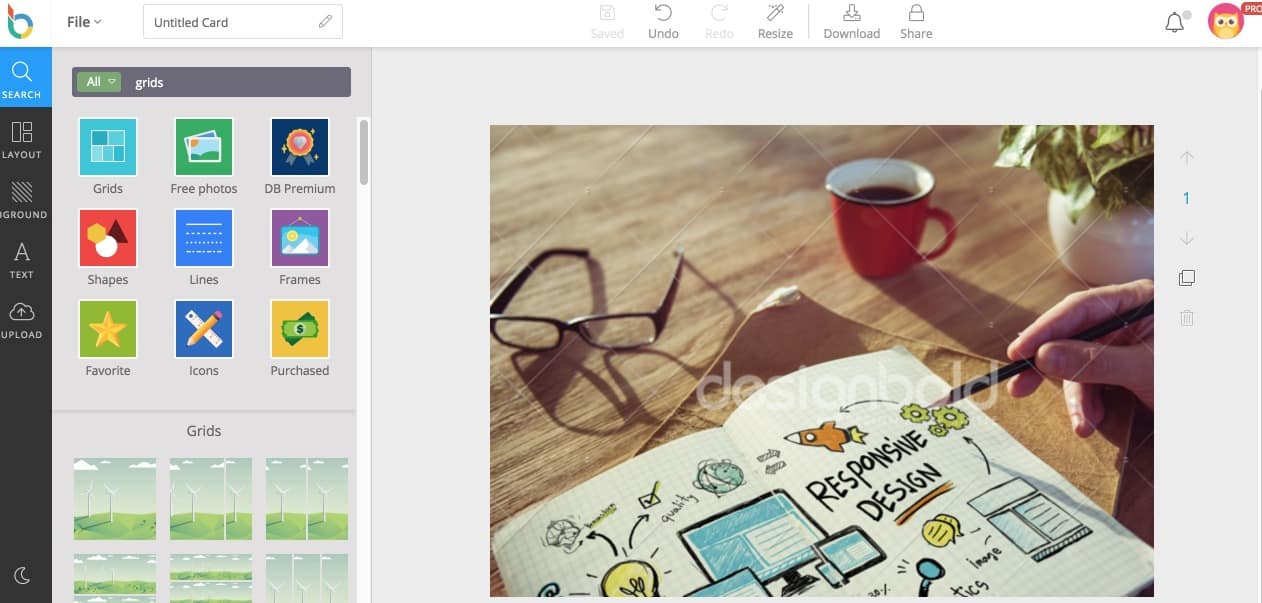 If you have no experience with Canva before, it is basically a very intuitive drag-and-drop design software.
All you need to do is drag an image from the library (consisting of over 330,000+ free stock images with 10,000 premium stock images) and start designing!
Not to mention, you can specify the dimensions according to what you want. Best part is they have a list of pre-set dimensions ready for common things (Such as cards, magazines, blog post images, facebook ad images, and the list goes on) that most people use.
The best part of this plan is that you get 20 premium images (mostly from 123rf.com) per month. If you buy the images alone from the 123rf.com, it could easily cost you $5 to $50 per image!
That's massive costs savings right here.
However, make sure you use up all the credits as they don't carry over. So use up your credits before the month expires!
My Review: Like I mentioned, it's almost the same as Canva. The only other thing that's really useful with this tool is the 20 premium images that you can use per month which I found value out of. I'm not using this as much as I'm using Canva and Stencil (#14) more as of now, but come back to this for the premium images.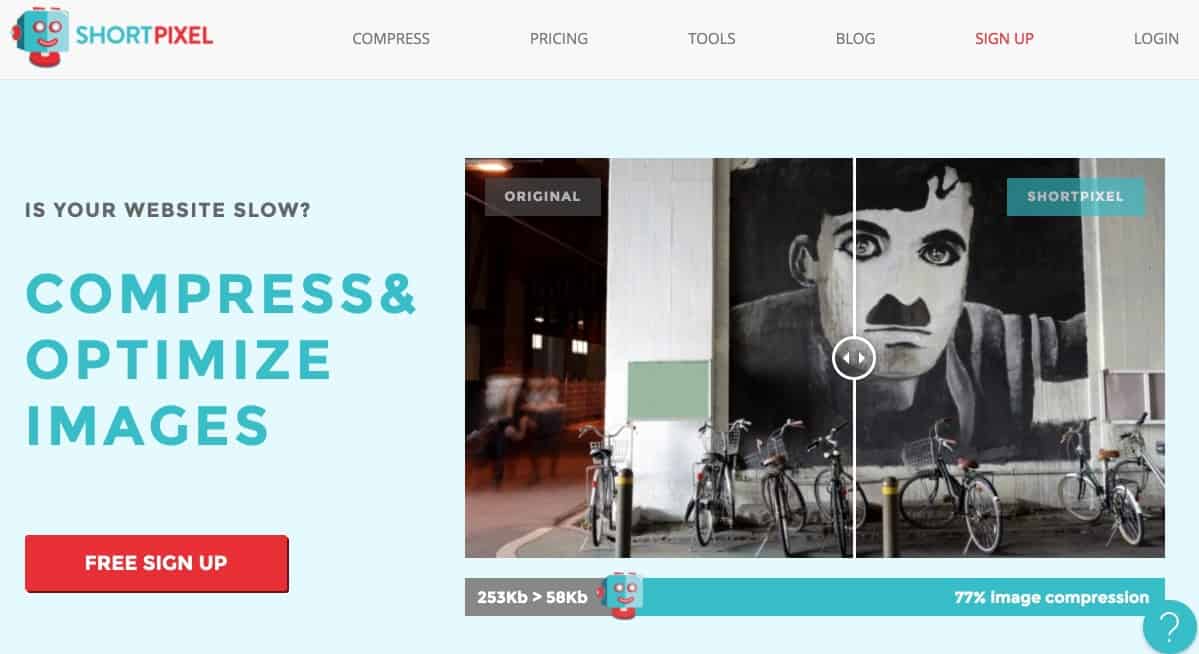 What It Does: Compressing and optimizing images for SEO
Best For: WordPress Blog owners
Usually Costs: $4.99/month
Short Pixel is a plugin that helps to compress your image size which helps your SEO for your blog and website.
Similar to EWWW Image Optimizer and WP Smush, this plugin helps you to reduce file size too.
If you're wondering why you should use Shortpixel: Here's an article here and here that may convince you to make the switch.
And also it's included in Briefcase, so why not make the switch?
You can also check your stats and how many image compression more you are left with: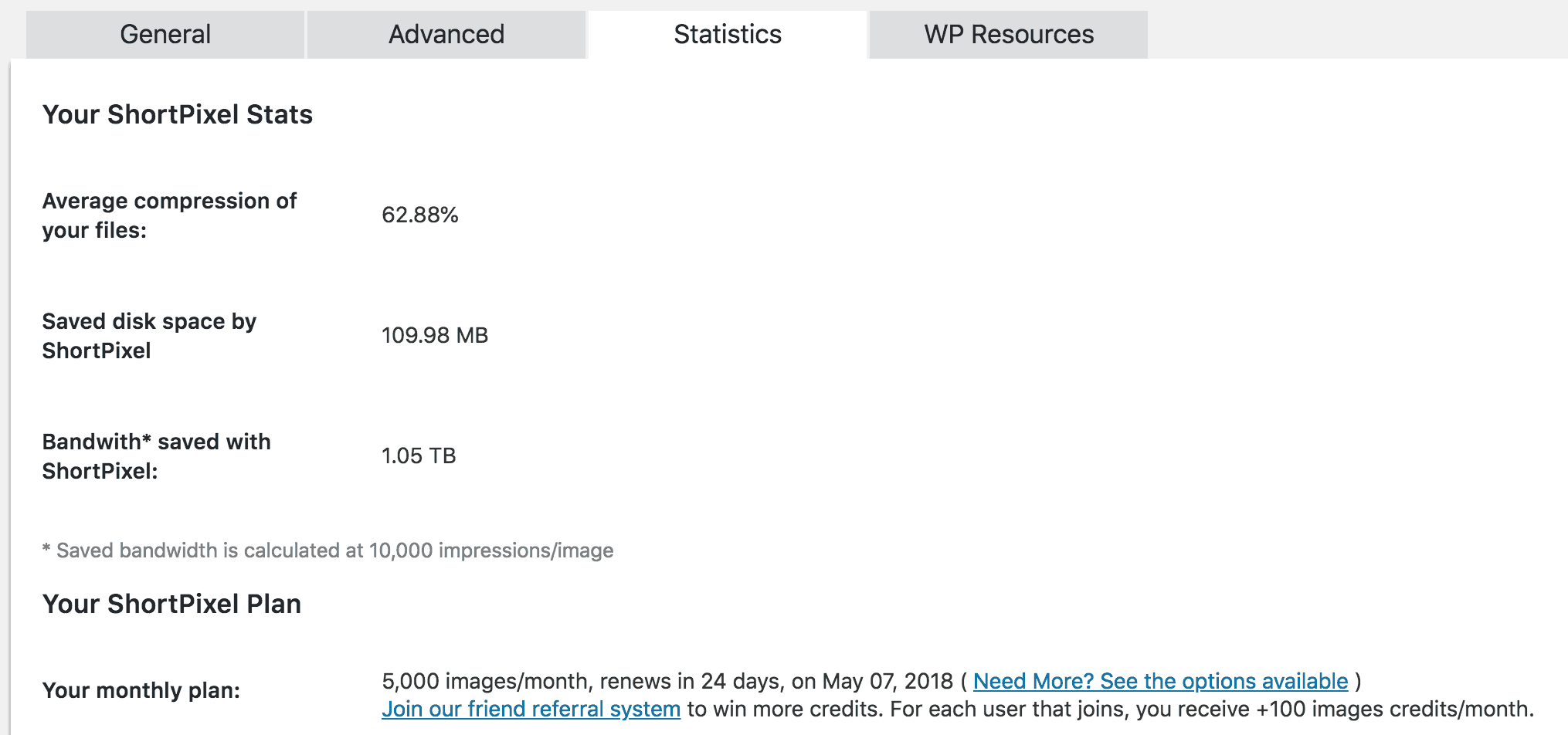 My Review: This is probably one of the tools that you can set up and leave it. It is also probably one of the best on the market for image compression for SEO, so I almost immediately installed it the moment I got Briefcase. The power of this tool can only be seen in the stats, which makes it a valuable tool if you aren't already doing image compression for your blog.
What It Does: Compressing and optimizing images for SEO
Best For: WordPress Blog owners
Usually Costs: $9.99/month + You get 3000 Bonus Image Compressions!
It's the same as Short Pixel Small (#11), but you get 15,000 image compression compared to 5,000 for the small plan.
If you're running multiple websites or have a lot of image to smush then you'll probably need Pro.
If not, you can probably give this a miss if you're only running 1-2 websites.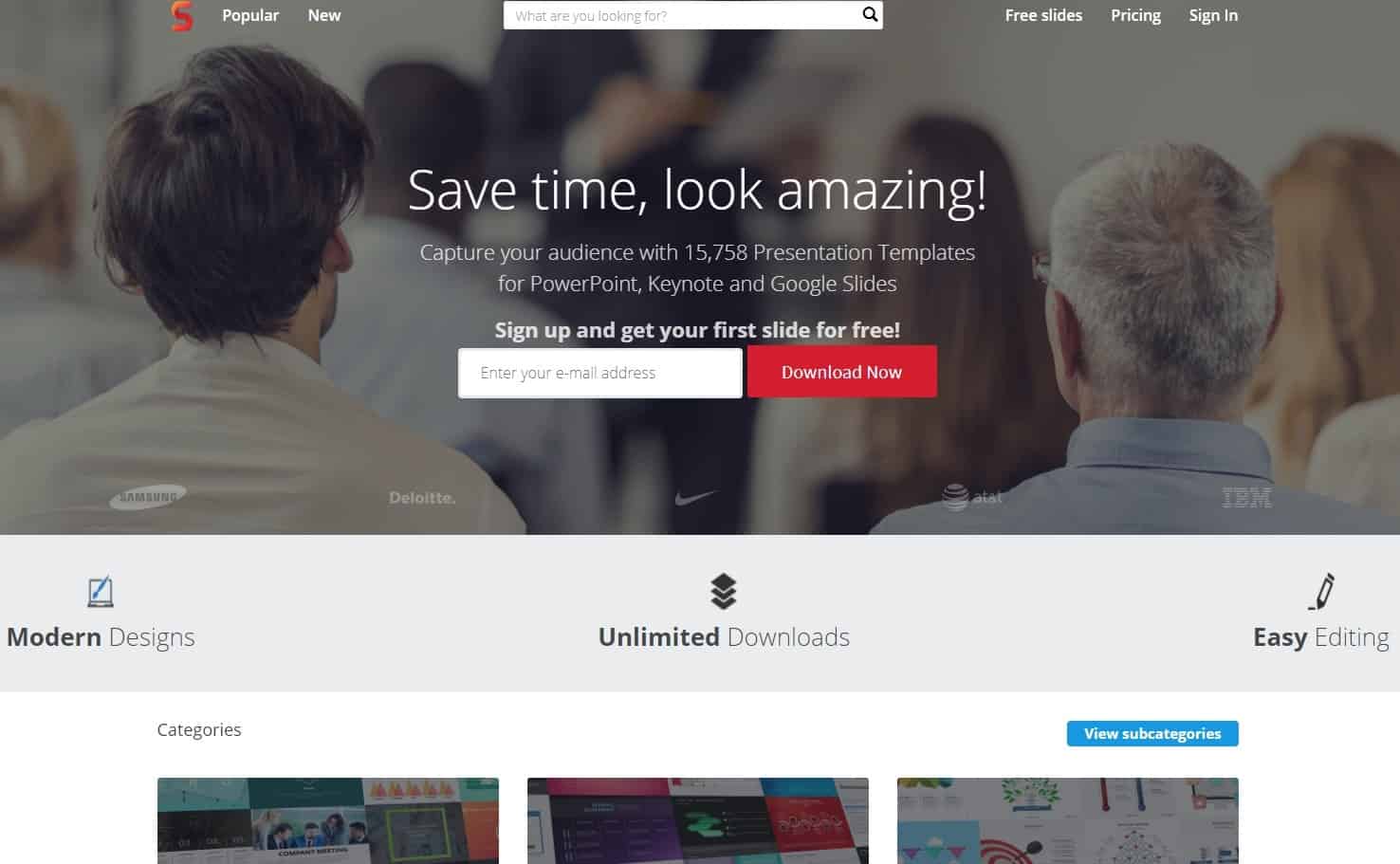 What It Does: Putting together well-designed slide decks
Best For: People who does presentation a lot
Usually Costs: $499/month
Slideshop is essentially just a place to get templates of slideshows, and it's available in all major formarts – Powerpoint, Keynote and Google Slides.
With over 15,000 slides in here, there's a lot of presentation slides you can choose from.
The plan with Briefcase comes with unlimited access which is a big asset if you need inspiration for presentations. Without this plan, buying each presentation slide can set you back anywhere from $10 to $200+ PER PRESENTATION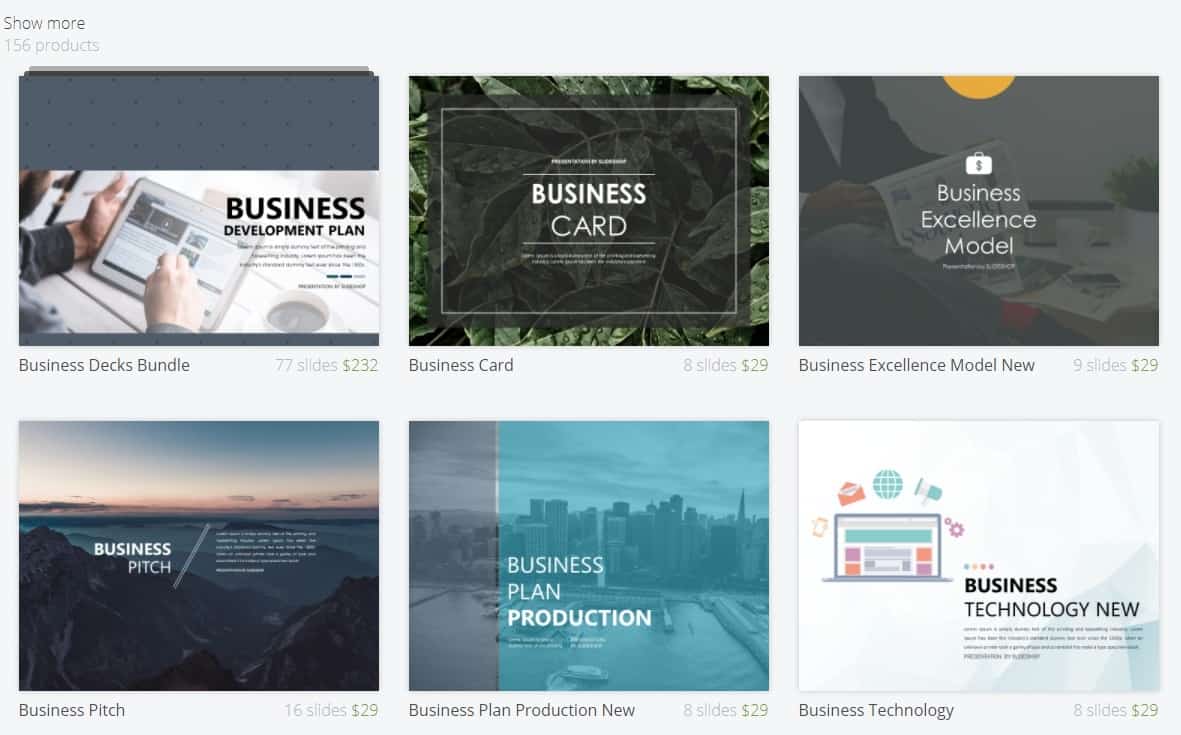 My Review: I don't do presentation much so I don't get as much value out of this as other people. However, I have a friend that found this resource valuable when I shared it with him because he makes money doing presentation. Imagine the time you can save with the design work and just focus on getting the actual work done at half the time. In any case, definitely must get if you do presentations a lot.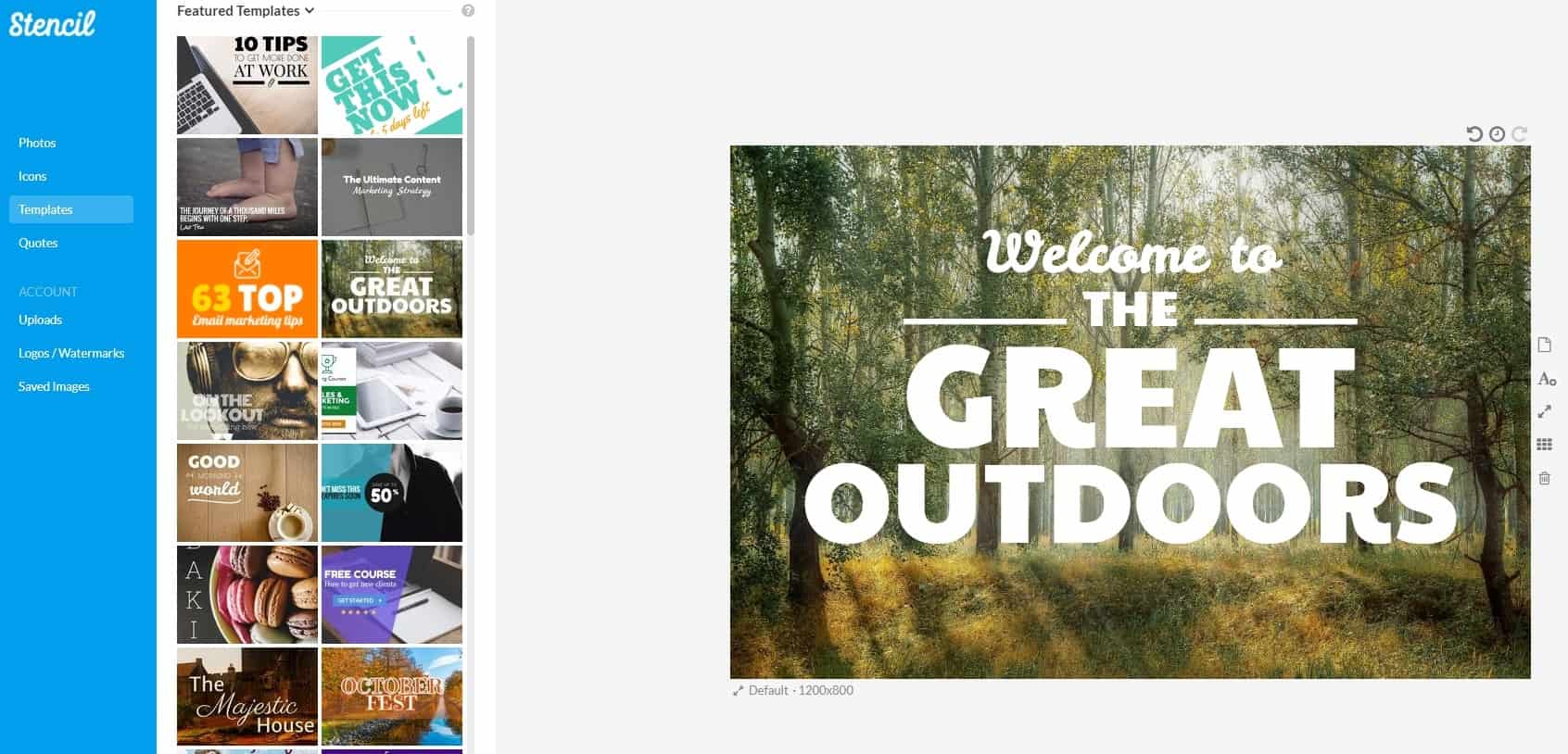 What It Does: Easily create ads and marketing collateral using pre-loaded templates, images, icons.
Best For: Creating great looking images quickly, and also 'quote' pictures.
Usually Costs: $12/month (Annual payment of $144)
Stencil is tuned more to creating Social Media friendly images, for ads, and for marketing purposes.
There's also a special 'Quotes' section that help you find inspiring quotes that you can design and post of Facebook easily. Below is an image I created in just 2 minutes by finding the base picture template, and adding a quote on top of it.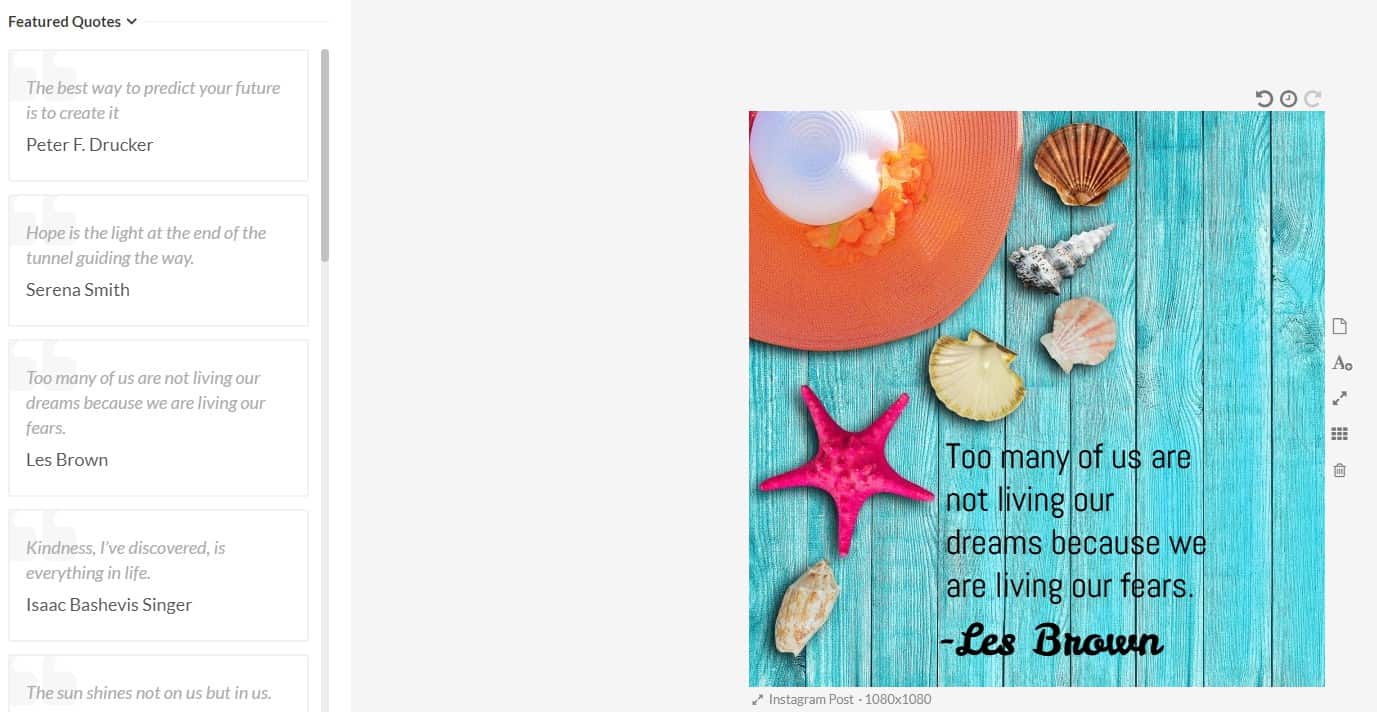 There's about 50,000+ quotes, 680,000+ royalty free images, 200,000 icons which you can use for your next image.
Stencil's platform is really simple to use compared to many other platform, including Canva which is already to use.
My Review: I love Stencil for the 'quotes' section. They seem to have a better selection of images compared to Designbold, at least for the free pictures, but I frequently go between these two platforms now to find the perfect image for whatever I need now. Using Stencil more now too for its simplicity of designing images.
7. E-commerce
These tools listed in this section are mostly used for E-commerce, even though there are other tools in the whole list that works more for E-commerce too.
There's only one tool here at the moment and is suited for E-commerce specifically.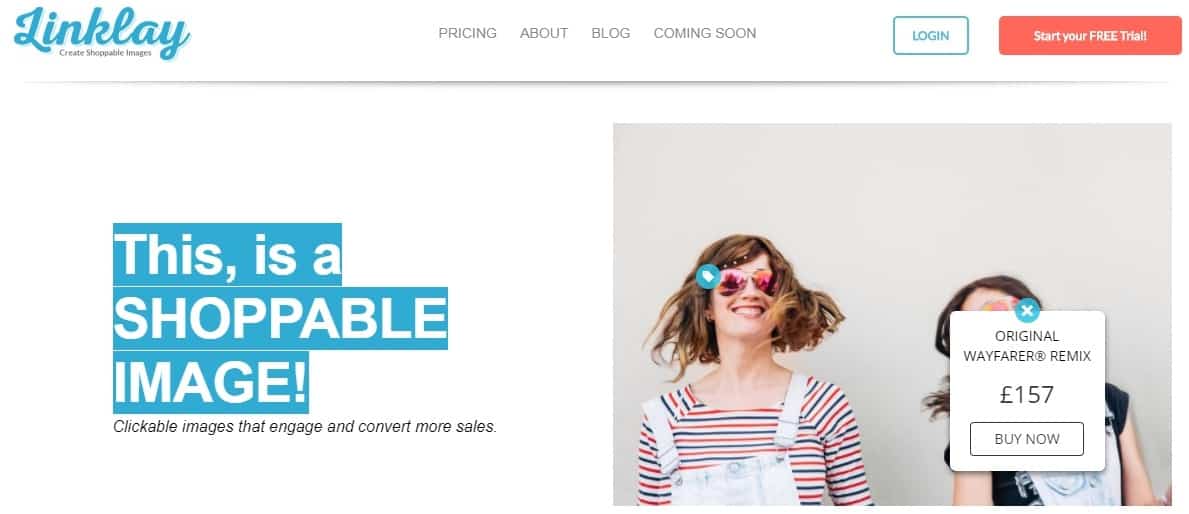 What It Does: Creating shoppable images
Best For: E-commerce websites that are selling a product catalogue
Usually Costs: $17/month (But only one domain, Briefcase gives you two domains to use this tool)
Linklay is perfect for some businesses like E-commerce websites, or if you need to show a proudct catalogue as you're able to create images that allow you on multiple spots which interacts differently.
You can map certain points of the images to click to show up the product name, price, and the button to click to buy that item.
Customizing such an image takes 5 minutes or less really.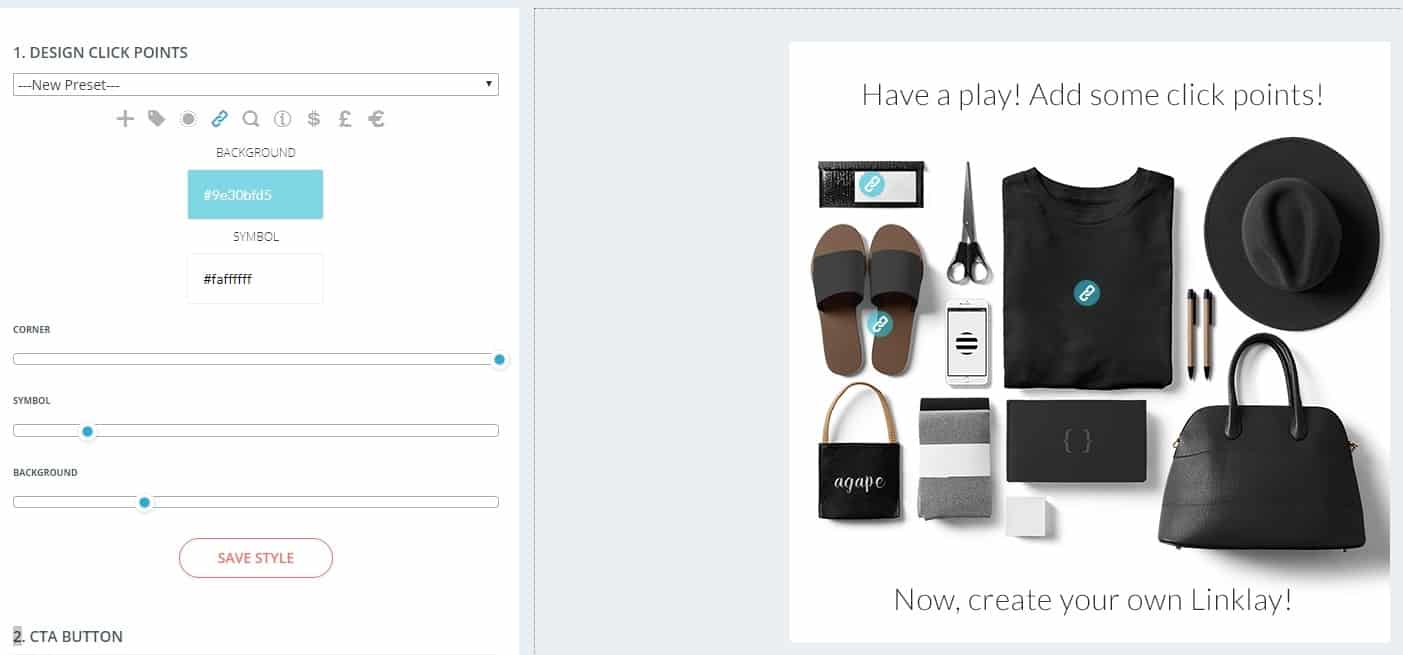 All you need to do is insert the design click points (Where to 'click' for the popup), name and price your products.
Voila! You're pretty much done. All that's left is copy and paste that code to the website you want to put the image on and it'll work its magic!
Here's an example of a custom image I did for some of the books that I promote (You can actually buy them if you want!):
My Review: This is really perfect for e-commerce websites, even though I don't have one at the moment. There's really a lot of use for this if you're displaying catalogue items and I can forsee a lot of e-commerce people that want this tool. Simple, easy to use and perfect!
8. Hiring
If you're part of a small business or looking to grow your team, you know you need to hire people.
There's only one tool at the moment but it's a very powerful tool that can help you have your own job portal.
What It Does: Streamlining your hiring process
Best For: If you're planning to hire people,
Usually Costs: $129/month (Only one active job, Briefcase gives you three active jobs)
Vervoe is pretty much your personal job recruitment portal for your business, and you can have up to 3 active jobs at one time.
One of the coolest thing is Vervoe is that you can put people through a series of test or questions even before interviewing them face-to-face.
The series of tests and questions can be done online by the applicants, and this will allow you to filter the people that you really want.
One cool feature about Vervoe is that if you don't know what are the ideal questions to ask, they already have a library with templates ready to go for most common roles.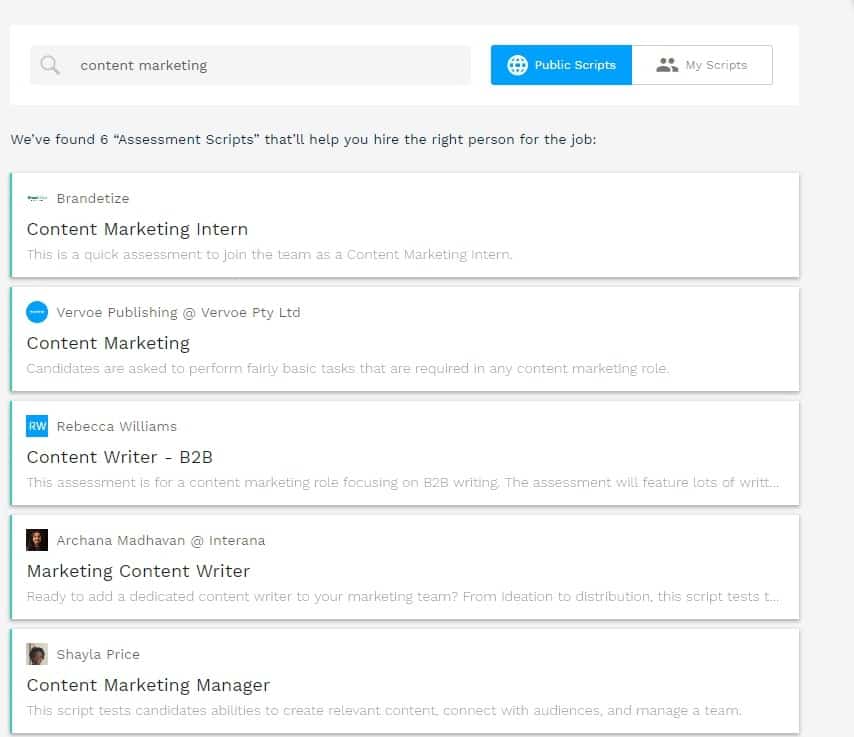 You can put multiple series of tests, online or offline, for your applicants to answer. They can answer your questions in text or video, depending on how you want them to answer.
My Review: Not much need for Vervoe for me as I don't do hiring at the moment, but I'm with a company that is looking to expand. This tool will definitely prove useful in assessing people's skills and talents in order to get the right people right from the start.
9. Lead Generation
Every business needs leads, be it online or offline.
These tools are designed to help you get leads from places you may not have looked before, or probably even places you never knew you could get leads.

What It Does: Putting you in touch with web visitors and making sales
Best For: Getting more phone call leads
Usually Costs: $59/month (40 calls, Briefcase offers you 10 more calls per month)
Callpage is really simple. It's just adding a widget to your website that allows people to call your hotline or phone number.
There's a small button at the bottom right hand of the screen where you can call their hotline. If they're out, you can leave a message to get them to call you back instead (Try visiting their homepage to see this in action).
Installing it is very simple which is guided step by step. Mostly just to add a widget on your website and it is active.
The dashboard also shows everything you need to know including: Number of calls, success rate, average duration, visitors and more. This allows you to track your numbers easily in this platform and helps you to make any tweaks along the way.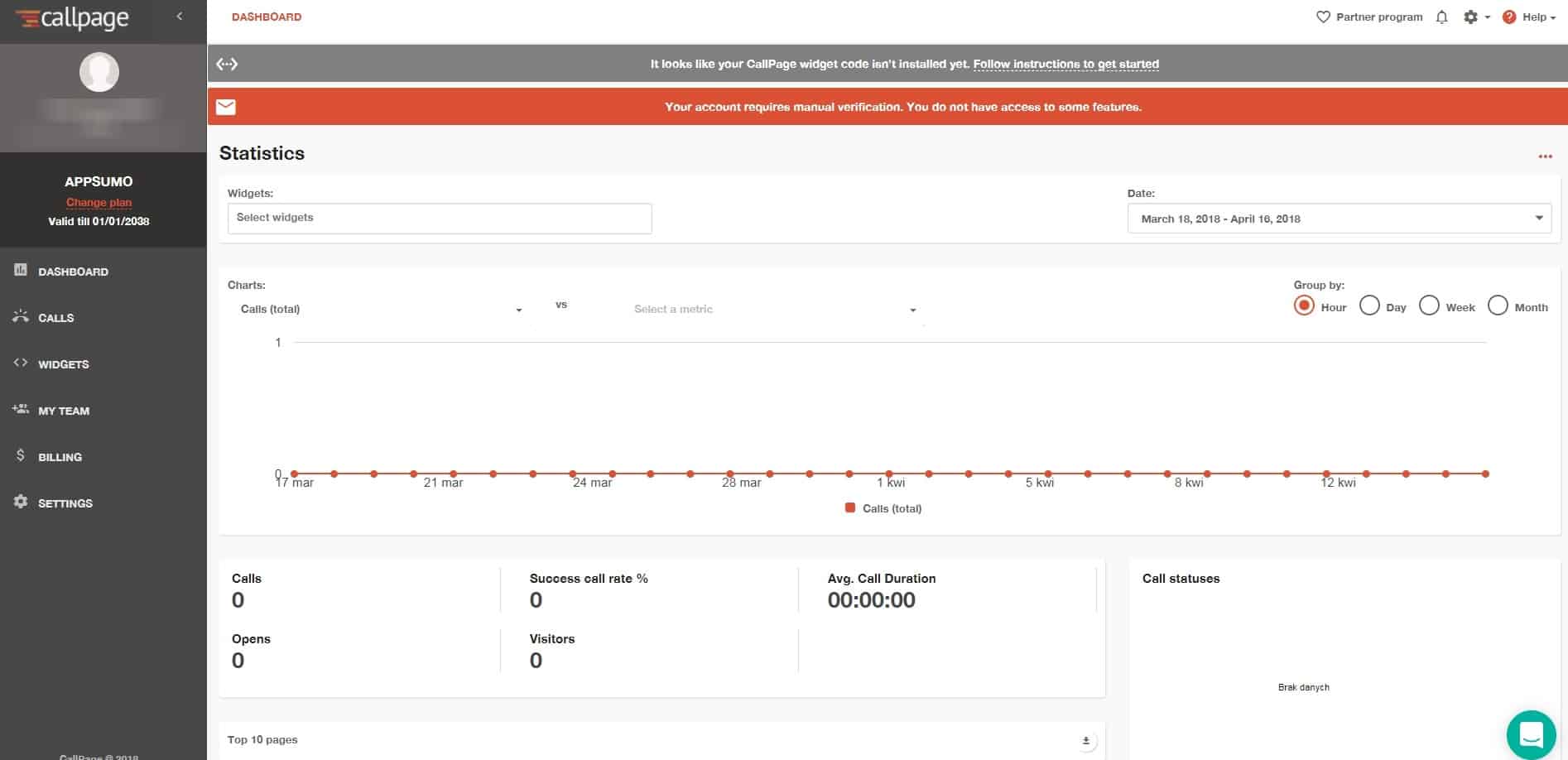 My Review: I don't really have any use for Callpage at the moment, but it's a really nifty feature to have when other people are just offering Live Chat. Having phone calls could be a easy way to close big ticket deals if you're selling high ticket, and making it easier for your customers to do so is always a big plus.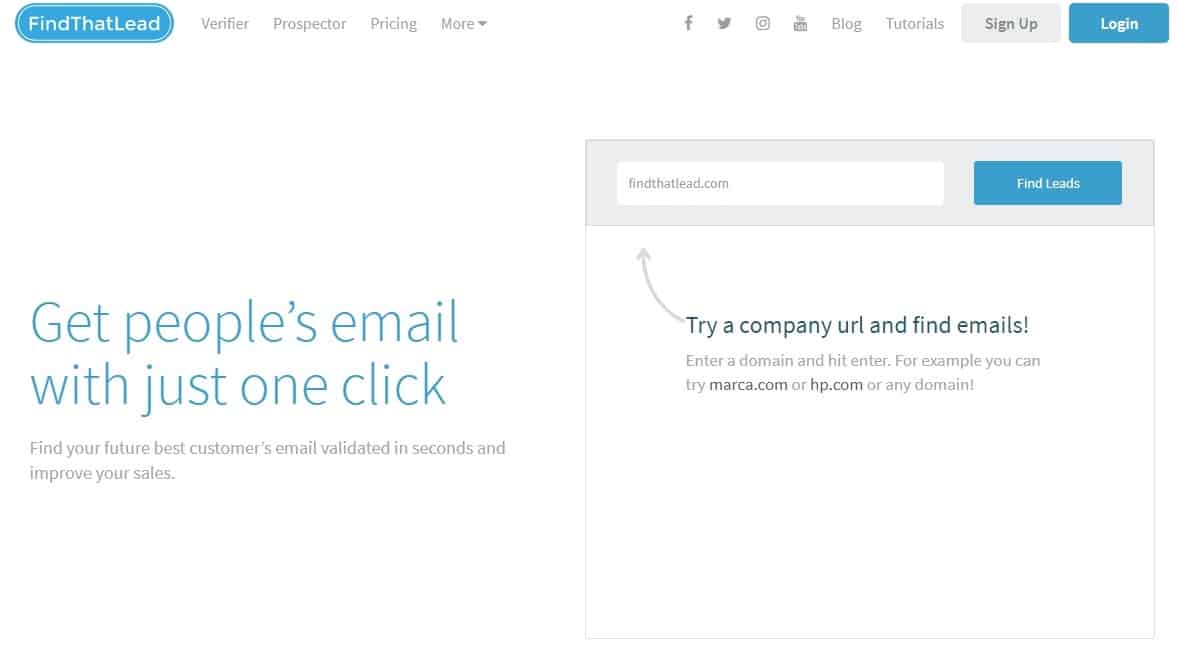 What It Does: Finding vetted emails and great leads
Best For: Anyone who wants to contact the right person in any company
Usually Costs: $29/month (1500 searches, Briefcase gives 500 more searches)
Find That Lead is a cool tracking tool to help you the find the person that you really need, especially if the information is not put on a public site.
You can search for emails either by searching by: Name & URL, Domain, Linkedin/Twitter, Whois Lookup
The best part of this tool is that it helps you verify if the email is actually in use or not, which saves you the guesswork whether someone is using that email that you found.
Here's an example of what I found when I searched for Blizzard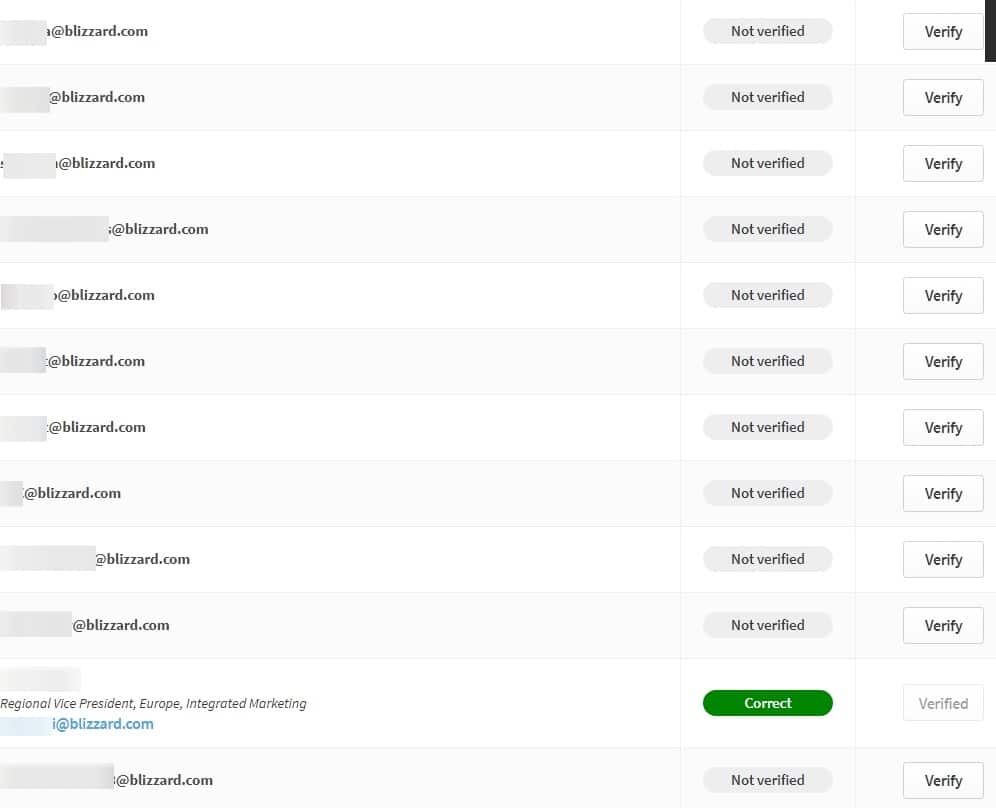 With the Briefcase plan, you have 2000 credits every month. It depletes when you search or verify for emails, which makes the credits deplete very fast. Take note of this when searching.
Included in the plan is the 'Prospector' tool as well, which helps you to search for people based on certain demographics that you input in the software too.
My Review: I know the pains of not being able to find the right person, but with this tool it helps you to get the exact person you want. Especially with so many ways to track down a person, it makes finding a person's email a breeze. I haven't used it a lot yet but it's a great spy tool to have with Briefcase

What It Does: Identifying and exporting leads for your sales pipeline
Best For: People targeting Corporate Clients
Usually Costs: $49/month (250 leads per month, Briefcase gives 400 leads per month)
Leadworx is one tool you will want if your clients are corporate clients. Mainly the reason is you are able to see more than who is visiting your page, but also what company the person is in (with related contacts, names and emails)
Using this is simple as it is just installing the lines of code on your website, and after that it should track whoever that lands up on your website.
After using this awhile, I can see the number of leads coming in, and which website they visited.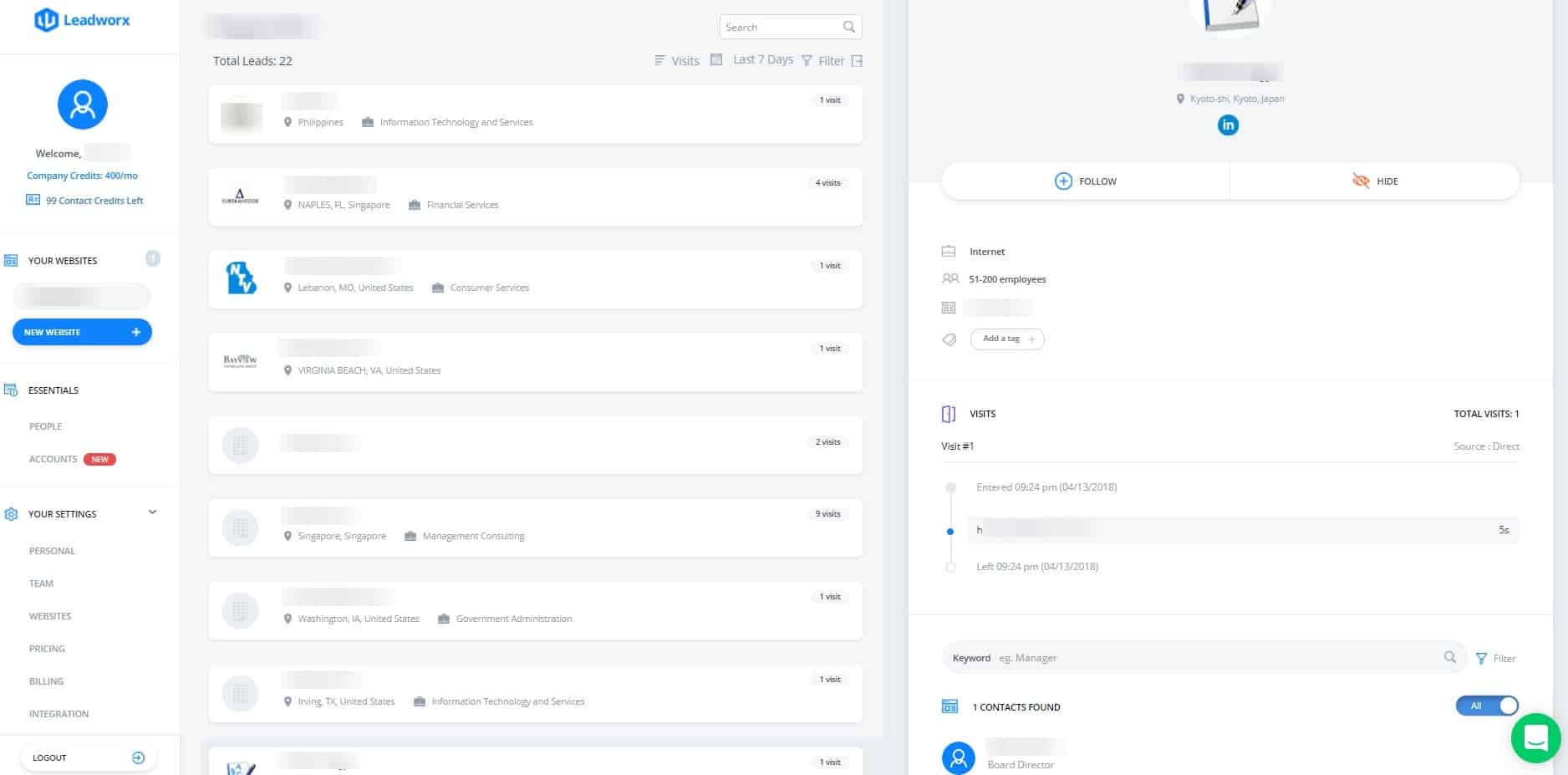 The thing is that Leadworx is able to capture and present the data in a simple way makes it very valuable.
Being able to know who landed up on your website is gold, as you know the types of people you are attracting and can better cater your content towards these group.
My Review: One of the easier install-and-forget kind of program. All you need to do is just log in to check your stats and see who is visiting, and you'll be able to find a lot of gold nuggets that you won't be able to without Leadworx. I definitely recommend this program for those who want to know who have been visiting your website, and how 'important' this person could be to your business. Who knows, you may have just gotten a future lead prospect just because of this tool.
What It Does: Identifying and exporting leads for your sales pipeline
Best For: People targeting Corporate Clients
Usually Costs: $99/month (1000 leads)
If you're running the Pro Briefcase plan, you can get access to 1000 leads per month instead of the usual 400 leads with the normal plan.
Every other feature is the same as the normal Leadworx (#19) plan.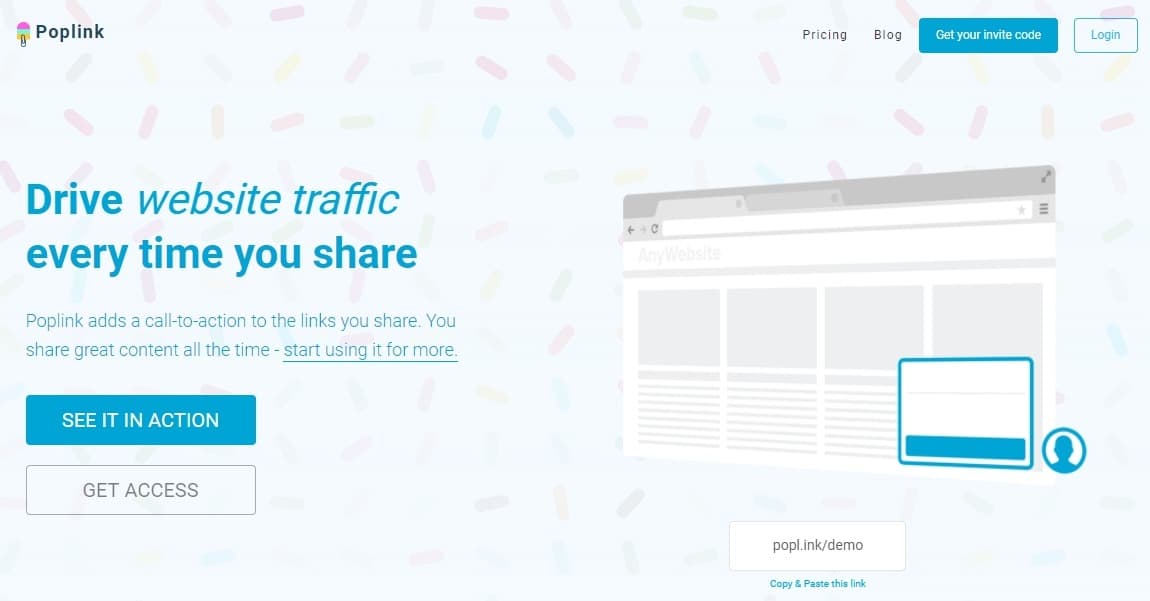 What It Does: Add pop-ups to any content you share
Best For: Anyone who generates to your business!
Usually Costs: $79/month (Monthly plan gives you unlimited promotion, Briefcase limits you to 30 promotions only)
If you're sharing a lot of content from other people website, Poplink is definitely the answer for you to increase your traffic as well.
You can either drive people to your website, sign up for your mailing list, or display an image ad…. All while you promote other people's content!
This is really sick as this means you still can generate traffic for yourself without the need to create ANY content.
See Poplink in action by clicking this URL of how I used it to direct people to a certain URL.
In the picture below is how I actually did the promotion, which is basically answering questions, and inputting the picture when asked. Easy peasy!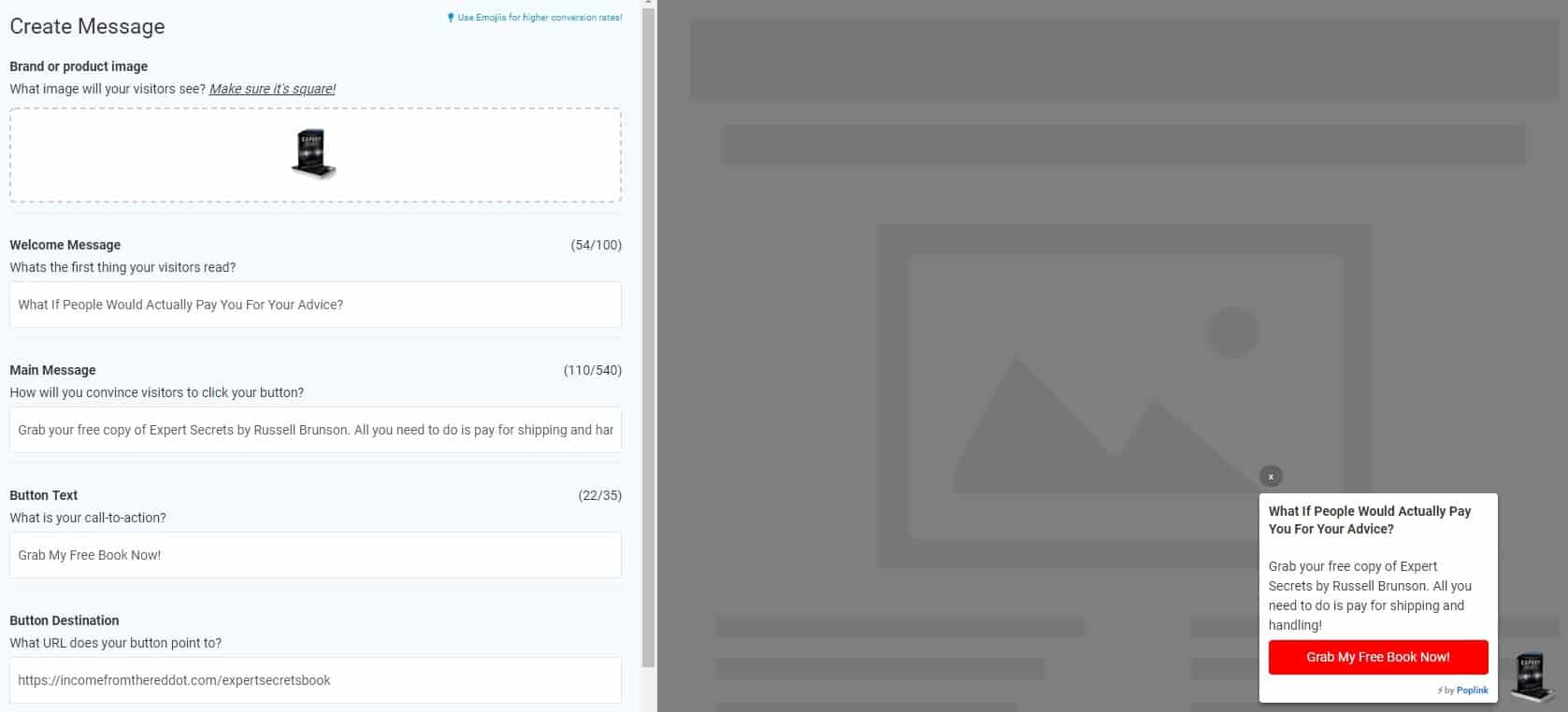 You can create up to 30 promotions with the briefcase plan, which means up to 30 ways to direct traffic to your website or email. This is more than plenty for the average user in my opinion.
My Review: I used to use snip.ly in the past to share content and it is very similar to Poplink. However, Poplink allows you to do more than snip.ly such as being able to do email opt in straight away. It's a pretty useful tool which I plan to incorporate into my businesses to get more traffic!
10. Learning
Learning is one important tool for entrepreneurs.
With one resource here at the moment, there's a platform that helps you to learn more about business and some additional tools that you can use to build a start up too.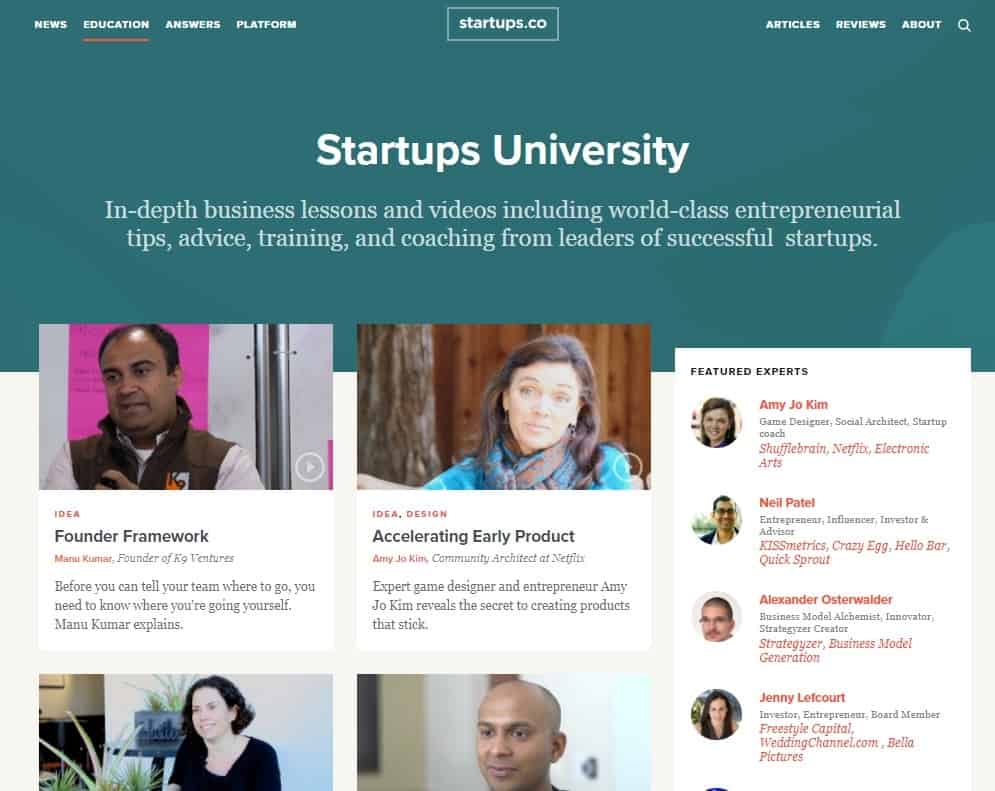 What It Does: Gleaning all the best advice from successful startups
Best For: For Startups or people who want to start their very own startup!
Usually Costs: $29/month
Startup.co is literally the place to be if you want to learn from successful startups as they feature :
Master Classes: 600 in-depth videos featuring ultra-successful startup and business experts.
Startups Live: Talk to Founders twice per week via a moderated Slack chat.
Expert Mentorship: J

oin live mentorship sessions where you can learn how to do content marketing like Neil

Patel, or get inside the mind of Mark Cuban.
Daily Lessons: Bite-sized information delivered directly to your inbox.
This is one of the better deals out there because you get 3 other products included with Startup.co as well:
Bizplan.com: The fastest way to build a high quality business plan.
Launchrock.com: Over 500,000 startups have used Launchrock to attract nearly 20 million early customers.
Fundable.com: An online equity crowdfunding platform that has helped startups raise over $300 million (without taking a cut).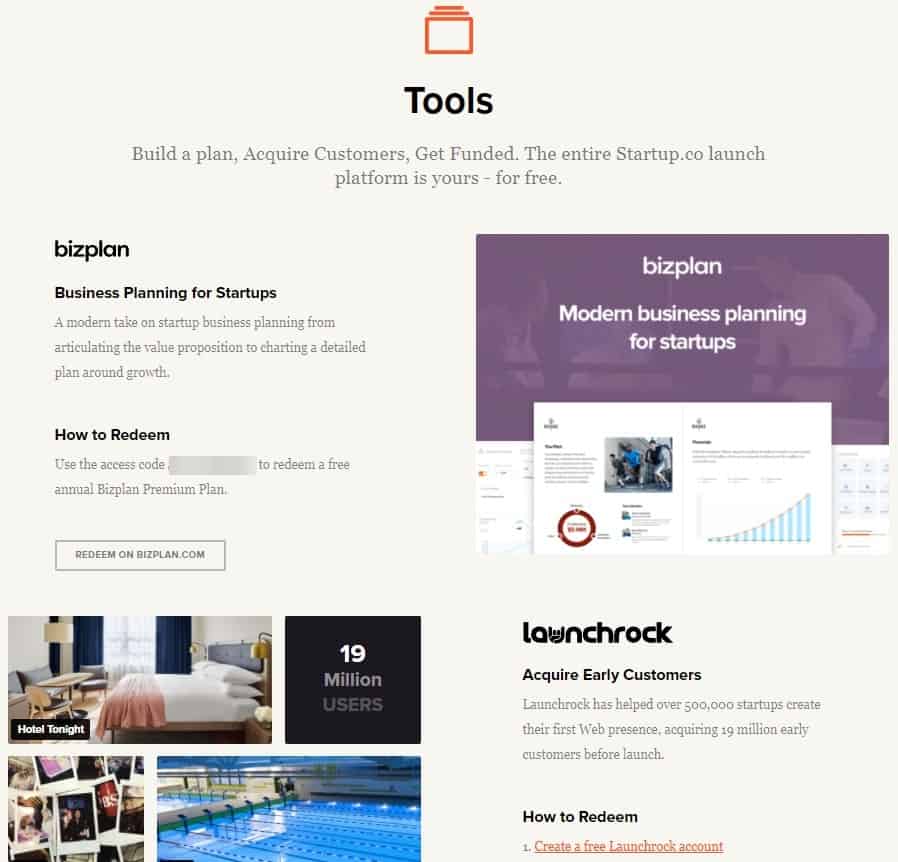 These tools will help you to implement everything you learn from Startup.co easily and help your startup gain traction fast.
My Review: This is pretty much one education website that I have on bookmark now, given that there's a lot of valuable advice and tips that I can use and learn. The plus side is that there are so many tools that I have not even begin to use yet because I don't have a use for those yet, but these are really valuable tools when the time comes. Definitely a great deal to have in Briefcase.
11. Marketing
While marketing is a very broad word, the tools here are designed to grow your list and reach more people using viral giveaways.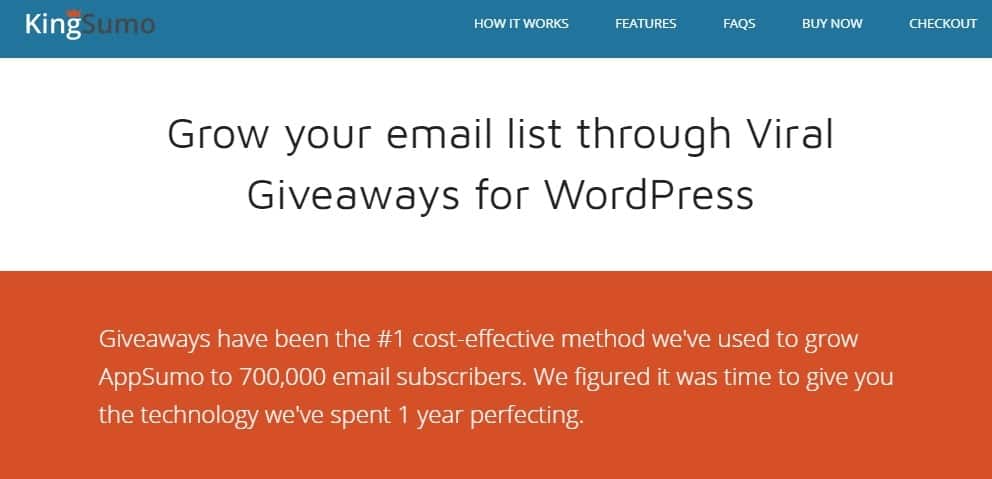 What It Does: Viral Giftaways For WordPress
Best For: Anyone who is planning to do contests/giftaways often
Usually Costs: $198 for Lifetime for 1 site
If you've seen those viral giftaways on Facebook, this is definitely one way to do it.
Kingsumo is a WordPress plugin that makes viral giftaways easy to do and launch in order to grow your email list quickly.
You can launch your first KingSumo Giveaway with 3 easy steps:
Add in the details and pictures for your giveaway in the setup wizard
Share the giveaway through your social media and/or current email list
People who enter the giveaway are incentivized to share to get more entries for themselves
My Review: There are many giftaway plugins out there, but Kingsumo makes the work really easy for me. I haven't used it much yet, but looking through the plugin made me realize that I could launch a giftaway within minutes and start getting sign ups quickly.
What It Does: Viral Giftaways For WordPress
Best For: Anyone who is planning to do contests/giftaways often
Usually Costs: $594 for Lifetime for unlimited sites.
The Developer version has all the features that the Kingsumo Personal have.
The only extra thing that is added is drag and drop editor, editable templates, personalization and SalesFlare integration.
It just allows more customization for your Giftaway platform.
If you're looking to run multiple giftaways on many sites, then you may want to pick up the Developer version instead. This means you will need the Pro Briefcase plan.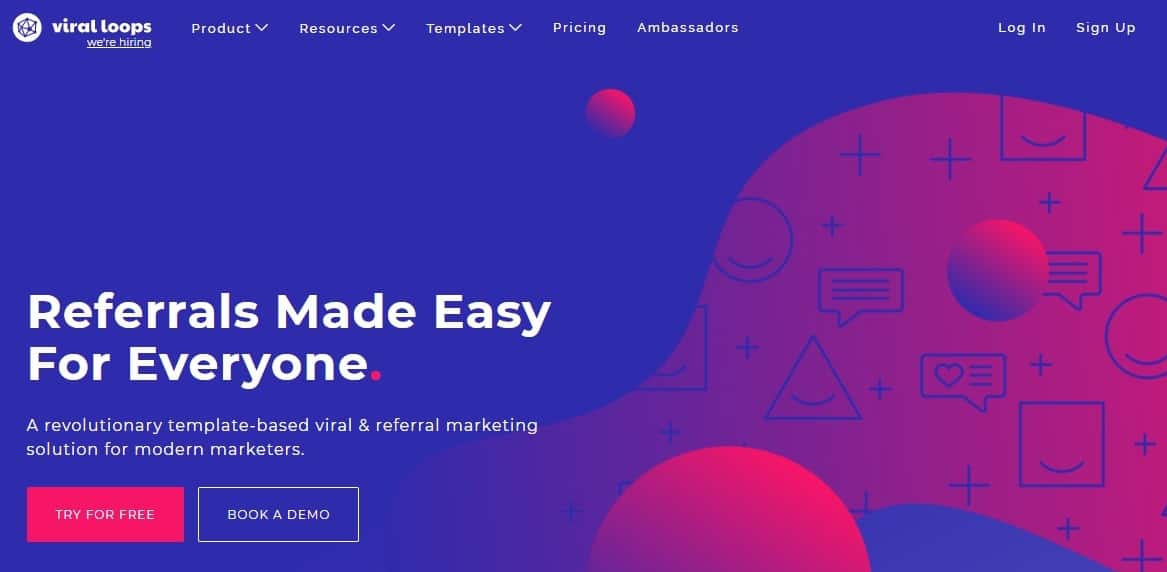 What It Does: Launching viral campaigns based on previously successful models
Best For: Anyone who is planning to grow their business organically through contests
Usually Costs: $199/month (Normally allows up to 25,000 participants, Briefcase allows up to 15,000 participants)
Viral Loops is a template-based viral and referral marketing platform that helps businesses acquire more customers through word-of-mouth sales.
Depending on what kind of business you are, there's templates for every business used by proven companies that did it before. It even tells you where the template is inspired from.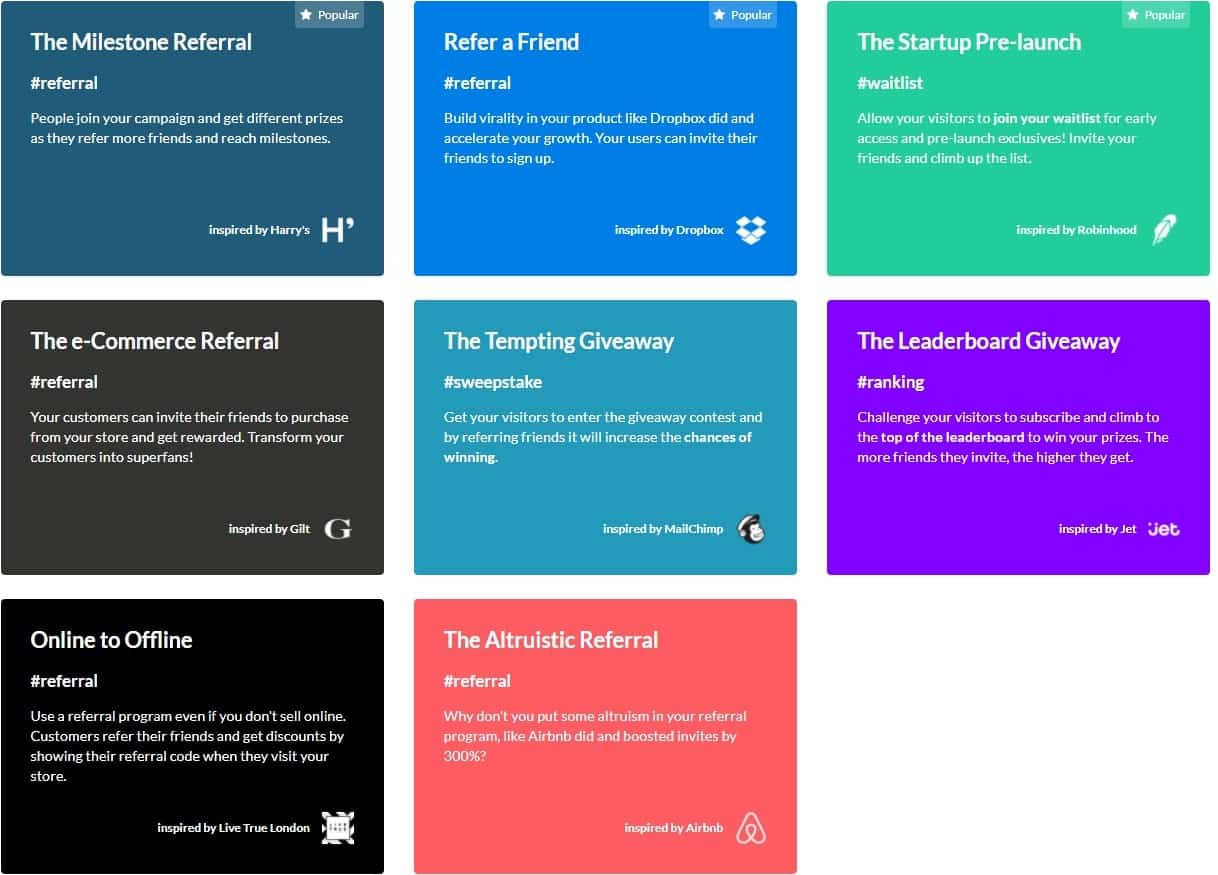 The implementation process is really simple:
Pick the template you want by answering a few basic questions on the objective of what you want to achieve (Grow email list? Drive sales to e-commerce website?)
Go through the guided step-by-step process of setting up your campaign
Post your code on your website, or host it with Viral Loops if you don't have a website
My Review: While Kingsumo is mostly for wordpress sites to get referrals only, Viral Loops does a lot more than just getting sign ups depending on what you want to achieve. There's a lot more flexibility with Viral Loops in my opinion and a lot more analytics as well too. Like Kingsumo, I haven't explored much on giftaways yet but both Kingsmo and Viral Loops make giftaways a breeze for any business.
12. PR
PR is important for any business with Social Media prevalent these days.
With one tool here only now, it can help you to spot anything related to your business so that you can respond with any problems or threats quickly and efficiently.

What It Does: Knowing what the world is saying about your product.
Best For: Social Media Managers
Usually Costs: $89/month
The coolest thing about Awario is that it works like a spy that's planted in all the various social networks.
And being able to know what's being said for your business – Good and bad – can help you make better decisions.
With Social Media these days, one bad publicity can spread like wildfire overnight. So having someone mention your business and knowing it the moment they post could be a gold mine for many small businesses.
Awario helps you track up to 15 alerts with the base plan, and every alert is a keyword or set of keywords that is tracked and monitored.
You can also track URL or even negative keywords, and also Languages, Countries and which social media platform (Sources)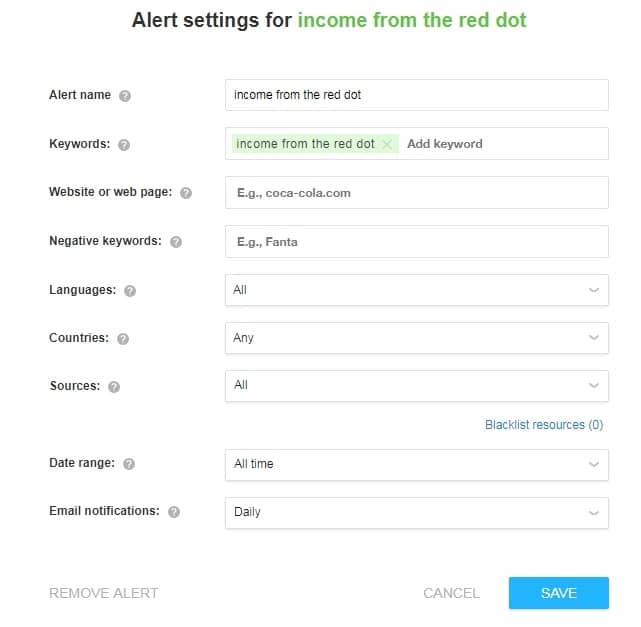 My Review: I've seen way too many cases in my country where businesses take too long to respond when something bad about their business is spreading on Facebook, and that could be because they only realize it days after! Awario definitely takes out that guesswork and allow you to 'track' your business 24/7 and give you a headsup the moment something about your business is posted. Definitely a lifesaver tool!
13. Productivity
Productivity is a very big thing if you want to get any work done. There are definitely a lot of ways to increase productivity considering the tools here below all does that.
Anywhere from using music to having a common platform to faster way to do things, you'll find the tools you need to improve your productivity quickly.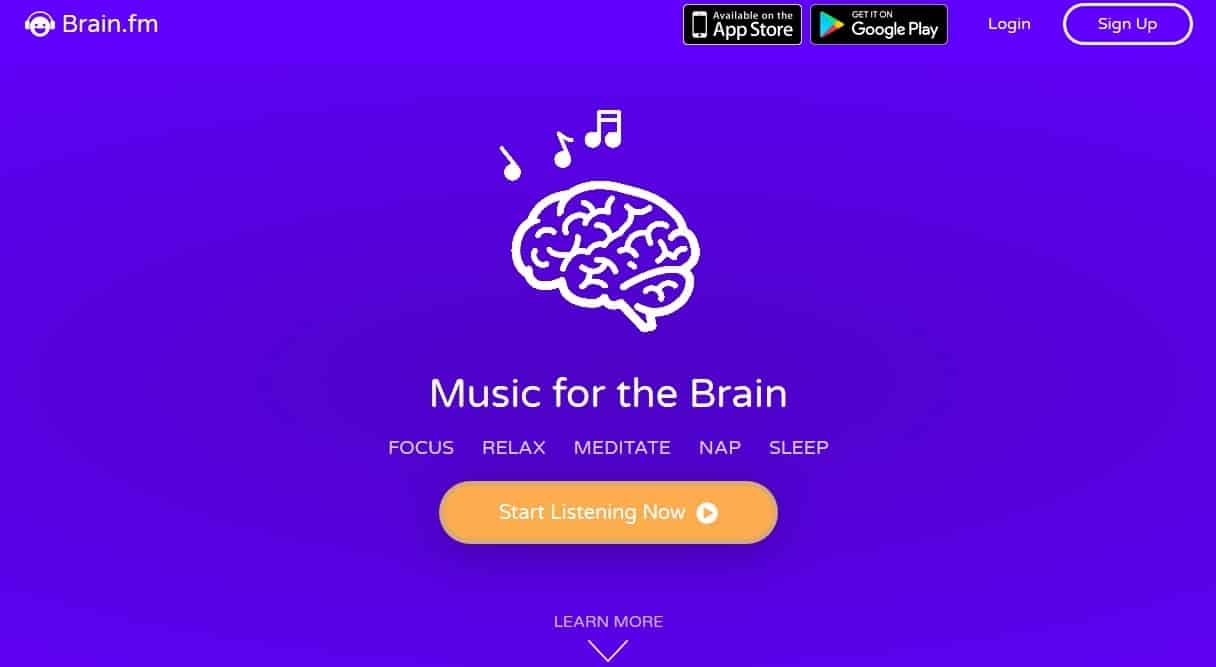 What It Does: Increasing productivity, sleep and focus.
Best For: Anyone who listens to Music
Usually Costs: $6.95/month
Brain.fm is algorithmically designed by neuroscientists to help reduce the clutter and get you feeling more alert, productive, and focused.
This means Brain.fm's music is entirely backed by science to help you get into the groove for studying, working, or even sleeping!
You can choose to use the web version or using the app – depending on how you're using it. The web version would look something like this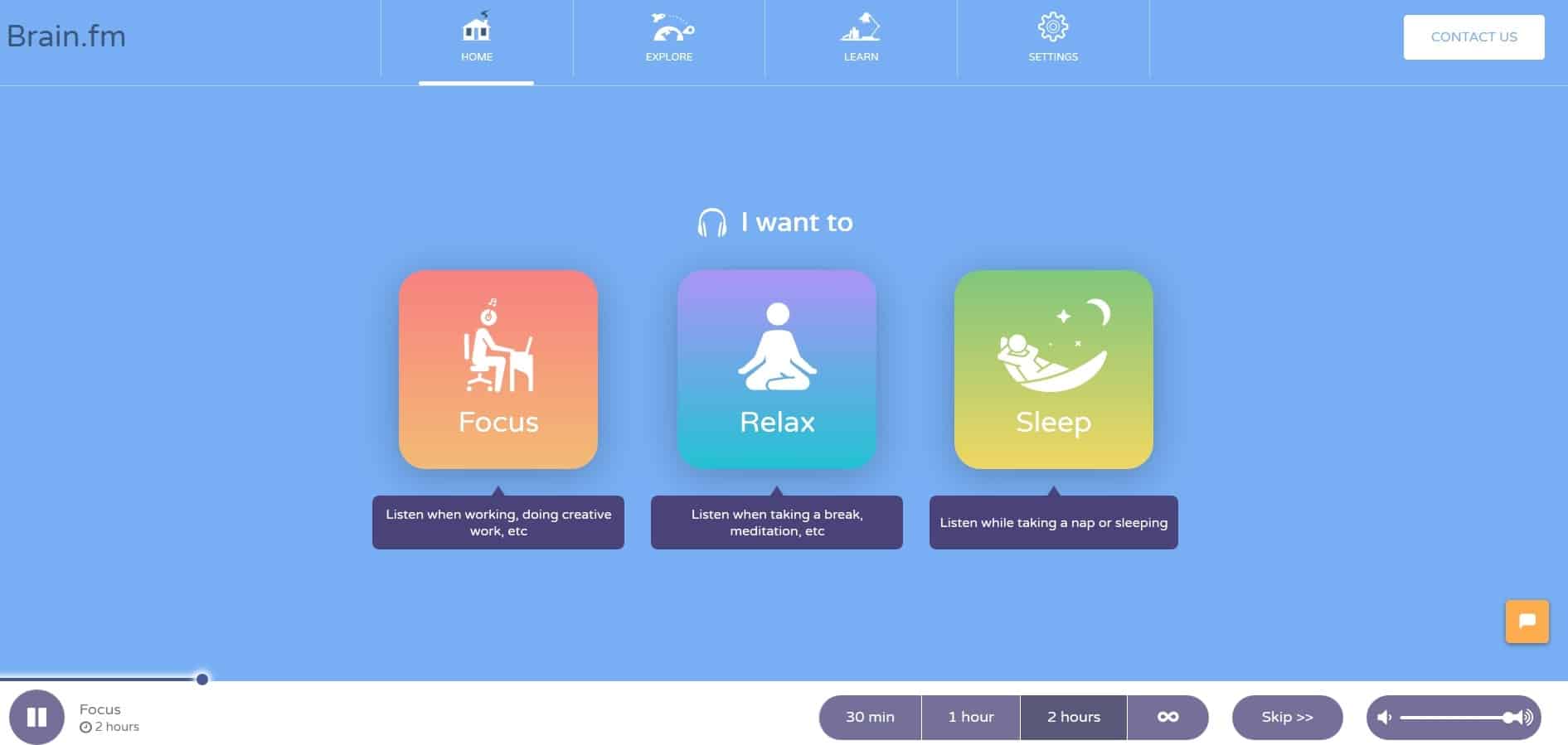 You can choose your 'modes', which is primarily Focus (For work), Relax (For naps/meditation), and Sleep (6-8 hour duration).
Depending on which mode, you can set the timer accordingly. For the 'Focus' track, you can pick between 30 minutes, 1 hour, 2 hours and infinite.
The music is randomly generated generated and picked from their music library so every time you listen, it feels like an entirely new track. On the mobile app version, you can save your favorite track as well too.
My Review: Brain.fm is easily one of my favorite tools out of the entire Briefcase. I'm actually listening to this right now as I'm typing this sentence, and have been using it a lot while working and even sleeping (Blasting it from my computer while sleeping!). Previously, I was already using Frequency music while working so brain.fm opened an entirely new door for me. This tool itself increased my productivity by multiple folds and keep me focused at my tasks instead of being distracted.

What It Does: Creating and sharing gifs, screenshots, videos.
Best For: Anyone who want to create a simple and fast way to clarify your ideas or process.
Usually Costs: $8/month
Cloudapp is one of the fastest way to screenshot on your computer, record a video, then doing annotating and editing right after that.
Even though it's a free forever kind of program, the paid version includes security and more storage.
The briefcase plan includes unlimited file storage, bandwidth up to 4GB and secure password protection on top of the normal functionalities.
Cloudapp also has a downloadable program which you can use to do everything and make everything simpler. Once you screen shot anything on your computer with the program, it'll automatically upload the picture into Cloudapp and your account online.
From there, you'll be able to do your editing (putting any texts, arrows, circling) to get across your point clearer.
My Review: This is a simple tool that makes everything even more seamless, as there's times when creating an image where you need to explain the image to the person viewing it as well. This tool makes it a lot easier to do so than using paint or going through complex design tools like photoshop when it's not really needed. However, I'm been using Stepshot (#33) for the same purpose as well and been using that program a lot more to do this same function.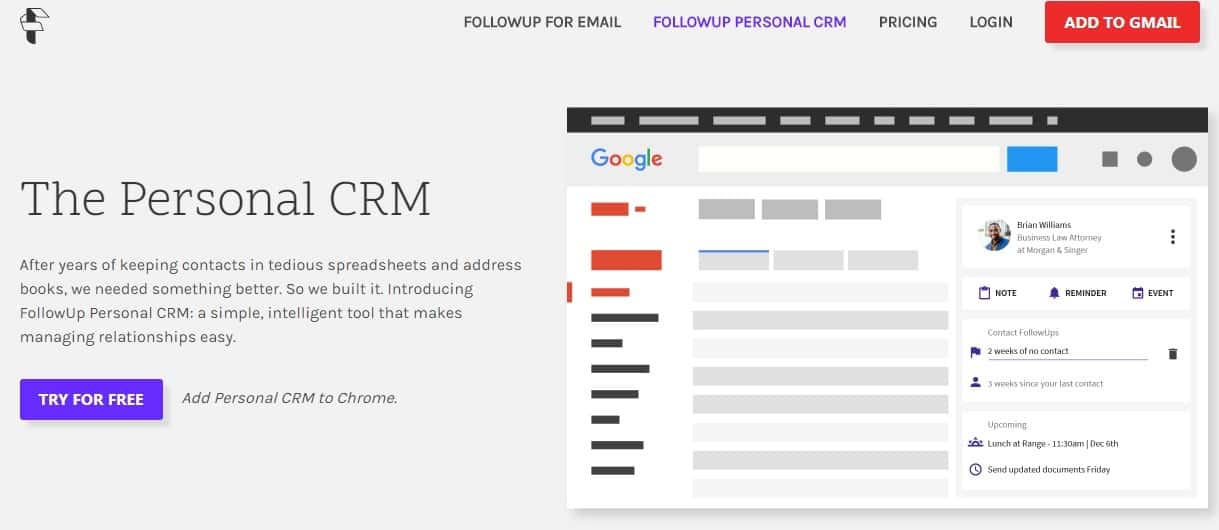 What It Does: Building relationships and making sales
Best For: Anyone meeting clients and following up with people
Usually Costs: $36/month
FollowUp for email is a lightweight productivity suite that keeps your conversations and tasks from slipping through the cracks. Set perfectly timed reminders that arrive at the top of your inbox, right when you need them.
It's like a personal assistant that alerts you when you need to follow up with someone, keep notes on people, and alerts you to what's coming up.
This simple chrome plugin also helps you to take notes on your contacts, and also a general overview of what your  next action tasks with that person each.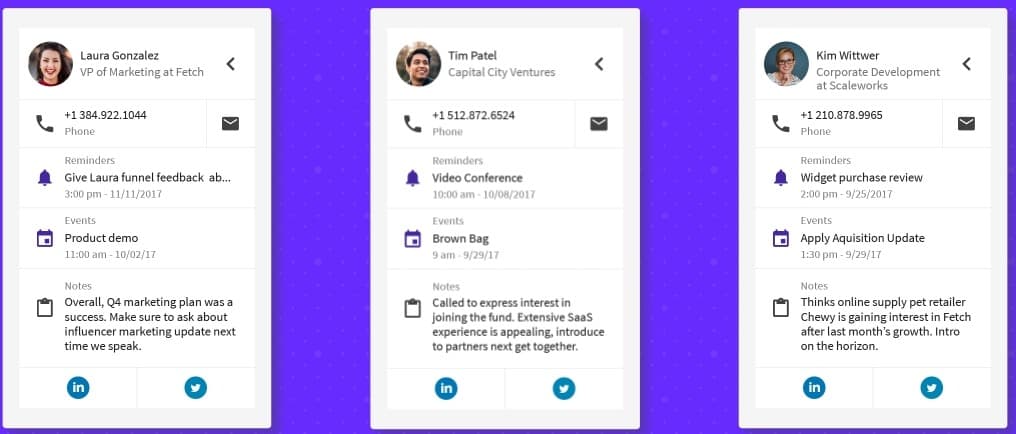 With this plugin, you'll never worry about forgetting to follow up with a certain person ever again.
My Review: Haven't gotten around using it yet, but seeing the potential of this tool is making keeping up with everyone simple, especially if you meet with a lot of people on a regular basis as you'll be able to keep notes on each person. Highly recommended if you're struggling to keep up with remembering details of everyone you meet and let this plugin do the work for you.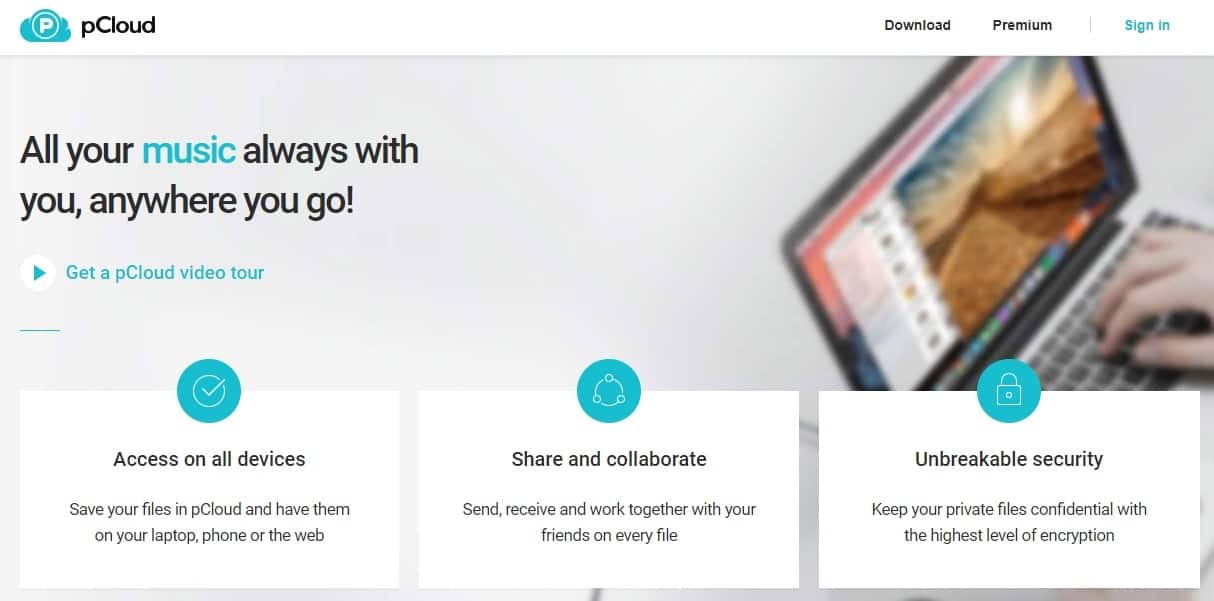 What It Does: Storing all your files in the cloud
Best For: Anyone who wants to access documents on the go across multiple devices
Usually Costs: $3.99/month
Many of the free cloud storage options such as Dropbox and Google Drive only has limited amount of space (Up to 15 GB free at most).
That's why pCloud's plan comes with 500 GB storage and download traffic, with unlimited upload traffic.
It's handy if you're running a business because unless you store a lot of videos and photos, 500 GB is more than sufficient for a really long time.
pCloud is available on desktop as well as mobile. You also can sync your smartphone's camera to pCloud as well to store your photos and videos inside the cloud too.
My Review: I switched from Dropbox to Onedrive and eventually to pCloud (Thanks to Appsumo, of course!) where I have massive amount of space. With the 500 GB space, I have pretty much too much space to use right now. Totally enjoying not having to see the 'You don't have enough space' anymore, plus I can easily sync my documents across my devices easily. Gone are the days of thumb drives and external hard disks as I rely on cloud a lot more these days.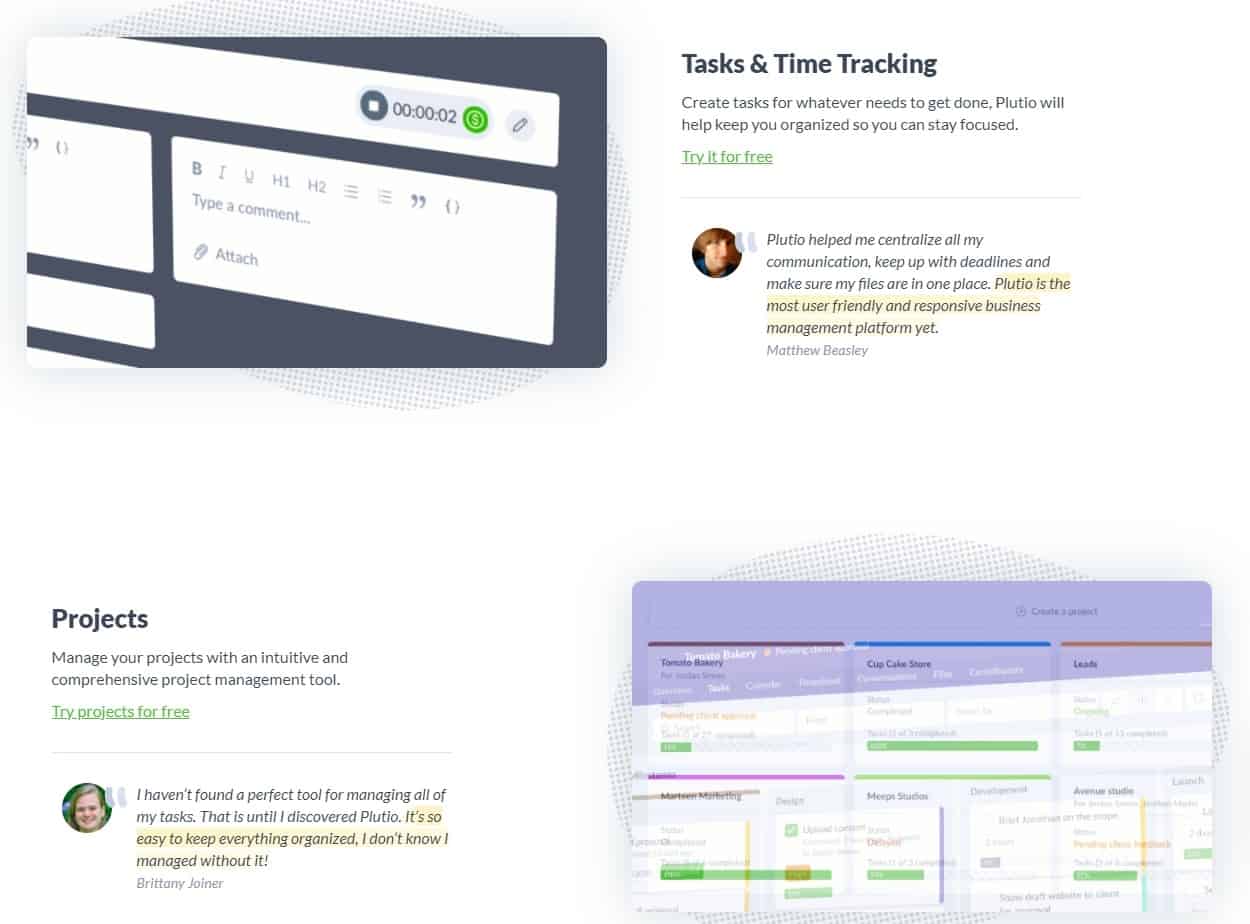 What It Does: Managing tasks, files, communications and invoices
Best For: Solopreneurs who need a snapshot of their business in one place
Usually Costs: $21/month
Plutio Studio is a software that is designed to be an all-in-one system for task management, project management, creating invoices and managing clients.
This app is works really great for freelancers or solopreneurs, as having a centralized productivity platform helps get work done better as everything you need to run a business is in one place.

The options that are available on Plutio are:
Tasks: Your to-do list for the day can be created in this tab
Projects: To map out your current projects and see what needs to be done to finish the project (Similar to softwares like Trello)
Invoices: Create invoices and bill your clients through the platform directly as it integrates with major services like Stripe or Paypal.
People: Save down contacts of important people to refer to when needed
Calender: See what's on your calender in a snapshot
Inbox: If you have clients or a team, this is where you see your conversation
Timesheet: Track how much time you spend on certain projects
Activities: See all your recent activities if anything is updated in the platform
My Review: Haven't gotten around with Plutio yet but there's great potential for this platform for freelances/solopreneurs especially! I'm been using Trello for task management now and don't require the extra features in here yet to change, but I can see it being useful for a lot of other people who do need these features.
What It Does: Managing tasks, files, communications and invoices
Best For: Businesses who need a snapshot of their business in one place
Usually Costs: $28/month
Plutio Team has all the functions of Plutio Studio (#31)
The only addition is that you get to invite 5 other team mates to use the platform with you as well, where only Plutio Studio only allows one user.

What It Does: Creating tutorials, workflow walk throughs and step-by-step instructions
Best For: People creating processes or guides for businesses and clients
Usually Costs: $12/month
Stepshot Guides is a solution for people who always need to create guides for businesses and clients, especially if you need it in a form of PDF or printed out hard copy manual.
It is useful if you need to create a guide of where to click and what to click. For example, a guide on how to install wordpress and knowing which button to click, what to type in, and every intricate details.
To use Stepshot Guides, you will need to download a program that you can use it to the fullest potential.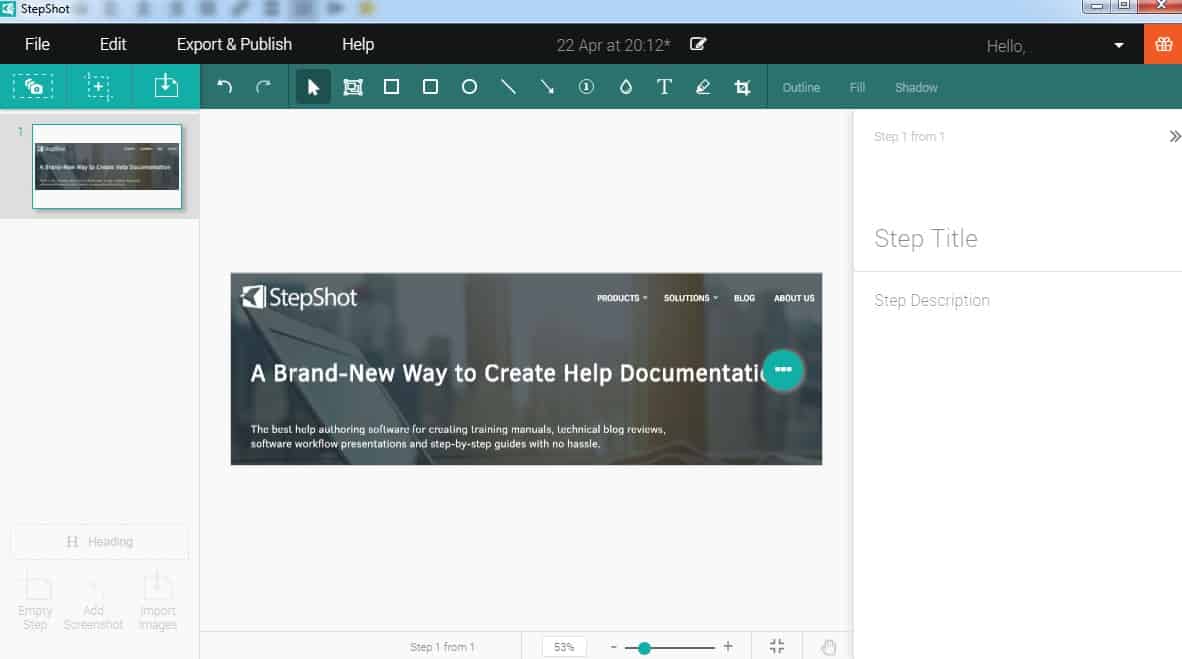 One of the best things of the program is the Capture Process sequence. What it does it when you activate it, all you need to do is do the process you want to record down and click whatever that is needed.
Once you are finished, click the finish button and every single click and step will be recorded down. After which, all you need to do is do some slight editing and you can export it into a PDF where it's a ready-made guide.
My Review: Been a fan of Stepshot Guides ever since I got briefcase! This is the program I have been using to capture all my screenshots for this entire blog post as well too. I have used it a few times to create guides for my friends as well for various businesses, and also for one presentation where I had to present to steps of where to click everything on the topic of Facebook Ads. If you're always needing to explain how to do the technical work of clicking but can't use video, Stepshot Guides is your next best friend.
14. Sales
Sales is definitely the lifeblood of your business. Why not make the process easier so that you get sales faster and quicker?
The tools in this section is designed to do just that, which is to help you convince your prospects to buy from you quicker, and more frequently.
#34) Nusii

What It Does: Making excellent sales pitches and business proposals
Best For: Freelancers or Salespeople who handle proposal with clients
Usually Costs: $49/month
Nusii is designed to be simple, but effective in creating a proposal to send to your clients.
It's especially designed for freelancers who do not know how to create an effective proposal, and would rather spend less time crafting proposals and more time making money with their skillsets.
Writing proposals is already difficult enough – Finding the words, the formats, the templates online. And it gets worse when you're sending out more than once a month (Which you probably already do if you're doing client work).
One cool feature of Nusii is that besides being able to build your entire proposal in this software, you get pre-made templates for certain business that does templates a lot.
The best part is that if you are using a template,  everything is worded properly for you so that don't require to change much words.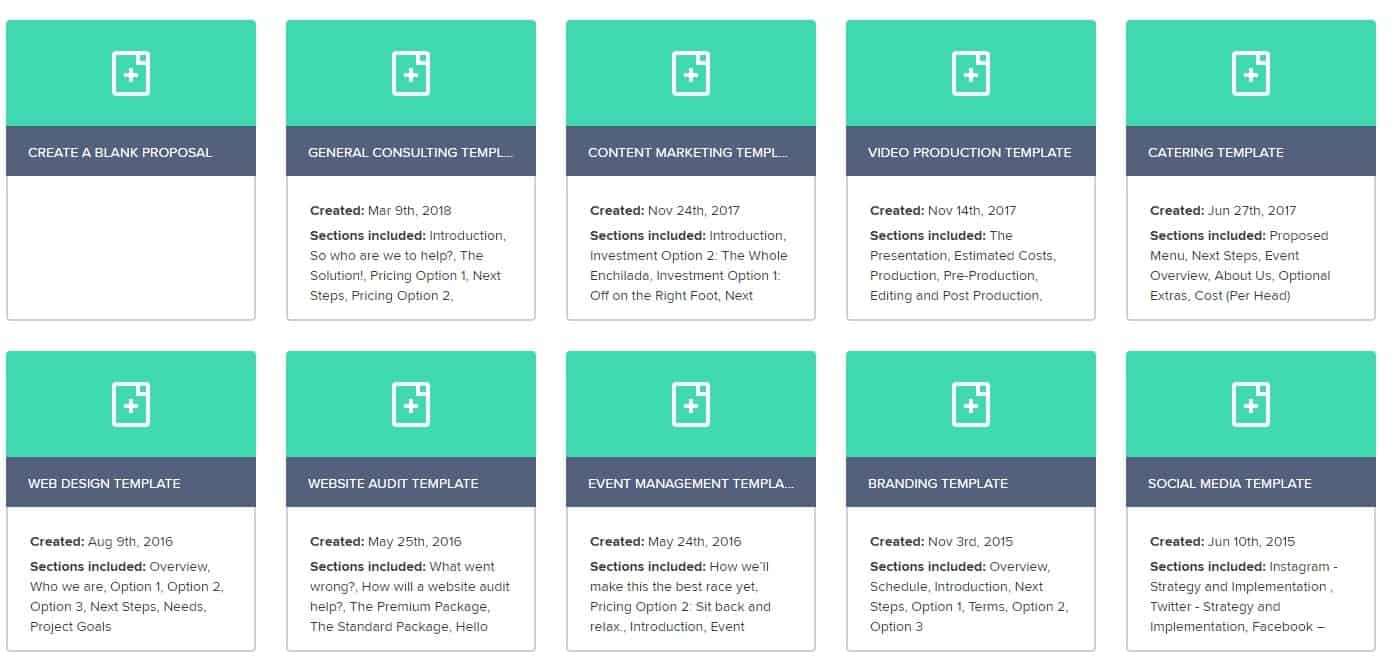 With Briefcase, you get the following with Nusii:
45 active proposals per month (Only 20 Active Proposals for non-briefcase uesrs)
Custom branding
Custom Domain
Sending email with your own email address
Zapier integration
Proposal Tracking Notifications
Automatic reminders
Digital Signing
My Review: While writing this article, this is the newest tool to be introduced into Briefcase. I haven't used it that much yet but know the potential of it since I used to send proposals last time to clients – and doing it in Microsoft Word sucks. If you're doing a lot of proposals every week, this is one of the tools you need to quickly sign up and use fast as it simplifies the process and save you massive amount of time. Just playing around with the website for 10 minutes and I know it can easily save a non-technical person hours of headache for doing a proposal.
What It Does: Collecting customer information, logging interactions and setting reminders.
Best For: Anyone who doesn't have a CRM for their business
Usually Costs: $35/month
Salesflare is an incredibly intelligent and comprehensive CRM (Customer Relationship Management) that is designed to help you know your customers better while doing less work doing it.
SalesFlare will automatically:
Discover and record customer information from emails and social profiles
Log meetings and calls through calendar and cell phone
Show a smart overview of all projects including details and deadlines
Track customer email opens, page clicks and social posts
Organize documents and other files pertaining to customer record
Generate dashboard insights and integrate sales toolkit
With Salesflare, you can now easily track the contacts you are working with, and the essential information you need to know in order to help you close deals easier and faster.

My Review: While I am already using another CRM (Infusionsoft), I can see that Salesflare is somewhat similar to Hubspot but contains a lot more better functionalities that integrates your entire sales process together. Connecting it to your email account can easily extract all the information you need to begin with all the contacts, and thats where you fill in the blanks and build this system to help you streamline your entire Sales process. If you're managing a lot of clients, it's time to get a CRM and Salesforce is a powerful one.
15. Scheduling
If you're someone who take on appointments from clients, these tools in this section will help you to automate them.
Imagine getting bookings and appointments for your time while sleeping – These tools are essentially helping you to automate part of your prospecting for you.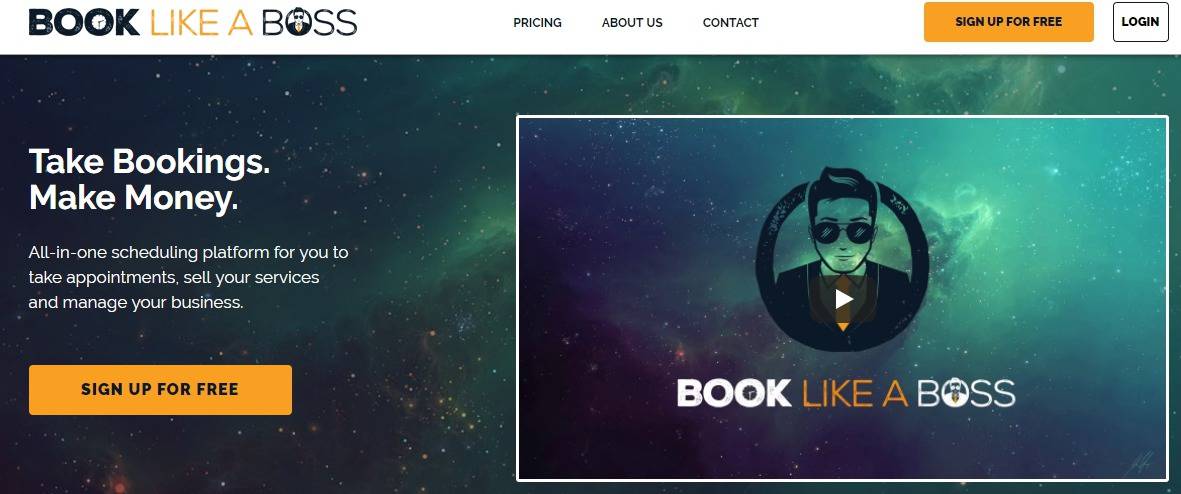 What It Does: Creating a custom booking page and managing invoices, clients.
Best For: Freelancers who want a one page 'resume' showing off their talents and getting 1-on-1 appointments with clients
Usually Costs: $29/month (Briefcase plan have additional features)
Book Like A Boss gives you the tools to make everything you need in order to make a super-one pager about yourself and your business, which all ultimately to drive sales quickly for you.
Important things like:
About you
Products you sell
Booking an appointment with you
Frequently Asked Questions (FAQ)
Testimonials
You can see some samples of people who created a BLAB profile over here
In the backend, it's split into different categories where you can easily customize each section.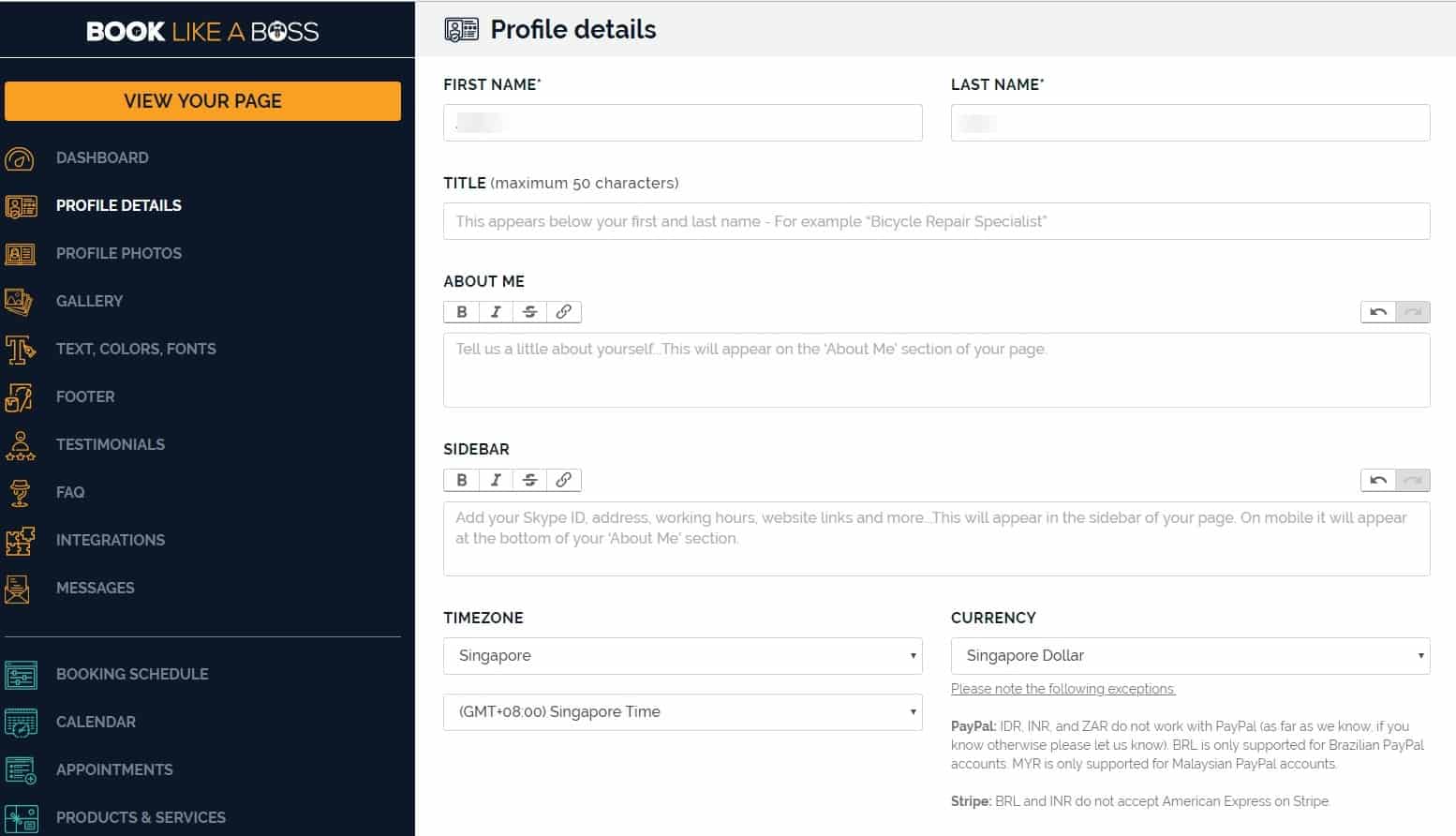 Everything is laid out simply, so it's actually just answering questions about you and your business. Once you're done, you have a fully functional page to sell you and your businesses.
It can even process payments, so you can collect money when people buy your services from your BLAB page.
My Review: BLAB is one of the coolest thing which showcase only the important stuff that gets you sales. I'm planning to create my own profile really soon, but haven't gotten around to it just yet. The potential of this software is really huge especially for freelancers, as it's pretty much a one time setup like a social media profile and the page will sell for you passively afterwards as it is optimized for sales.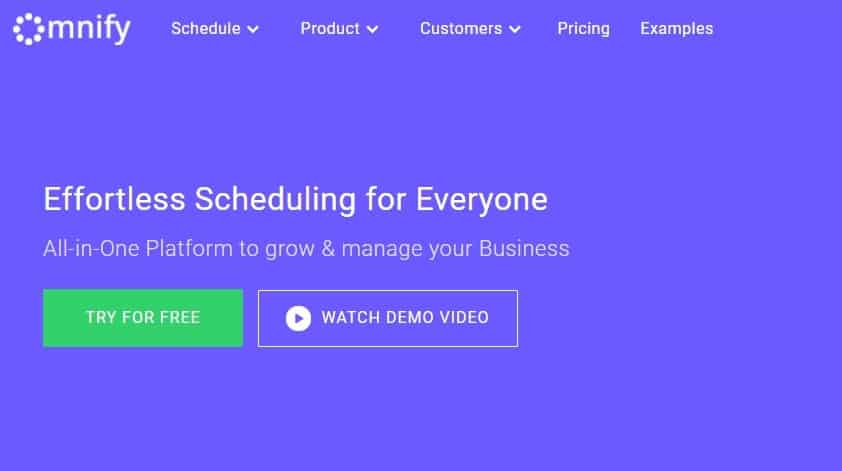 What It Does: Setting up an online service store, take bookings and get paid
Best For: People selling products or services online
Usually Costs: $39/month
Omnify makes everything simple for setting up your one-stop online shop, taking bookings and collecting payments. There's personalization, easy book for clients, flexible pricing systems and even a CRM.
This makes it perfect for freelancers or small businesses who have yet to start selling online to do so now, without the hassle of creating an e-commerce store from scratch
This platform is very versatile as you can sell anything from classes and membership to facilities and events. Check out examples here for the user of Omnify for various businesses: https://www.getomnify.com/examples
After logging in, there's a simple set up process you can follow to get your services up and running, including setting up your profile/store and getting existing clients to book with you straight away on the platform.
My Review: Omnify seems like a simplified version of an E-commerce store if you don't want to spend too much time to set up, but want to start selling online. This can help you generate a professional looking store front as fast as possible, so you can focus on what really matters – Sales.
16. SEO
Between all the tools that you'll find here, you'll see there's a lot of overlaps in terms of SEO because there's only so much things you can track for SEO.
Be it Keyword, Backlinks, On Page SEO, all these tools combined covers almost every facet of SEO you need to know.
So even if there's overlaps, it's highly recommended to get all of these tools to make sure you get the most accurate data for your business and website's SEO.
What It Does: Finding organic keyword searches and increasing SEO
Best For: Content Marketers
Usually Costs: $29/month
Keyword Hero helps you see something in Google Analytics removed recently, Organic Keywords. By being able to see what keywords people are searching for your website, you are able to better optimize your content around those keywords.
To set up your account is easy, it's as simple as linking your GA account to Keyword Hero.
If you're already using GA, then just verify using your GA account and you'll start to see keywords you may not have before.
Keyword Hero is certified Google Analytics Technology Partner, which means it:
Has the deepest integration into the Google ecosystem
Shows you CPCs, search volumes, semantic clusters about keywords in your Google Analytics
Accurately matches users' searches with their sessions
You'll get up to 95% provided keywords compared to 3% – 8% currently
Almost everything is done on Google Analytics, and the Keyword Hero website is used just to link new websites or change basic settings.
My Review: If you're serious about your business then you should already have Google Analytics enabled on your website. This just gives you more data to work so you can make better decisions on your content and keywords. I really love this tool as I get to see stuff that I wasn't able to before.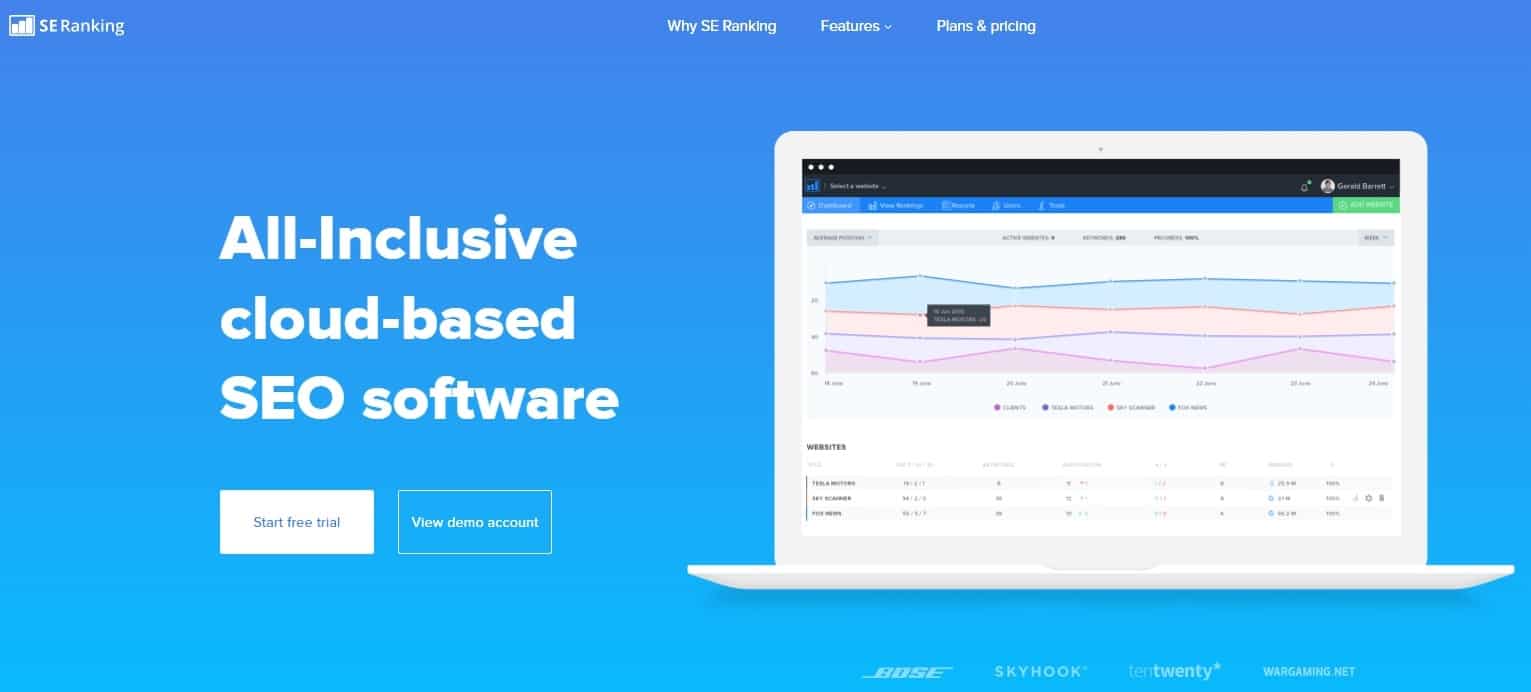 What It Does: Optimizing your website, keywords and backlink monitoring
Best For: Content Marketers and SEO Newbies
Usually Costs: $7/month
SE Ranking helps you get your website found using various tools such as backlink monitoring and keywords.
There's a lot of useful tools that you can use and special features that include:
Accurate Keyword Tracking: In real-time, find the positions of your website's keywords in major search engines (including Google Maps and YouTube) and how they're doing by country, region, or city as frequently as you want
Backlink Monitoring: Track your existing links, get 15 SEO parameters to each of them, use noindex and nofollow filters
Website Audit (with crawls comparison): Don't risk site errors reducing your visibility. Instead, get full website audits and actionable recommendations to help boost SEO
Competitor SEO/PPC monitoring
One of the main thing that SE Ranking is able to do is give you a step-by-step in order to improve your website. You can see the picture below that it tells you what needs to be done, including how to do each step if you're new to SEO.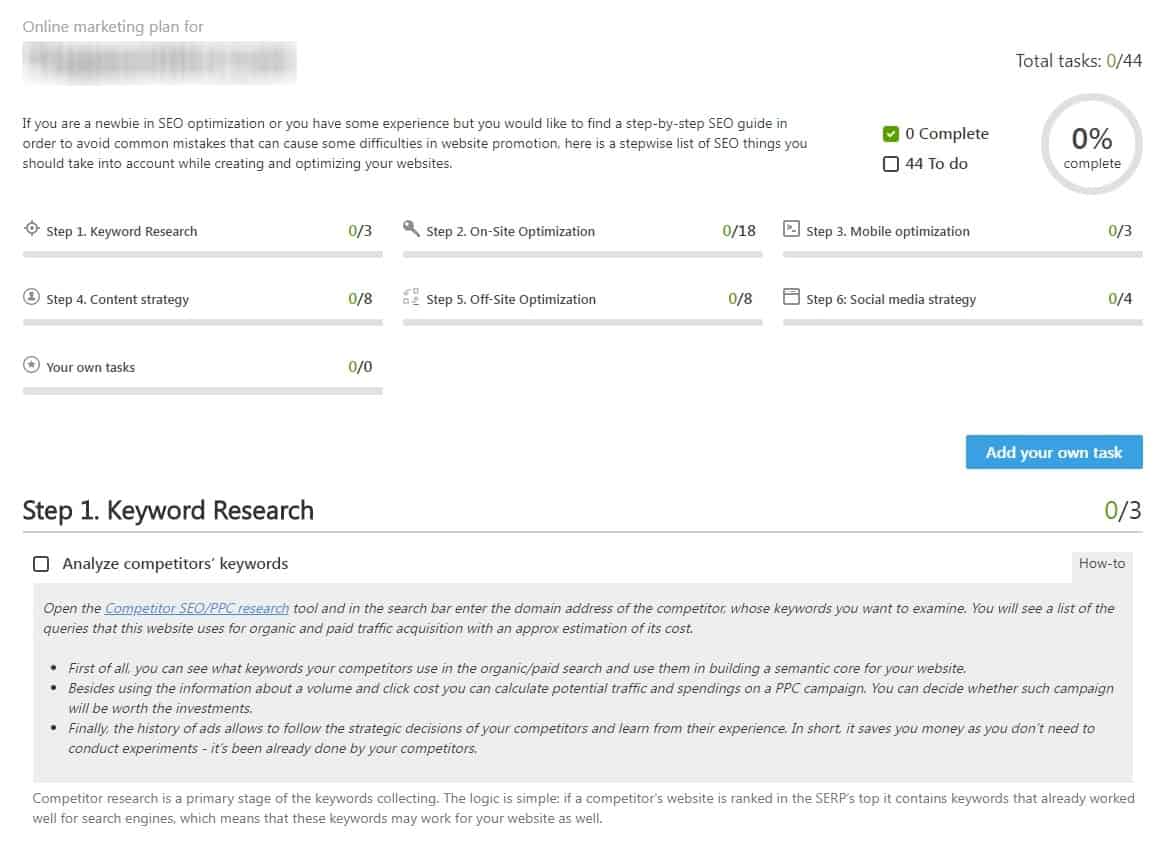 Also, there's a cool feature where you can generate a pdf report of a website which contains things like what needs to be done to improve the SEO of the website. Such resources is really valuable for people who do SEO for clients, as you can generate reports in just a manner of seconds. Best thing is that you get to customize what's in the report too!
My Review: If you're new to SEO or not sure where to start with all the strategies out there, use SE ranking as a starting point and check off those boxes. Afterwards, use this to monitor certain keywords and check back to see if you need to fix any errors afterwards. Also, one of the most valuable resources for Digital Marketing companies doing SEO for clients.
What It Does: Auditing your website and SEO analysis
Best For: Content Marketers and SEO Newbies
Usually Costs: $299.75 One Time (For similar features in the one provided in Briefcase)
Website Auditor is a downloadable program that makes SEO a breeze. After inputting your website, it can track all your pages, resources, errors all in a snapshot.
It audits everything including HTML, CSS, Javascript, images – and crawls your site exactly like Google, Yahoo or Bing.
SEO Auditor aims to uncovers every issue that can affect search engine indexation, rankings, and user experience and gives you step-by-step instructions on how to fix those issues.
After keying in my URL for my website, I can see everything that I need to do (And hell lots, according to this report below!)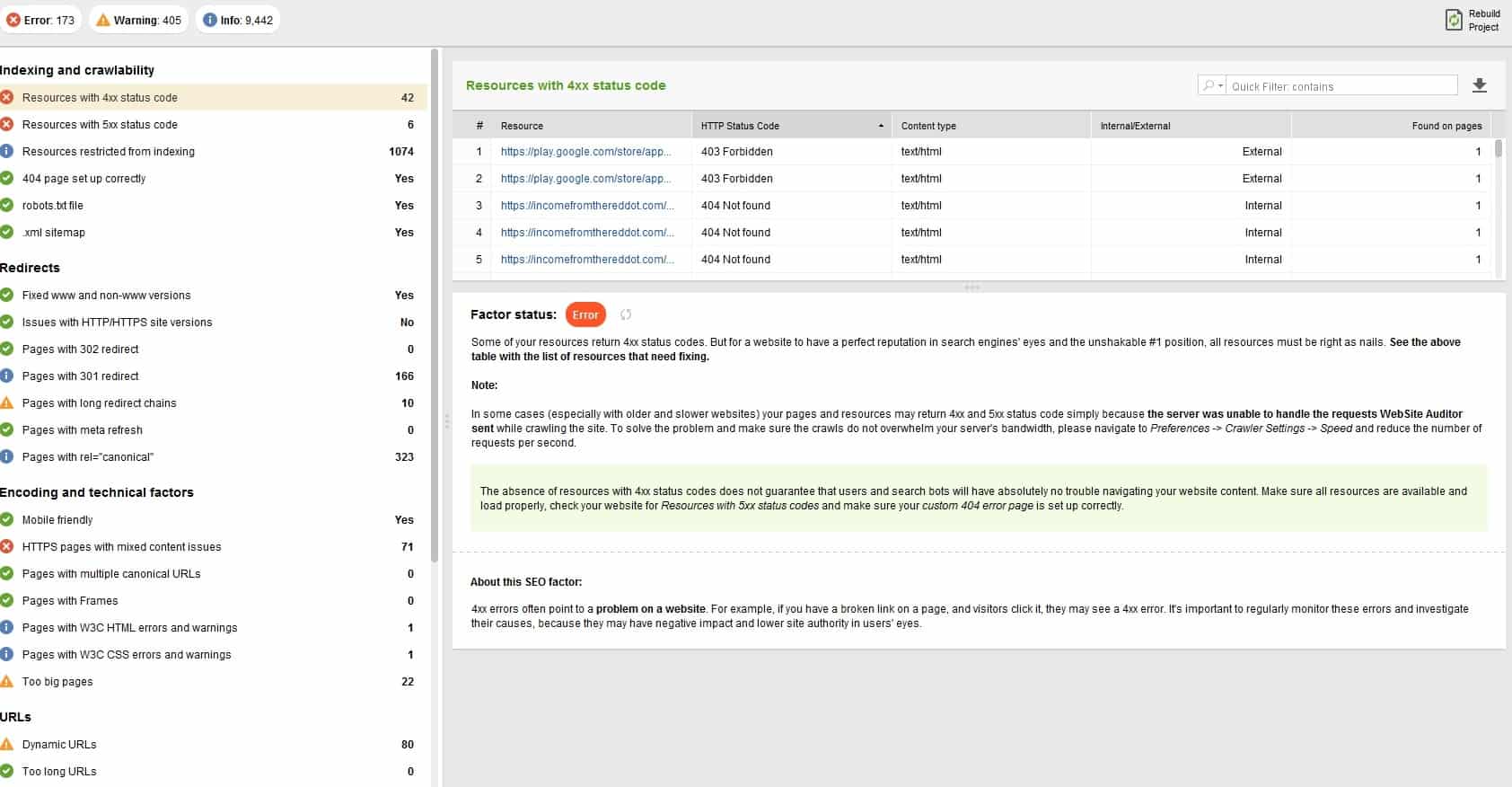 There's a lot of cool features to play around with too – Scanning individual page for SEO problems, Website visualization (shows which page is linked to which on your website), content audit, domain strength, and even more!
My Review: This is one of the programs that I bought in the past from Appsumo when they were holding their one time deal. Now that it's included in Briefcase, I felt like I wasted some money, but glad because I can pass a copy of it to my friend. Anyway, this program is really easy to use as it's an easy one time set up by entering your website. After which, let the magic work and you'll see everything hidden in your website, and shown valuable information that you need to know to move your SEO forward.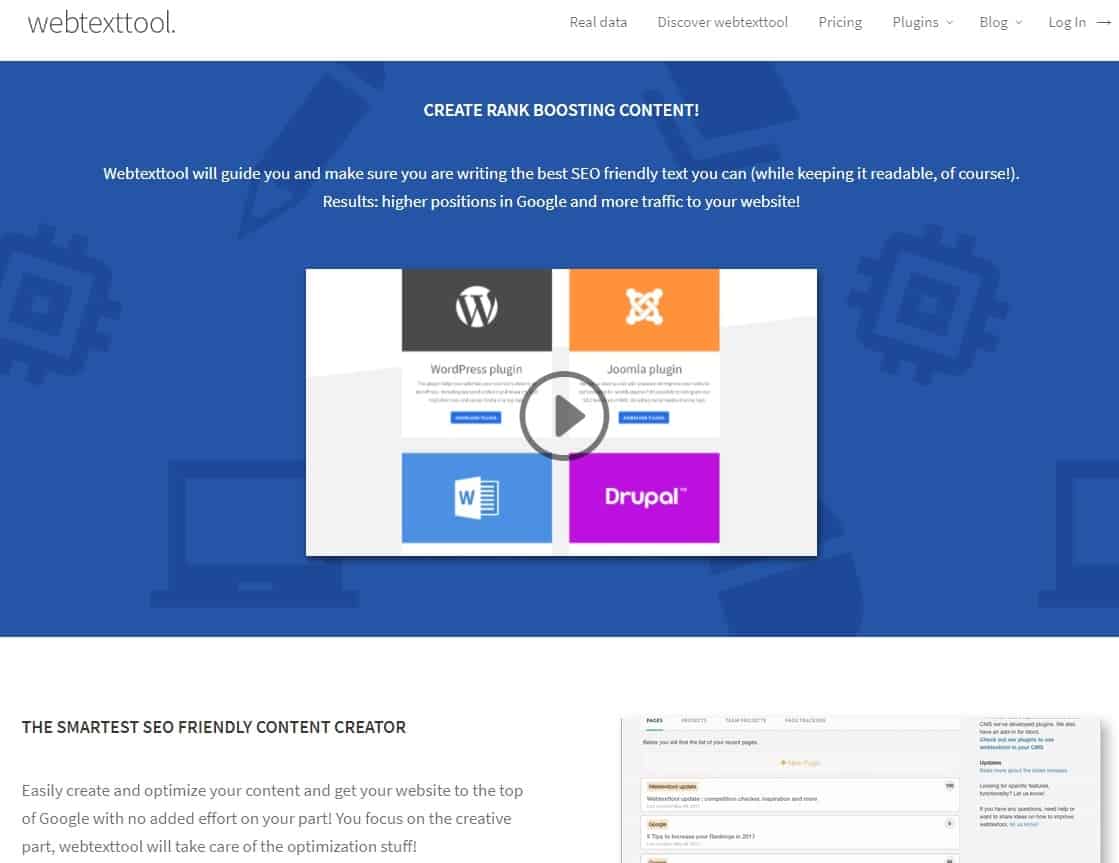 What It Does: Optimizing blog posts and content for SEO
Best For: Content Marketers Doing Blog Posts
Usually Costs: $22.35/month
WebTextTool is more of an on-page SEO auditor as you'll be able to see what you need to include as you write your blog post in real-time.
Best practices tips are also included and you'll be checking them off while you write your blog post, so you don't need to do double work editing the blog post for SEO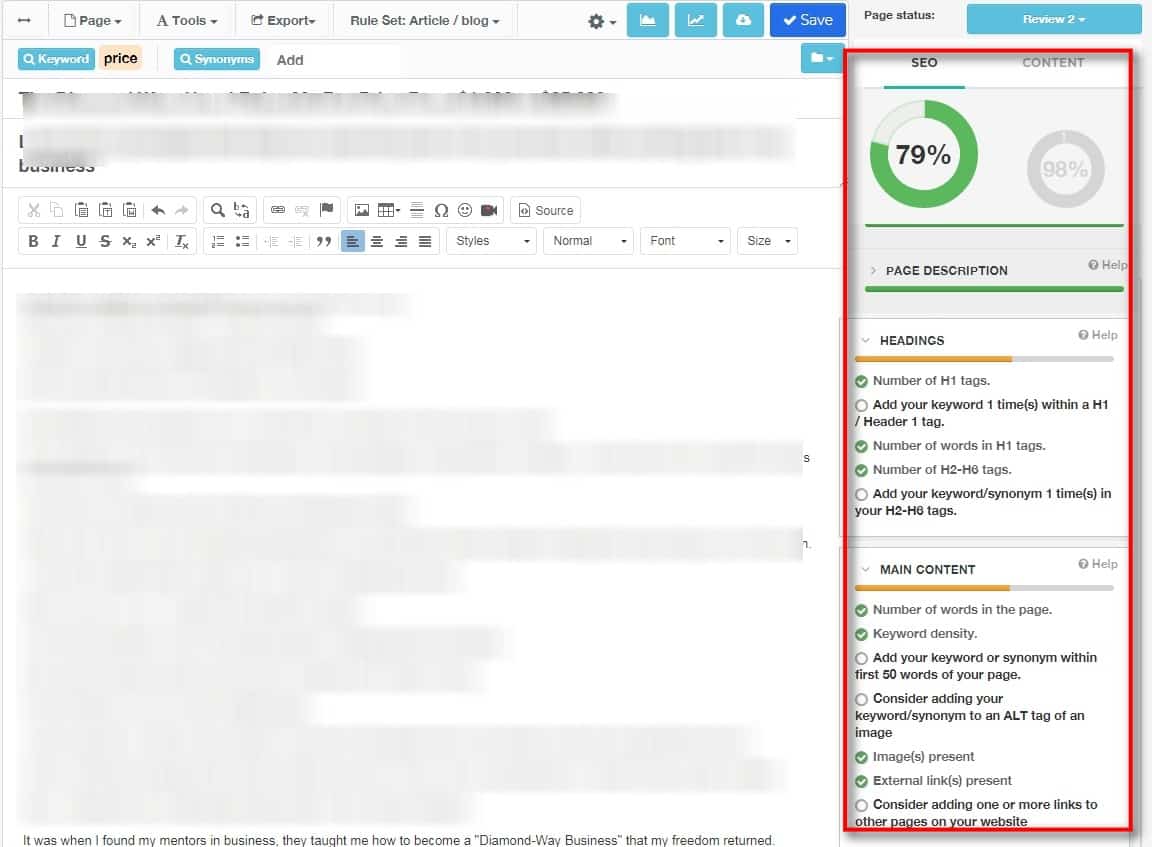 You can store up to 400 blog post pages at a time, and 250 credits to do keyword analysis and more, track up to 20 pages at a time to see where they rank in Google, SEO optimization rules and more.
This tool is mostly helping you to write a better blog post that is SEO optimized, but its additional features such as the keyword analysis helps you discover hidden keywords and telling you whether it's good to pursue it or not.
My Review: I used this tool to help me with the SEO for this entire blog post and informing me of any errors. I tried my best to correct! One thing I didn't like about this was that the double spacing that wasn't provided after hitting enter and it was acting like a single space only. It's just a small annoyance, but I use this tool after writing blog posts now. Definitely an additional way to get better SEO juice out of your content!
What It Does: Optimizing blog posts and content for SEO
Best For: Content Marketers Doing Blog Posts
Usually Costs: $410.46/month
With all the basic functions that is included in WebTextTool Personal (#41), you get:
1000 stored pages (instead of 400), 500 credits for keyword analysis (instead of 250), track up to 75 pages for keywords (compared to 20), and access to certain additional features that I can't review (As I'm on basic plan only).
This version also includes additional team mates where you can create separate account for them to log in, instead of having a central log in.
If you're a heavy user for SEO or run a content marketing company, then this is definitely a great tool to invest in.
17. Social Media Automation
These tools below help you to automate your social media and create better content for your social media posts. It's pretty much a set once and forget kind of program even with one of them able to set your content to go out for an entire year.
With these tools, you'll be able to automate most of your social media postings, coordinate better with your team for social media, and create awesome looking posts for your Social Media posts.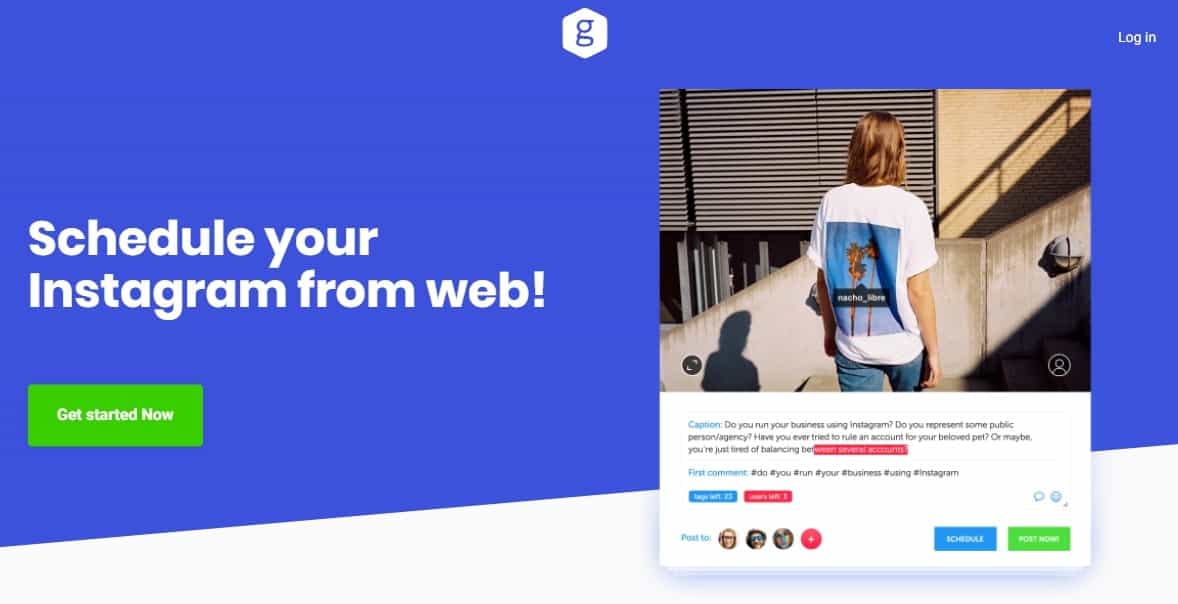 What It Does: Instagram scheduling from your computer
Best For: Social Media Marketers
Usually Costs: $9.95/month for 1-2 Accounts
This tool does a very simple thing, but makes life a lot simpler especially if you're posting a lot of Instagram content.
Grum lets you manage Instagram for your business, clients or own personal account using your computer and post directly from it.
This means not needing to use your phone to do posts, which also means getting and scheduling your content way quicker.
Grum Start Plan comes with:
The first comment feature (allows you to hide hashtags in your first comment)
Unlimited photo & video scheduling
Unlimited amount of editors who can manage an IG account together
Manage 1-2 Accounts
My Review: This is all the difference that it makes, and it helped me cut my time to do instagram content for my client's business. I typed too damn slow on my phone, while my typing speed for my computer beats it by 4 times at least (Since I average about 110 wpm). Time productivity for the win!
What It Does: Instagram scheduling from your computer
Best For: Social Media Marketers
Usually Costs: $2.95/month PER account with minimum 5 accounts ($17.70 for 6 Accounts, add $2.95 per extra account)
Grum Agency plan comes with exactly the same functionalities as Grum Start plan (Which means posting from your desktop)
However with the Agency Plan, the difference is in bold:
The first comment feature (allows you to hide hashtags in your first comment)
Unlimited photo & video scheduling
Unlimited amount of editors who can manage an IG account together
With Agency, add up to 6 accounts
So if you need to manage more than 2 accounts, then you'll want to look into getting the Agency plan.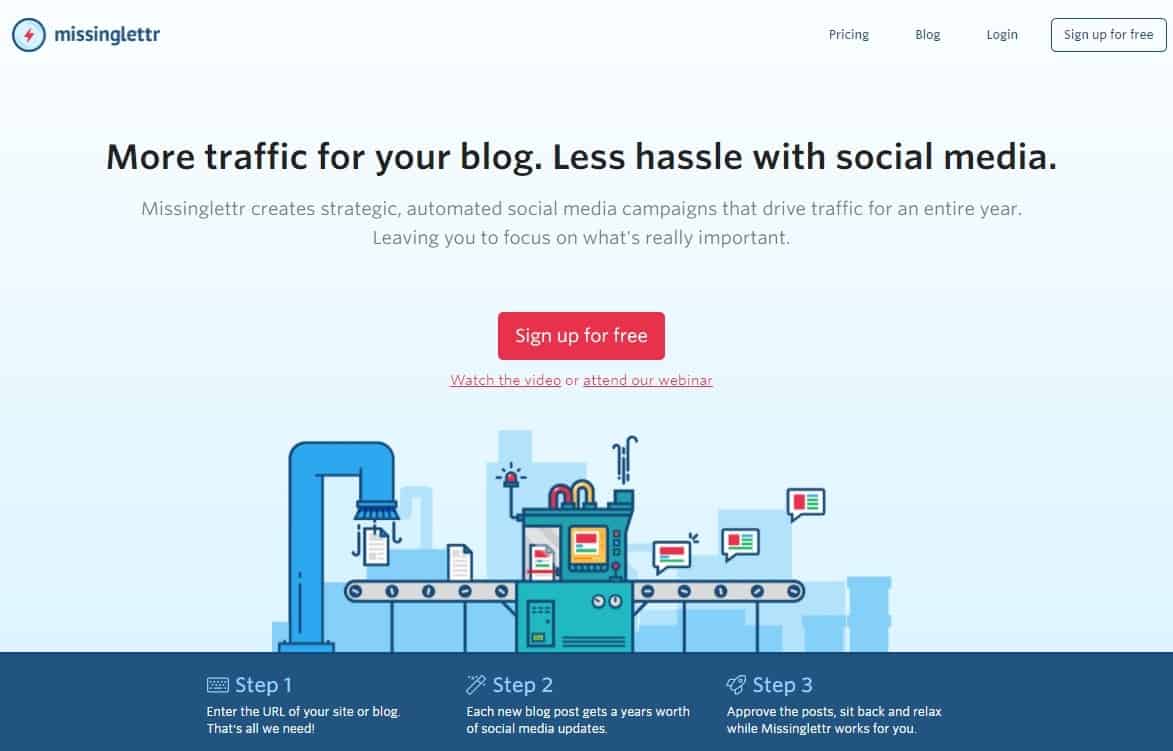 What It Does: Automating your social media content to drive traffic
Best For: Social Media Marketers
Usually Costs: $40/month
Missinglettr is designed to be a automated social media manager, where you create it once and able to leave it for an entire year.
All that is needed is to pull in a blog post that was written before, get pre-generated social posts which you can edit and approve the ones you like.
After which, you see the magic of getting traffic back to your website over the next 12 months with the same piece of content and getting increased engagement.

Missinglettr can help you schedule posts on Facebook, Linkedin, Twitter and Google+.
Also, it is designed to work well with Pixelme (#2 & #3) where you can track your traffic and pixel them and do retargeting for those group of people.
With Missingletter, you get:
Link unlimited sites 25 social profiles
An additional team member
Create up to 10 campaigns a week per site
Invite external people to review your campaigns
Start a campaign for old content
With the Appsumo plan, you can pay $3 per month to add either 15 team members, 15 campaigns or /and 15 extra social profiles. If you pick all three, then it's $9/month on top of the base plan you already get from Appsumo.
My Review: This is one of the main tools I use for my other business where I schedule blog posts in order to automate content on that social media account. Doing a 15 to 30 minutes set up per blog post to get automated traffic for the rest of the year sounds like a pretty good payoff in my opinion. Get this tool if you really want to automate most of your social media content on top of your normal sharing on social media for maximum effort and exposure.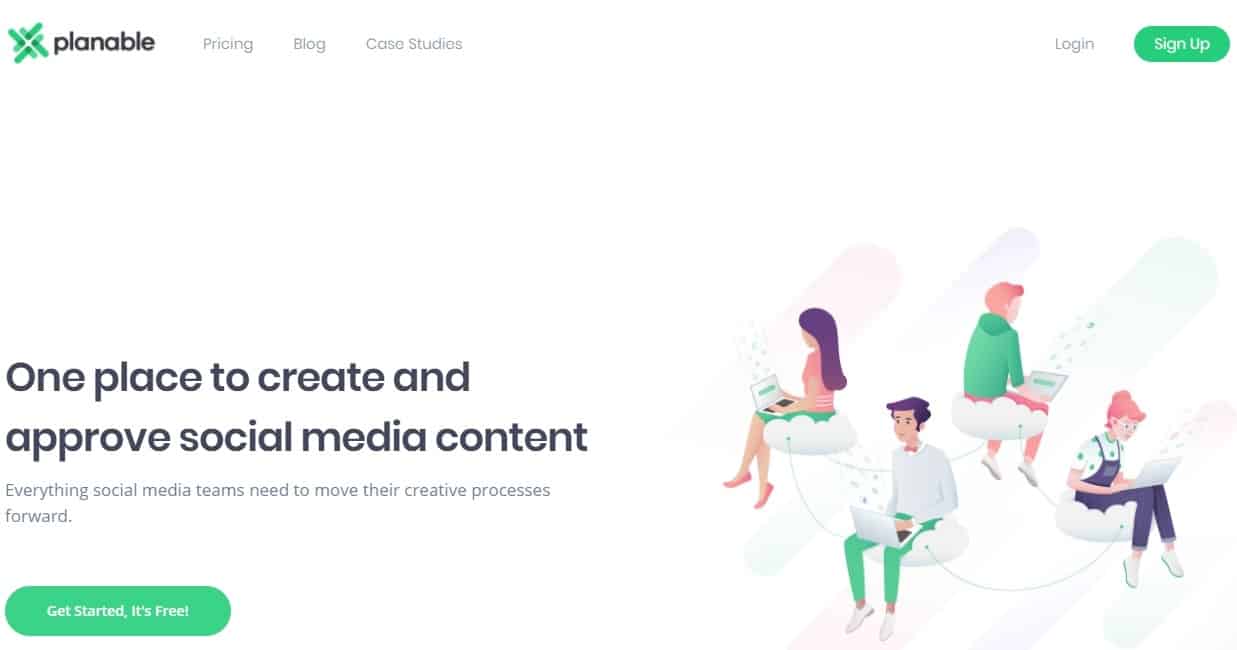 What It Does: Previewing, organizing and approving social content
Best For: Social Media Managers
Usually Costs: $49/month
Planable is a great tool especially if you're running multiple Social Media profiles for your business – which you probably already do. This tool will help you get all your activities onto one platform, making it sort of like a command centre
It is also a great way to manage between your entire team to create, discuss and a one-click approve to schedule your social media content.
It's pretty intuitive to use, with the 'Feed' view where you can see how the post will look. This will especially help social media managers who take on clients show their clients how each post and their social media account will look like.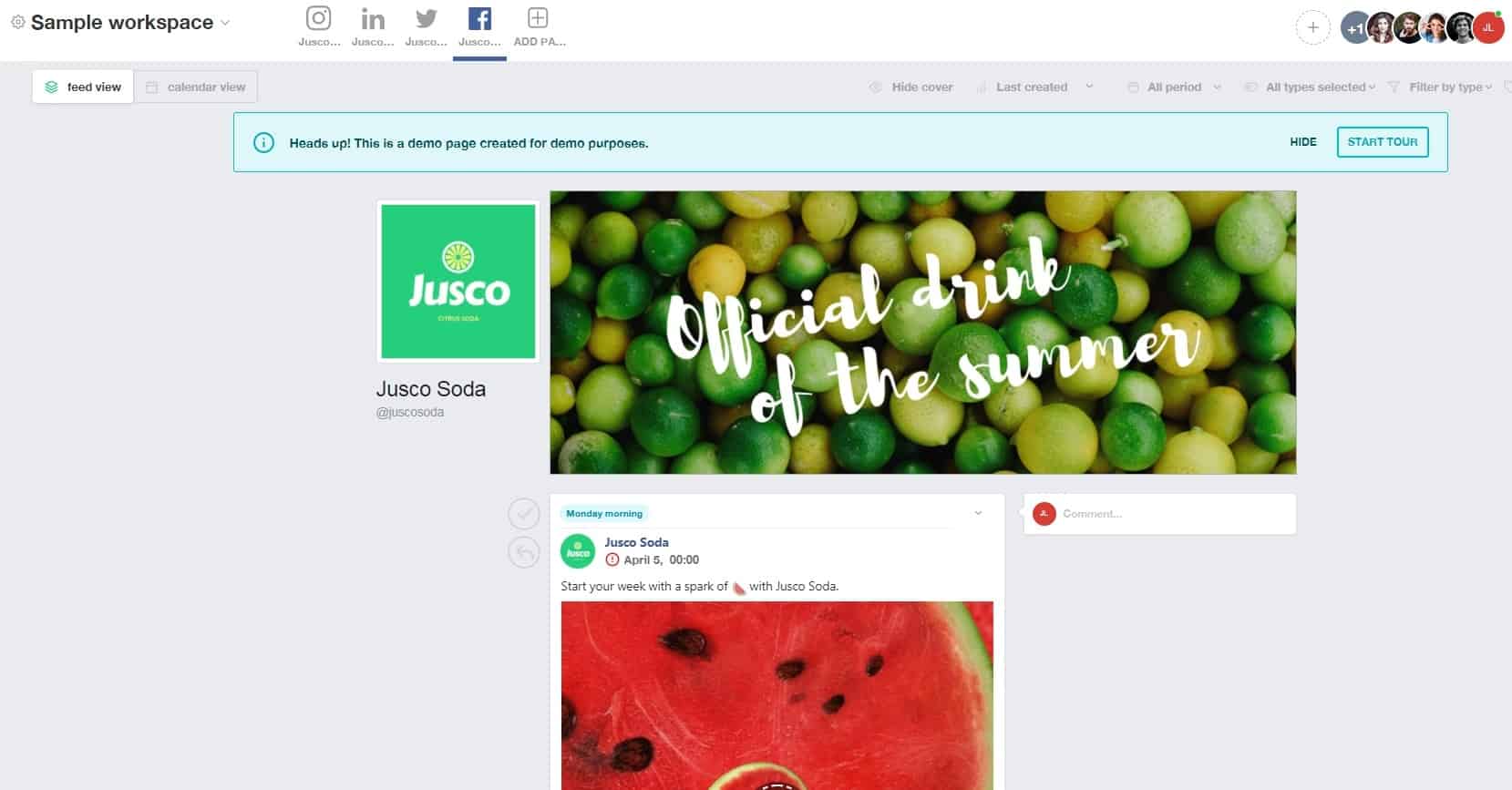 Planable features are as follows:
Your social content in the same place, perfectly organized and visually rich
Preview the content as it will publish
Feedback exchange and real-time iteration
Approvals with a single click
Schedule all your social pages
My Review: Haven't used this much yet, but this tool would work really great for frequent users such as Social Media Managers. I like how you can plan all your content on one platform which makes the job a lot easier, and getting things done becomes much faster too. Without the hassle of switching tabs to manage different social media platform is a big plus in my opinion!
What It Does: Building and executing social campaigns
Best For: Social Media Managers
Usually Costs: $49/month
Creating new graphics and posts for Social Media is a really tedious job if you're in charge of more than 1 platform!
Thankfully, PromoRepublic can help you churn out great looking pictures specially designed for Social Media.
With PromoRepublic, you get access to all these below:
Access to 6,000+ premium templates
The ability to connect up to 30 social pages
Up to 150 template downloads per month
Unlimited scheduled posts
One additional team member
Automated posting tool
Access to over 100,000 stock images
Option to upload product shots
Predictive timing tool for optimal posting times
There's really a lot of pictures and templates to choose from for your business, but the coolest thing has got to be this thing below: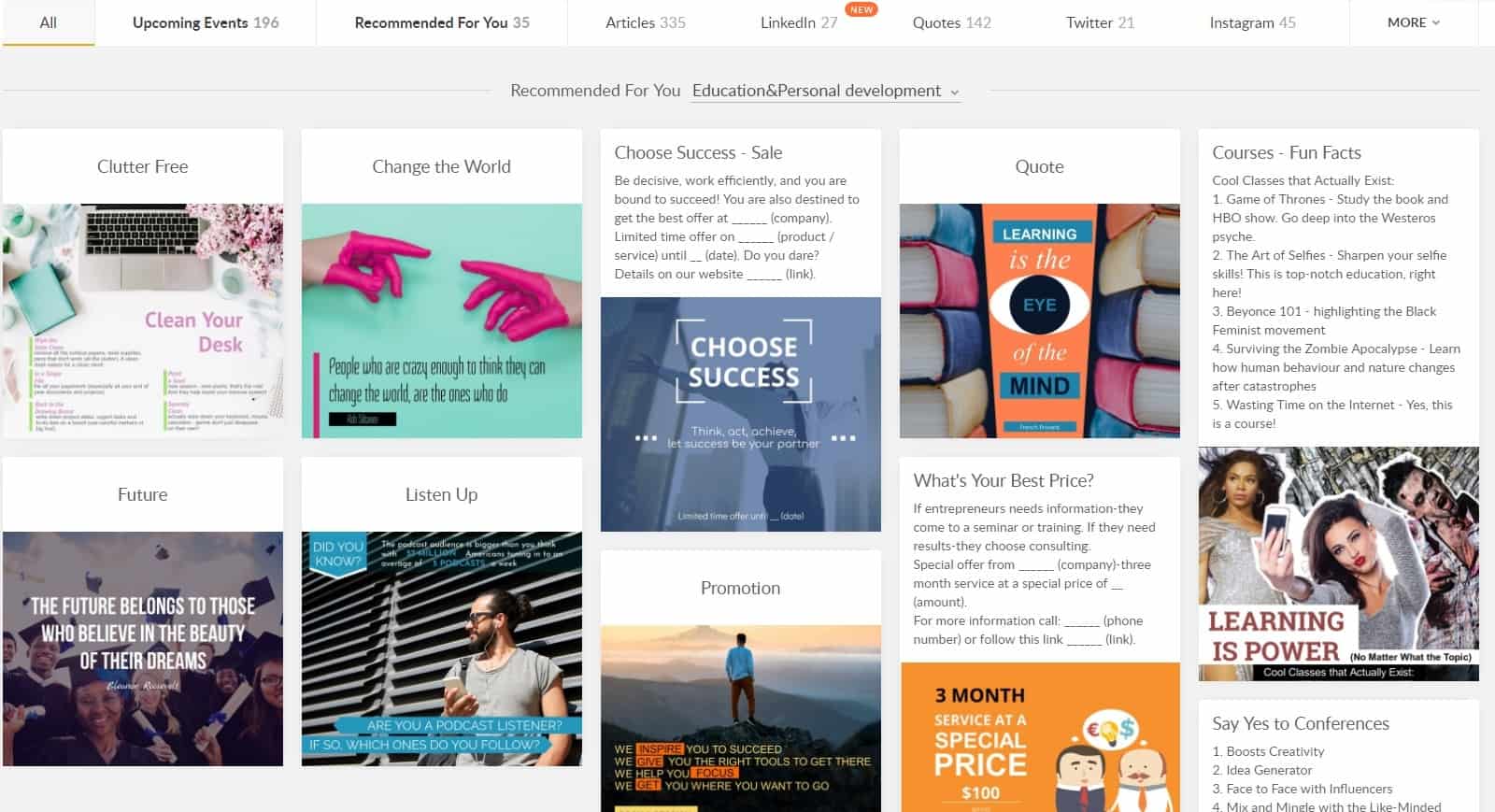 Not only does it provide you the picture design where you can use the picture that is already created, some of it comes with post text where all you need to do is just fill in the blanks to complete the post.
My Review: Promorepublic also has a design platform like Canva, Designbold (#10) and Stencil (#14), but this one is primarily for Social Media only whereas the rest focuses on many other aspects for design. After discovering the Ideas library, there's a lot of ideas for every business and industry that can use it, and you don't need to scratch your head to think what to post next anymore!
18. Surveying
Knowing your competitors is cool, and having all the data you need to see how your competitor is doing is even better.
You'll find the tools here that help you to see the statistics of your competitors.
What It Does: Getting insight into your competitors' Facebook strategy
Best For: Social Media Managers
Usually Costs: $59/month
Social Insider gives you everything you need to know to spy on your competitors and giving you the information that you need.
Currently, this works for Facebook and Instagram business profiles so far.

Some stats that you can view with this tool after tracking a page:
Number of posts
Engagement
Fan Growth
Global Fan Count
Average Engagement
Average Engagement/post
Average Engagement/page
Number of posts per day
Top 3 posts (With links)
Posts By Type (Photo, Video, Link)
Reactions Evolution
..And more!
This essentially gives you everything the page is doing in a snapshot.
My Review: I have been tracking a few pages since it's so easy to do it (Just keying in the page name), and you'll start to see the magic happens. This works best when you track competitors that are very similar to you, so you know what kind of strategy they are doing for their posts and also how people are reacting to it. It'll be able to help you formulate your own social media strategies a lot better.
19. Video Content
Video Content is one of the hottest things in this day and age, and videos easily go viral on Social Media.
There's so many different kinds of videos that can be created such as whiteboard and explainer types, and all of which serve very different purpose.
The tools here should help you accomplish your video marketing goals for your business.
What It Does: Creating product videos for your e-commerce marketing
Best For: Video Marketers and E-commerce users
Usually Costs: $97/month
Clipman helps to create videos mainly for E-commerce businesses, with the main advantage of creating a video quickly (even in minutes)
With access to more than 30 templates, 3000+ songs, you can create video ads for your business fast and sell your products on Facebook, Instagram and Youtube.
To create a video ad from a product page, simply paste the URL and make an integration. Pick the template the best suits your fancy and add your content. This point-and-click tool makes it easy to create video ads in minutes using video clips and images you already have.
My Review: Sounds like a great tool to have, but as a non-pro user I don't have an account so I can't review it unfortunately. However, from what I see this tool is built for E-commerce businesses

What It Does: Creating, sharing and tracking rich media
Best For: Video Marketers
Usually Costs: $19/month
Fleeq aims to solve the problem of people having to record a video guide to guide them through step-by-step.
Imagine something like how to manage privacy settings on Facebook, and the things to click to get to it. Fleeq simplifies it so that you don't need any narration or taking any video at all.
Just string between a couple of screenshots and highlight important points, add auto narration, and your video is done!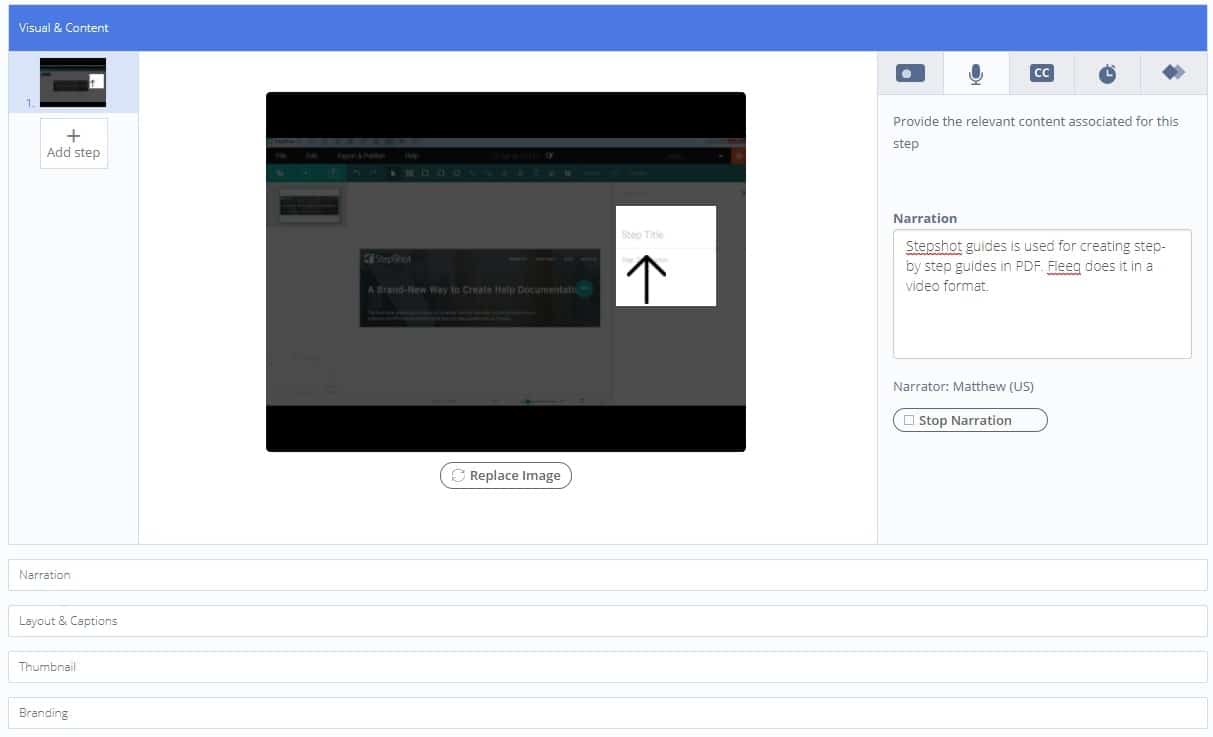 Fleeq is able to do:
Tracking and Feedback: Get real-time data about who opens your Fleeq and manage feedback
Custom domain: Use customization and domain management to share
Call-to-action: Help & lead your customer using an interactive action
Lead generation: Ready-made widgets that wrap your Fleeqs with lead generation flow
Series: Merge fleeqs into a full "story" and build series that ranges over topics
Notifications: Be in the know when things happen, get real-time updates and notifications
My Review: Fleeq goes hand in hand with Step-shot guides where both creates guide but in different format (Stepshot guides is more of PDF, while Fleeq is video form). This is one useful tool that I haven't really started using, but the potential to create great looking explainer videos is there and you can do it quickly. Their main page has a few examples that show the full potential of this platform.

What It Does: Making professional looking videos in minutes
Best For: Video Marketers
Usually Costs: $49/month
Rocketium is very similar to Fleeq that it is also a software that pieces pictures together to make a video.
However, Rocketium is unlike Fleeq. Fleeq is more towards a step-by-step basis video, while Rocketium is more generalized and for promotional purposes.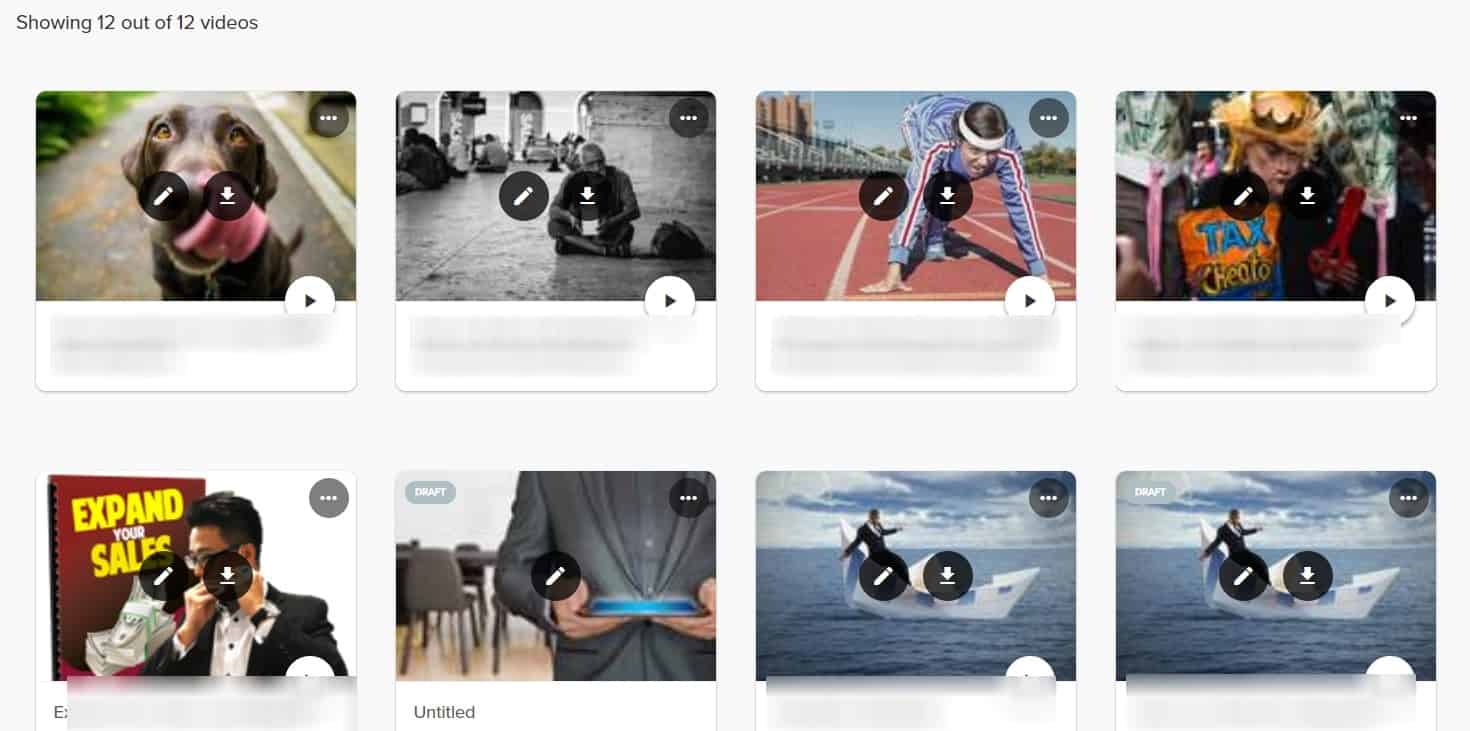 One key feature is that there's the database of images, videos and music that you can piece together to make professional looking videos in less than 5 minutes. If you prefer as well, you can use your own pictures or videos too.
Creating a video can be pretty quick as you search the types of images you want, then select the music to accompany the video.
Rocketium with Briefcase also includes these:
30 videos per month (Normally 20 videos only)
Add your own logo
Access for 5 team members (Normally 3 team members only)
40 images or clips per video
120 seconds per clip or audio
300 characters per caption (Normally 200 characters per caption)
Custom text sizes, bumpers, subtitles, reseller rights and per caption customizations
My Review: My friends and I have been using Rocketium for awhile for our business and been making videos using this platform and found that it was really a breeze to learn and really fast to make a new video. With the simplicity and time saved, I can actually spend more time doing more productive stuff in my business as well. I definitely love the library of videos, photos and music provided so that you don't need to search other website outside to find what you need (and save a lot of time).
20. Website Builder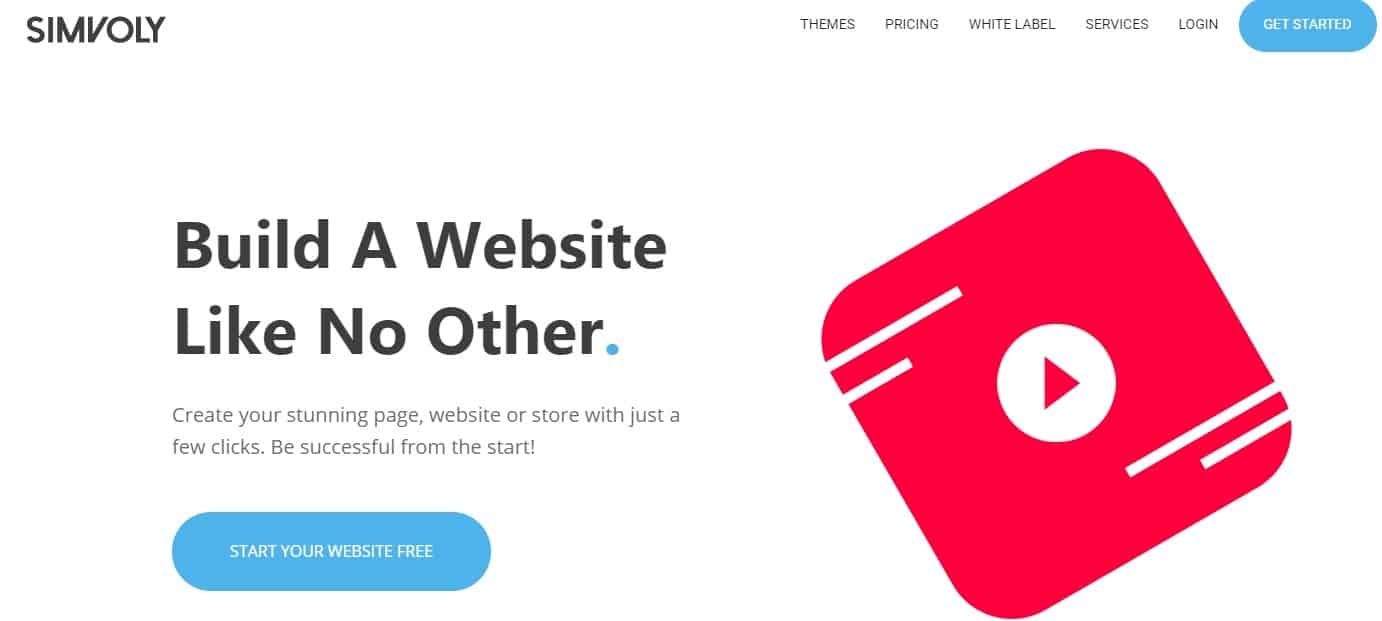 What It Does: Building beautiful e-commerce and websites
Best For: Anyone who wants a drag-and-drop solution to build websites
Usually Costs: $26/month
Simvoly is a very simple drag-and-drop editor that is designed to be intuitive. There's no coding required to do anything, and you can create anything from landing pages, marketing funnels, to e-commerce stores.
Using their drag-and-drop builder, you can create beautiful landing pages and effective marketing funnels, sell your product, or service, set up a store, and start making money with a 0% transaction fee.
There's so many types of templates you can choose from too spanning various industries and types of businesses.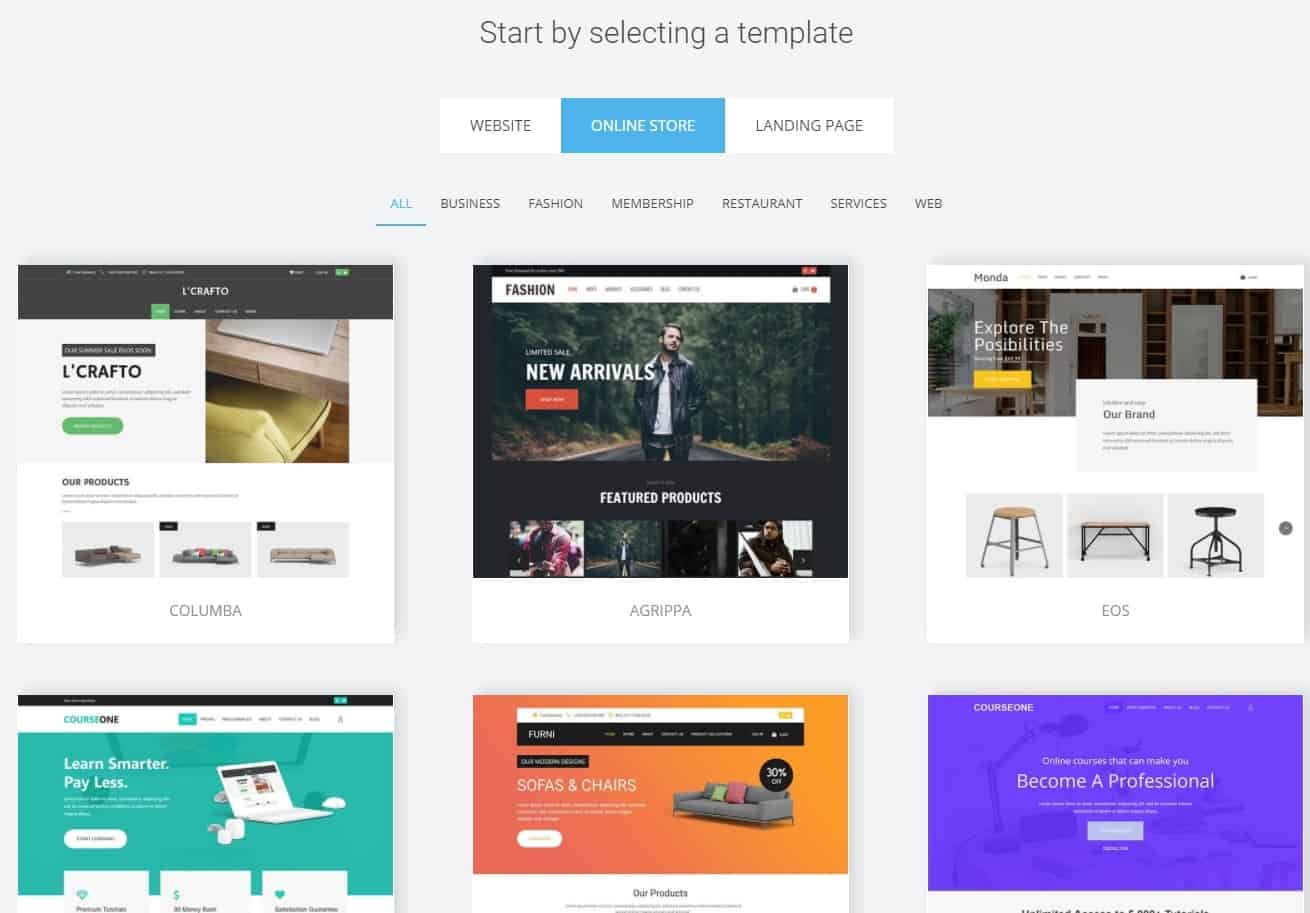 With Briefcase, you gain access to Simvoly's E-commerce plan which comes with:
Unlimited pages
Unlimited storage
Unlimited bandwidth
Unlimited website members
SEO, analytics & tracking
Up to 100 store product (Add $10/mth for unlimited)
All future updates & integrations for E-Commerce Plan
Simvoly comes with all these included for one website with the briefcase plan. If you're planning to run at least one more, you can get Simvoly Pro for 1 additional website, or pay a small monthly fee for more websites.
My Review: If you want an all-in-one builder kind of website, Simvoly is for you. I'll be planning to use this for an e-commerce store in the near future because of its simplicity and ability to set up things pretty quickly. You can essentially host as many things you want, but it's only limited to one website for this plan
What It Does: Building beautiful e-commerce and websites
Best For: Anyone who wants a drag-and-drop solution to build websites
Usually Costs: $52/month
Simvoly Pro has all the features of Simvoly (#52)
However, the pro version gives you access to ONE more website included in your membership for a total of 2 websites.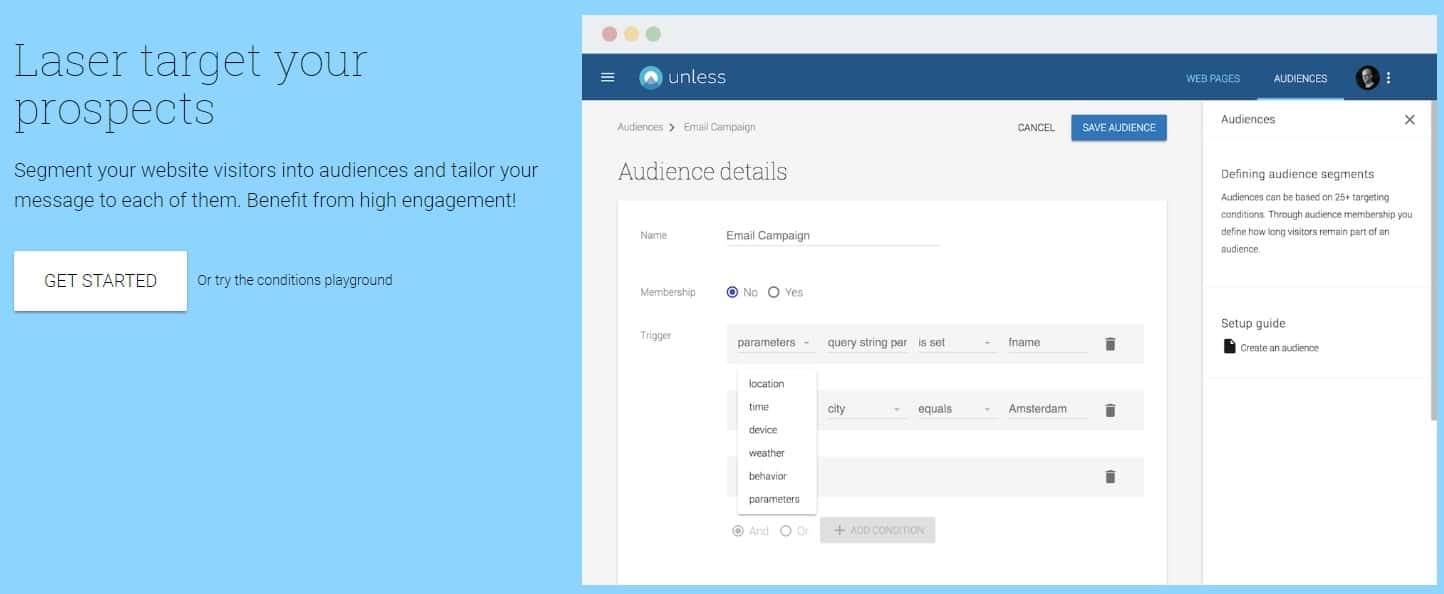 What It Does:Personalizing your website for each visitor
Best For: Marketers focused on increasing conversions
Usually Costs: $99/month
Unless helps you to personalize your website according to the type of person who is seeing your website, and tailoring it to the correct audience for the best experience.
Some of the features of Unless includes:
Targeting: Group users who are likely to have the same wants and needs.
Segmentation: For each audience segment, you create different CTAs, special offers, deals.
Editor: Create variations of any page without accessing the code — just click to edit
Dynamic Content: You can populate your page with user-specific keywords and information.
Analytics & Testing: Set up a control group and test your variations.
How it works is really simple: Set the conditions so that you know which page will be shown to whom. The parameters you set will determine which content is shown to whom.

You can set the trigger to be according to: Location, time, device, weather, behaviour (Returning customer or cookied traffic), or parameters (such as utm source or utm medium).
With Briefcase's Unless Professional Plan, it comes with:
Up to 50k unique visits per month
Unlimited page variations for as many domains as you want
20+ targeting conditions (e.g. location, time, device, behavior, UTM parameters, weather)
Unlimited roles to add and manage as many users as you'd like
Dynamic content insertion to inject information from emails, ads, and other sources
WYSIWYG editor + advanced editing through CSS and Javascript
My Review: The concept of this is basically built upon split testing, and being able to split test your website instead of just landing page gives you a chance to increase your conversion rate a lot more with Unless. I haven't really played around with it yet, but can safely say that this tool is really very useful for A/B testers and optimizers to improve your conversion.

---
Final Verdict of Briefcase By Appsumo
Websites: https://incomefromthereddot.com/briefcase

Price: 7 Days Free Trial, $49/Month 
Owners: Appsumo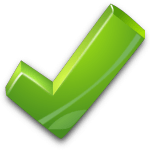 Get Clickfunnels today if you want to 10x your traffic, conversion and sales!
Click Here To Sign Up For Clickfunnels
---
My Final Thoughts
What I love about Briefcase
45 Tools for $49 a month!? That's pretty much a steal!
Free Trial available to test out how the platform works
Most tools could be more expensive if you buy them standalone
New Tools are always added in Briefcase – you pay nothing for the extra new tools
What I did not like about Briefcase

Tool overwhelm: Not sure which tool to start with
Tool overlaps: There are some tools that overlap with each other in terms of functionalities
Tool redundancy: You may have some of the tools here with a standalone license, or other programs that serve a similar purpose already
Seriously, this has got to be one of the best deals I have found on internet that could help your business with various parts of the operation.
With many of these tools, it may just take one or two of the tool to work and you'll get back your investment multiple folds.
The value of Briefcase has been amazing so far, especially for me. For just $49 per month, I definitely got my moneys worth. The monthly cost of all these programs add together could easily be $1000+ per month if I were to subscribe to each program personally without Briefcase.
So far, my favourite tools are: Pixelme, iSpionage, Designbold, Stencil, Startup.co, Brain.fm, pCloud, Stepshot Guides, ALL of the SEO programs, Missinglettr and Rocketium.
One of the main downside to Briefcase is that there's way too many tools to use, and realistically it's almost impossible to use it all at one shot and takes months to integrate everything into your business. Even after two months, I am probably using about 10 to 15 tools at most to a certain capacity at the moment.
For those with a small business and team, then the use for Briefcase will be huge for you as different team member can use different tools. This makes your business even more productive than before!
There's a lot of tools that I have barely touched yet too, but have done so for the sake of this review to give you guys a brief overview of what each tool is.
Oh, did I mention that you'll get Appsumo credits every month too with your Briefcase membership? This is pretty much a rebate for what you paid!
Do yourself a favor and sign up for your own account. Just 2-3 tools that you use regularly could turn your entire business around.
Click Here To Sign Up For Briefcase By Appsumo
I'm a big fan of tools that could exponantially grow your business quickly, and one of them I highly recommend you to check it out is Clickfunnels.
This funnel builder can easily increase your sales and revenue by multiple fold when used right, creating effective sales funnel for your business.
You can check out my other reviews of Clickfunnels other programs that could improve your business too:
So what do you think about Briefcase? Do you think it's a worthy investment?